Hascon to host design talent behind Magic: The Gathering, Transformers and Star Wars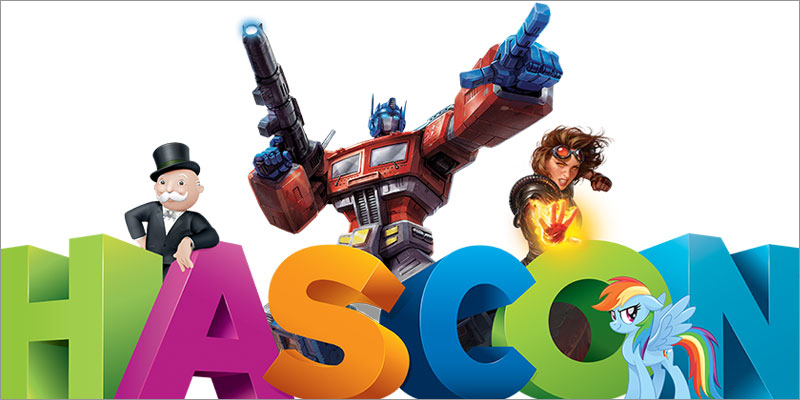 Hasbro has detailed some of the speakers set to feature in its first-ever Hascon event.
Aiming to bring the firm's portfolio of brands to life via events, photo opportunities and previews, Hascon will take place at the Rhode Island Convention Center and Dunkin' Donuts Center from September 8th to 10th.
Magic: The Gathering lead designer Mark Rosewater, senior principal designer of Star Wars products Mark Boudreaux, and Transformers product design manager John Warden have been confirmed as special guests for this year's convention.
Other guests to appear on panels and in brand experiences includes YouTube Nerf trick stars Dude Perfect, Lorenzo Di Bonaventura (producer of all the Transformers films, G.I. Joe: The Rise of Cobra and G.I. Joe: Retaliation), Comic book legend Stan Lee; Peter Cullen and Frank Welker, the original Transformers voice talent).
Also set to appear are Andrea Libman and Cathy Weseluck, voice talent behind My Little Pony: Friendship Is Magic and My Little Pony: The Movie), and Chewbacca Mom Candace Payne.
Extra highlights from Hascon 2017 include photo opportunities with costume characters, Beyblade battles, a Play-Doh creation zone and a My Little Pony branded area. Other features include photo opportunities with props from Hasbro's movies, Magic: The Gathering gameplay and activities inspired by Disney properties.
"Hasbro constantly strives for new ways to bring our storytelling to life and offer fans greater access to our brands, and Hascon is designed to bring attendees closer to Hasbro's biggest properties than ever before," said John Frascotti, president, Hasbro.
"We are assembling the ultimate fan celebration, with three days of marquee talent, interactive activities, immersive experiences, game events, panel discussions, VIP events and much more. We're set to deliver an unforgettable experience for fans and families alike."
Tickets for Hascon 2017 are now available online at Hascon.Hasbro.com.