"A huge piece of market validation for the connected play category": Designers share their reactions to Nintendo Labo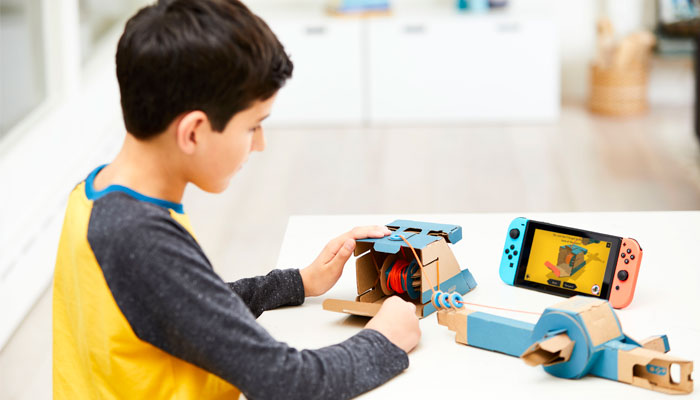 Nintendo has unveiled Nintendo Labo, a new range of products that combines the Nintendo Switch system with a line of cardboard build-your-own toy kits.
With each Nintendo Labo kit, kids can transform modular sheets of cardboard – specially designed to interact with the Nintendo Switch console and Joy-Con controllers – into creations called Toy-Con, with buildable, playable items spanning everything from pianos and motorbikes to robots and fishing rods.
But is it a game-changer or an overpriced gimmick? We asked the figures from the toy, game and tech toy design community for their initial reactions to Nintendo's latest creation.

Alex Fleetwood, Founder & CEO, Sensible Object
The Sensible Object team is incredibly hyped about Nintendo Labo – we've been talking about it non-stop since the reveal. It's a huge piece of market validation for the connected play category.
The first thing to say is this is a shot across the bows for STEM toys that are fun one time and then get left on the shelf. Nintendo are the world undisputed champions of fun – and Labo exudes fun from every pore. The launch video just sings with the play value that you'll get. The range of experiences, the depth of interactions that are possible, the upcoming range of even more sophisticated releases… I think that a pretty big percentage of the 10m Switch-owning households are going to want to give this a try. That's going to drive massive traction at retail this holiday which I hope is going to create a rising tide for other fun-oriented connected play products like Beasts of Balance.
We're thrilled that Nintendo are out there with a bold price point – retailers which have been conservative on this category are going to  recognise that the experiential value Nintendo brings to a $70 box of cardboard creates a different dynamic with consumers, where play value isn't directly linked to the value of the things in the box.
Ultimately this is very, very big for the toy industry as a whole because we're going to see a more enlightened consumer who wants to buy fewer, better things and play with them more often. There's a deep groundswell of consumer sentiment against excessive and disposable plastic and the toy industry had better take account of that.
And that's before we've even considered the role Nintendo could play in creating a developer community around Labo and Switch. It looks like there's a set of in-house creation tools for at-home experimentation – I hope that will extend to deeper access to the sensors in Switch and the cardboard supply chain for new Labo Kits. I can imagine the indie community who has pioneered digital/physical gameplay getting behind a Nintendo ecosystem and publishing framework in a big way. I know we want to be involved in that in some way.
David McDonald, Vice President of Design, Product Development and the Global Advanced Concept Team, Spin Master
Wow, I'm surprised that Nintendo would do this! This hits so many buttons for me of how not to design a toy. There is so much not right here that it serves as a great learning example for toy design students of what not to do. I see many challenges from play pattern, value, reason for purchase, age appropriateness, gender focus, price point, quality/durability, usage, what aisle in store does it go in, not an item for specialty and not an item for mass. It's a bit like watching a train about to crash and there's nothing you can do to stop it.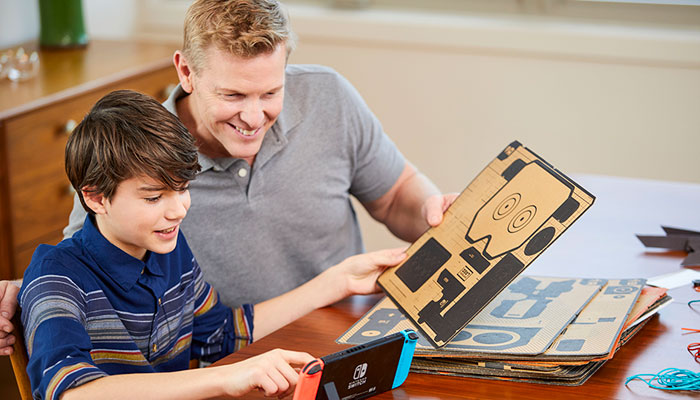 Justin Worsley, Owner, JW Creativo
It's a great idea but will face an uphill battle with retail prices as high as that. Cardboard is not cheap yet has a very low perceived value and an issue with durability. Customers see it as 'throw away' so not willing to spend a lot of money on products made from it.
There was a bit of a trend for large cardboard structures that kids could build and decorate a few years ago but it wasn't commercial because of the high retail price points. So it's a nice idea, but needs to be cheap!
Richard Heayes, Founder, Heayes Design
As a toy designer, Nintendo has always had a place in my heart. They have play hard-baked into their DNA – from playing cards and love machines, to electronic drum kits and of course great console games. They have certainly rediscovered their Mojo with Switch – I am due to continue my exploration of Hyrule on the plane later today!
Suddenly as Toy Fair season approaches, they again throw a curve ball into the industry with Nintendo Labo. What initially looks like some rough prototypes they built to test out ideas before developing the fancy plastic gadgets, turns out to actually be the product!
We are used to seeing cardboard VR headsets like the one from Google, but this takes cardboard engineering to a new level. Anyone who has been to Japan will know the talent they have for beautifully crafted items in natural materials and it shows in the execution. What Nintendo have pulled off is to elevate the humble brown flute and with the magic of bluetooth and LCD pull off something quite unique.
As someone who understands that pitching toys above $30 retail can often create a frown and question ("can it be $20?"), I was a little perplexed by the price point of some of the cardboard Labo products. However the digital fusion is easy to understand and is a modern take on craft kits and role-play product. It's also pretty good timing given all the negative press around plastics right now.
It would be nice to think they would open this up to the maker community to add new ideas to the range, although precision cutting cardboard is not the easiest thing without the right equipment.
Should the toy industry be worried? Well, maybe a little. These price points would take away sales of play-sets and higher value toys. I can also see strong parent approval for this getting kids away from screens, even though in reality they are not! But as screens are pretty hard to get away from, maybe Labo is the perfect compromise.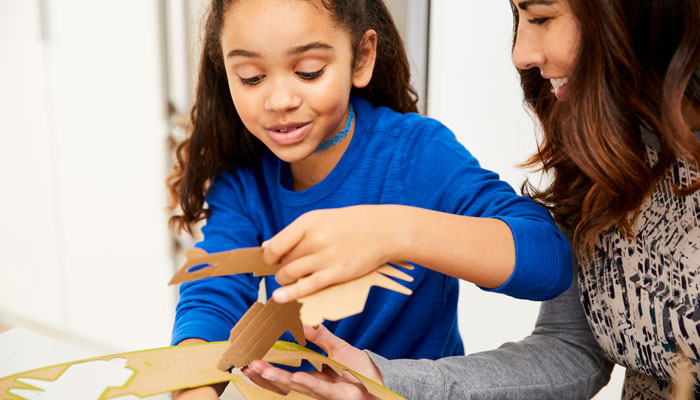 Matt Burtonwood, Director, Open 2 Design
Wow, this is super cool. It fits at the centre of a whole bunch of play themes. It's right on lots of levels and hot off the back of really good Switch sales. Super exciting!
Jon Vanderbeek, VP, Sweet Spot Studio
It's a neat, well-developed item showing what everyone is trying to do now. Make a seamless object to smartphone connection in toys that absolutely captivates children.
AR, VR, a smartphone View-Master and many other methods have been tinkered with over the last years by Spin Master, Mattel and Hasbro. This may be the best and I love it, but I wouldn't bet my money on it. It looks pretty demanding on the user in a business full of "watch me" product. I wish STEAM and Maker-driven products did drive high sales and engagement of children, but I'm not sure they have it here yet. I hope the best for this item; it's very cool.
John Keefe, Co-Founder, Draw & Code
Like Google Cardboard, Nintendo's Labo makes a technology accessible – in this case it opens up the world of customisable maker toys. However, unlike Google, this is not an accessible price.
So what are the positives of Labo? The making experience is great for kids; it's both a lot of fun and incredibly useful in terms of their development. Parents will like it in some senses too – how many Spectrums or Amigas were sold on the promise of kids designing or coding with them?
On the flip side, we are yet to see the associated software. Will it be versatile? Is there a strong replay value? And the price seems excessive – you could very comfortably buy a Sphero Mini for the price. The appeal also diminishes the moment your £300 games console is driven off a table!
There is certainly a strong and very welcome trend towards STEM learning through toys and video games, something we applaud. Maybe this kind of DIY electronic toy will really come into its own when the 3D printing revolution finally arrives! And Nintendo will be on to a real winner when it comes to designing their next generation of peripherals – Labo allows them to see what works and what doesn't.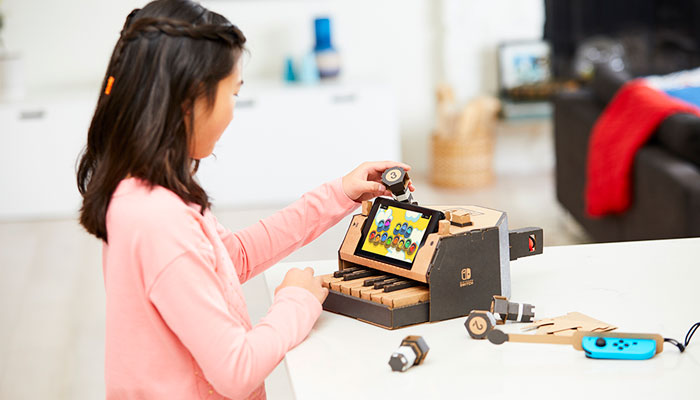 Rob Harris, Head of Development, Modiphius Entertainment
I'm a long-term follower of Nintendo, but this announcement took me by surprise. While a lot of augmented reality experiences are just screen-based and can seem sterile, Labo adds a physicality and sense of fun. It won't be for everyone, but it will be great for anyone with an interest in STEM learning and it will have a pleasingly small environmental impact compared to all of those Wii remotes cluttering up landfill sites. From the trailer, it looks like an impressive technological achievement and with the right support could be a big hit with parents and children alike.
David Snow, Owner, The Fantastic Factory
I really like it. It's fun and it doesn't use plastic (which is on trend), so boasts many major plus points. I worry about durability given how frustrated we all get playing these games. Overall it's thinking outside (the cardboard) box!
David Ortiz, Head of Communication, Kano
As an individual, I believe it is a good attempt to get Nintendo as a brand into the DIY ecosystem. This diversifies their portfolio of peripherals for the Switch, just when the console is making great numbers worldwide. They also have had a great holiday season, so they are in good shape to test new ideas and push the envelope forward, which is something the brand is known for.
They have been testing quirky ideas for years, but I think this is a clever way of testing things, when they already have banked a big success during the holiday season and can afford to bring out these innovations to market, and see where they land.
I don't think it's a game changer (there has been plastic-made accessories for years, at the same price range as these cardboard ones), but a very interesting spin on what the company is known, and respected, for. In terms of design, I think the way they use the Joy-Cons is pretty genius, same with the cardboard layout and blueprints.
I'm looking forward to see what they bring out of this one. Gut reaction is that it looks pricey for what it is, but I think they are planning on offering the blueprints for free, although you will still need the software.
James Vaughn, Creative, Big Potato
As video game companies go, we're all big fans of Nintendo at the moment. It seems like they're always looking to approach the video game world from a fresh new angle and the Nintendo Labo looks like no exception. Honestly, this is one of the coolest things I've seen in ages and personally I can't wait until it's released. Am I excited about dressing up as a cardboard robot and punching through buildings? You better believe it.
Darren Lee Phillipson, VP of Global Product Design, Alpha
Mind = Blown! Kudos to Nintendo for taking one of the hottest gaming platforms on the market today and combining it with the Maker Movement. Creatively the Labo is simply stunning. I love the idea of challenging kids to use their imagination on both a physical and mental level then combining that with digital gaming play. The Nintendo Labo plays right back to the idea of how really young kids will open up a toy and then just end up playing with the cardboard packaging. We will see how the concept transfers to the consumer level but from a purely creative point of view this is one of the most innovative products to hit the toy and games industry in quite a few years.
Amanda Gummer, Founder & MD, Fundamentally Children
It looks amazing – as long as the user experience is as good as is portrayed in the advert it will be a game changer. It may well become the benchmark for connected toys and it's certainly evidence of how digital can be used to enhance play, not hinder it. Obviously I'll reserve judgement until after we've put it through the Good Toy Guide evaluation – nothing beats seeing kids actually playing with the products to get honest insight into its strengths and any weaknesses.
James Austin-Smith, Head of R&D and Product Design, Worlds Apart
As a gamer, I love it, blurring those boundaries with peripheries is why I still play Guitar Hero and remember Duck Hunt. As a parent, I love it because it gets my kids making, engineering, learning and creating their own play. As a toy designer I love it the most though, because it is so playful. Each Joy-Con is rammed with so much juicy tech that normally stays under the hood, but Labo leverages every sensor and motor to bring the play experience out of the screen and build games that happen halfway into the real world. It's really exciting.
I don't think it will revolutionise the toy industry or be a game changer in gaming (this is what Nintendo does best – it's more of the same game for them really). It puts me in mind of LEGO Boost which is exciting in many of the same ways. As a mass market toy designer, you can only do something on this scale with the kind of content support that comes from Nintendo or LEGO or head down the indie route. I hope we see more boundary blurring between gaming and toys – toys-to-life wasn't it, but there is a gap there for sure. We will be watching that space for sure!
Gillian Logan, Director, Skinny Sketcher
Anything that encourages kids to follow instructions, think in three dimensions and develop their fine motor skills is to be applauded. The cardboard two tone design looks great when built. However, the lack of colour coding of the multiple parts may lead to frustration during the construction process. I suspect it will require a massive amount of parental input to put together. Whether parents view that as an opportunity to enjoy a joint project or are disappointed that it's not as intuitive and immersive as Nintendo's other offerings, will be interesting.
Check out Nintendo Labo in action below: