Industry legend Robert Fuhrer on developing the Spirograph Animator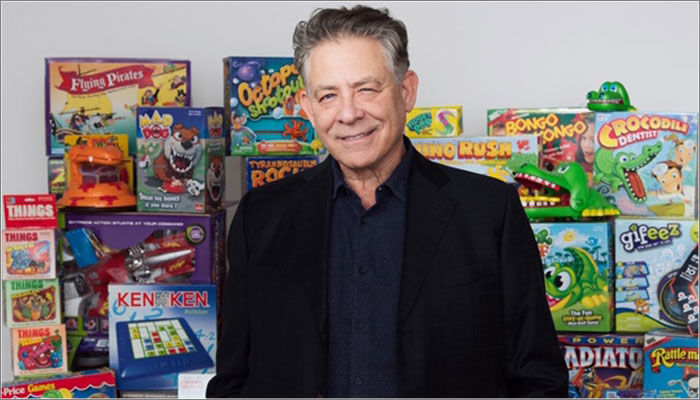 Bob, it's been over a year since we tied in. Been busy?
That's not the simple question it should be. Near complete elimination of travel should've freed up time but somehow the days get filled. There's certainly been more tuning into Netflix, though!
I hear you. If procrastination is the thief of time, Netflix is an accomplice! So now… I understand you recently worked on the launch of Spirograph Animator. What is that?
The Spirograph Animator is the best type of collaboration where multiple talents came together… Shai Seger and Doo-Bee Toys in Israel delivered elite technical support to Rufus Seder's extraordinary vision. Brent Oeschger and Adam Hocherman of PlayMonster advanced it to fit perfectly within the iconic Spirograph brand.
Rufus Seder? The name rings a bell. Is that the Scanimation inventor?
He is the Scanimation inventor, yes. Rufus's background is in film-making – he's one of the world's experts in animation, especially without any electric power. He previously created the best selling book series Gallop, and the wildly successful Fanimation series with Candyrific.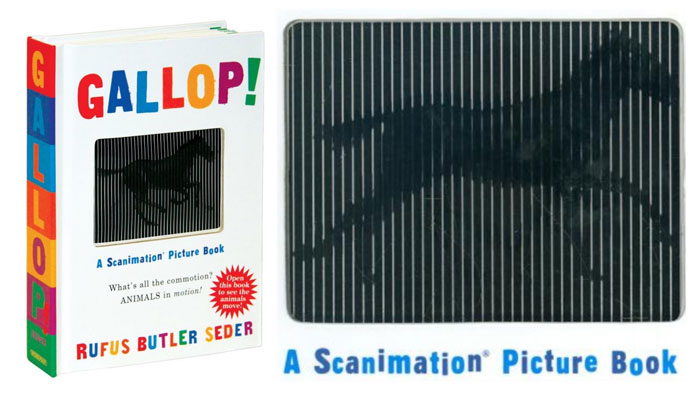 So how did this come about?
Some years ago Rufus originated a handheld strobing top – StroboTop – with limited distribution. Meanwhile, with Doo-Bee Toys, we'd created the iTop, most recently marketed by Goliath. Rufus had the idea to combine the iTop with StroboTop – but, at the time, we didn't know where it would lead. It took several years and some misfires, but eventually it's found its natural placement with PlayMonster's Spirograph branding.
Sounds great! What's the gist?
The Spirograph Animator takes classic traditional Spirograph drawings to the next level… Our patented rotating strobe-light technology does this by instantly transforming Spirograph graphics. It brings them to life with surprisingly and constantly changing animated patterns. Spirograph drawings were never intended to animate, yet they do spectacularly with this innovation!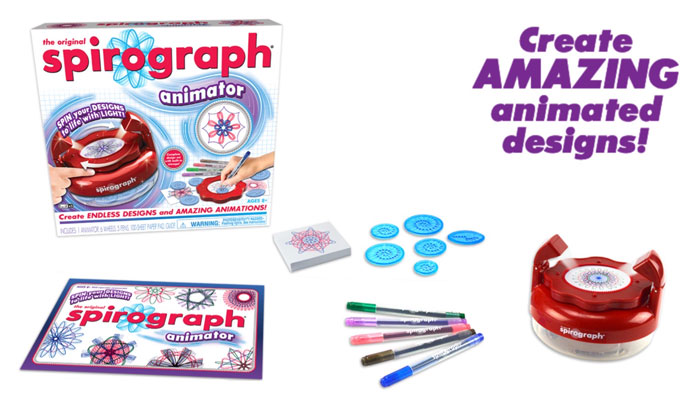 I'm curious then: the original Spirograph is now viewed through the rose-tinted lens of nostalgia! To what degree does that affect the way you look at a product?
This is a great question. Nostalgia creates familiarity, and there's a valuable trust and comfort with that. This is largely a marketing benefit as there's a built in acquaintance and understanding of what to expect, and this helps good ideas break through the clutter… But they must be suitable. In this case, our invention takes a Spirograph drawing, originally intended just to be beautiful, and compounds that beauty exponentially.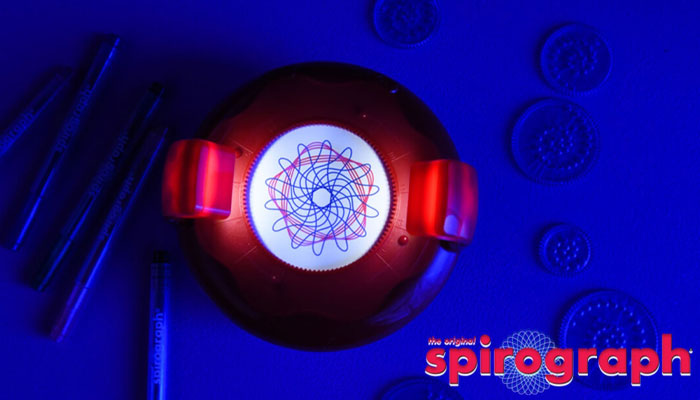 I can't wait to see it. And this is now a finalist in the American Specialty Toy Retailing Association list of Best Toys for Kids… Let me ask you this: how important are awards and recognition for you? Do they have real meaning? Or are they, when all's said and done, just great for publicity?
I value recognition above awards, which often are tied to publicity and political motivation, though that's not necessarily a bad thing. Nextoy's success is through collaboration and being recognised as a trusted partner that can add value: that's vital… And awards help others become aware of our services. Having said that, I must admit to great pride in receiving the I.D.I.O.T. award at the UK Toy Inventors Dinner in 1994, and being nominated multiple times for various TOTYs and TAGIEs.
Speaking of which, I've recently taken to illustrating a point I'm making by telling your story about a cartoon… Can you share that with us?
Ah! This is one of my most favourite memories because it captures the quick wit and thinking of a major influence in my career: Mike Meyers, former Director of Hasbro Games R&D. This was a caption contest at the 1990 UK Toy Inventor Dinner… Mike's simple caption brilliantly sums up the life of pitching new ideas. I'll send you a copy.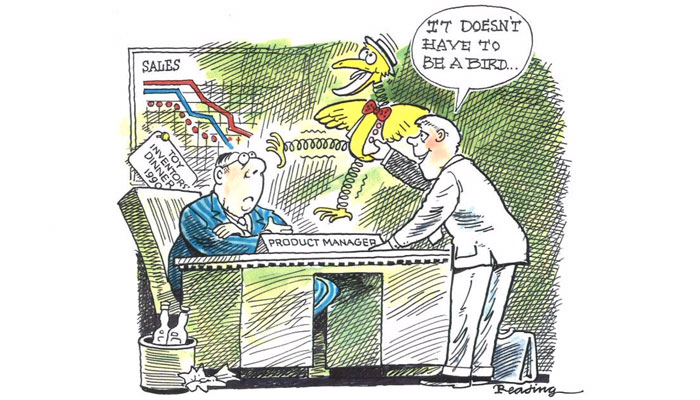 Perfect! I'll drop it in. So… What motivates you, Bob?
I'm inspired by having sustained longtime collaborations with unique talents such as above-mentioned Rufus and Doo-Bee Toys, and also select other special partners around the globe. Many of our partnerships and relationships are over 20 years… Although we work and operate our businesses independently, there's great pride in how we work as a team.
Lovely. Bob, what's the one question I should've asked you that I didn't?
Is your family involved in the business?
And what's the answer?
That's a great question!
Thank you. One of us is working well!
So my brother David – Blue Square Innovations – and I are fortunate… We grew up in the toy business. Our dad worked for several toy companies, so the industry's in our DNA. My three children also grew up embedded in the toy industry, and attended numerous toy fairs since an early age. They all have an innate sensibility about how the industry operates.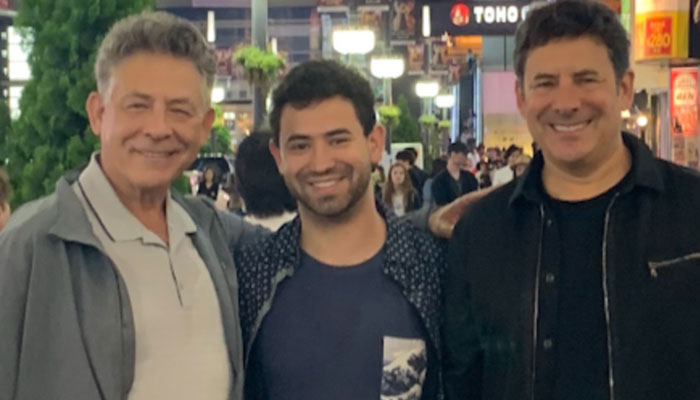 And what do they all do now?
My older son, Sam, is working on non-fungible tokens, or NFTs, with big toy brands. This is an exciting new field and opportunity. Alex works at Nextoy and is great at identifying innovative talent. He's expanded our network in the global creative community; many of them younger, social-media savvy and intrigued with the toy industry. My daughter is getting her masters in Nutrition Science, and my wife – Judy – is a longtime Yoga instructor… So despite my resistance, they work at trying to keep me healthy and active and thinking young.
Ha! Brilliant! Bob, this has been tremendous fun – thanks for making time to catch up. Always a pleasure; thank you.
Thank you, Deej – and thanks to Billy and Adam, too.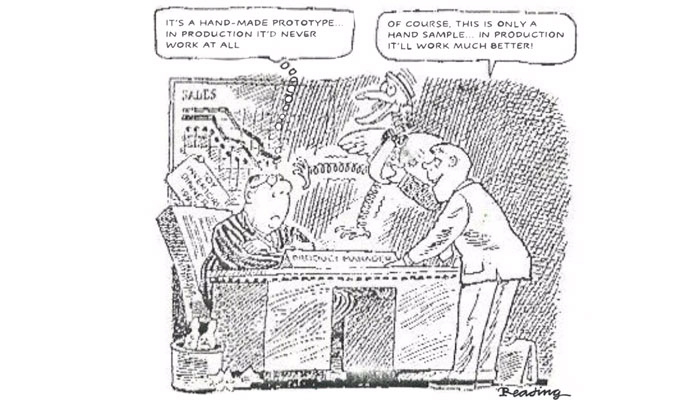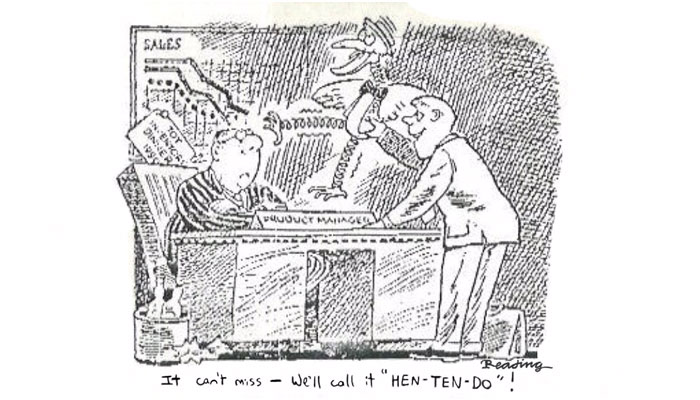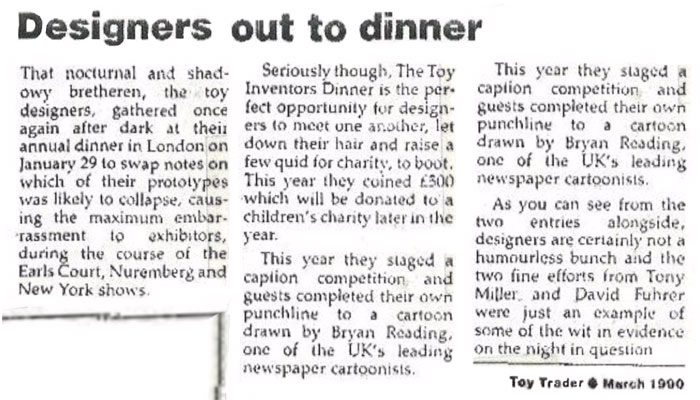 —
To stay in the loop with the latest news, interviews and features from the world of toy and game design, sign up to our weekly newsletter here