Industry stalwart Tim Walsh on breaking the rules, changing the game and pitching the fun…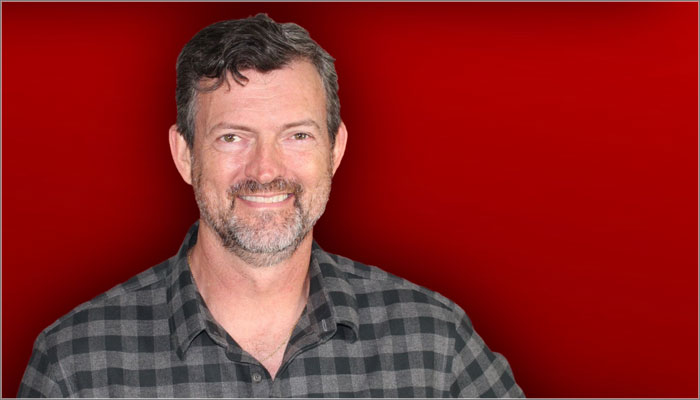 Tim Walsh, co-founder of Roo Games, on breaking rules, changing directions… And the no-no's of pitching.
Tim! Thanks for joining us. As an author, inventor, and public speaker, you're a busy man… For what would you most like to be known, though?
If I help fulfil our Roo Games mission statement, it will be to "Design games and toys that help people enjoy life and strengthen their most vital relationships through play."
Neat summary. And growing up, what were your favourite toys or games?
I loved Big Wheel, Super Ball and Wiffle Ball. I have a Youtube channel where I celebrate designers of toys and I just posted a video on Wiffle Ball here:
How did you get into the industry?
I co-designed a game called TriBond with two college friends and we took it to New York Toy Fair in 1990. It eventually sold three-million copies, but it was a looong night.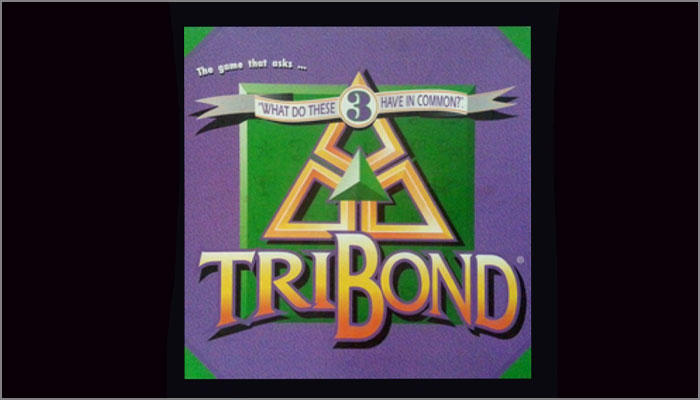 You also wrote a book with the inventor of the original Nerf, Reyn Guyer. What's the most important tip you learned from Reyn?
Yes – that book is called Right Brain Red: 7 Ideas for Creative Success. It was great fun to work on with Reyn. My favourite chapter is Break a Rule. This is Reyn's rule with Nerf Ball… "Don't Throw the Ball in the House"! My research shows that many times a toy or game does indeed break some sort of industry or societal rule.
For example?
"Plush is expensive" gives us Beanie Babies. "Boys Won't Play with Dolls" – G.I. Joe; "Don't Play on the Stairs!" Slinky… "Don't Invade My Personal Space!" Twister…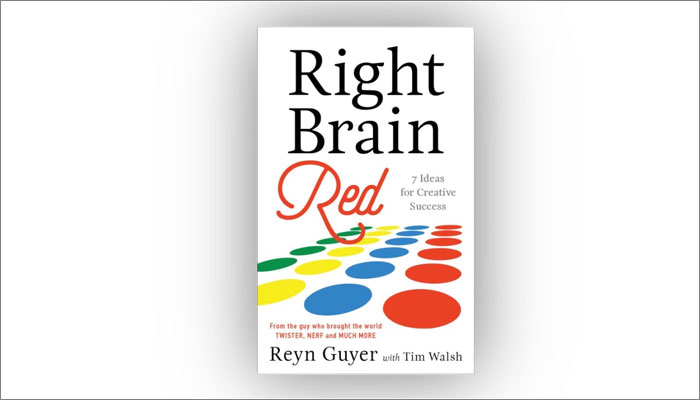 Got it. Great examples! You recently started a company called Roo Games; you mentioned it earlier. Tell us about it…
Roo Games is a great partnership with a few of my Australian friends in the business, and one other American friend. Aussies love life and love to play. We're excited to bring that fun to Roo Games. Our CFO is Dennis Callaghan, who is from Sydney, and his daughter, Christina, is our new Sales Director. They're great to work with.
A family connection always adds an interesting dynamic…
Yes – and Dennis's wife, Crystal, is the CEO of Tree Toys which manufacturers all our games. Since we have such great control over the manufacturing, we often work with retailers who trust our factory's compliance and quality. We're excited to have two of our games, Bull's Eye and Feed Fuzzy, going into Smyths Toys exclusively across the UK this Fall. We make a full line or preschool and family games for all ages.
Congratulations! That's great news. Bull's Eye looks fun; that's the grab it game with plungers, right? And Looking at the rest of your catalogue, I'm rather taken with KLOAK. It looks stunning so it scarcely does it justice to describe it as a four-in-a-row memory game… Can you tell us about it?
Sure! A few years ago I came up with a simple preschool games called Big Fish Little Fish, which was inspired by Russian nesting dolls and the old tile/card game of memory. It was basically 3D memory… It sold just okay because I think it was too hard for young kids to play. So we set out to expand it into a game for older kids and adults and the result was KLOAK. We retained the idea of small pieces hiding under big pieces and those pieces moving as in the shell game. The idea is can you remember where they are and align three of the same colour in a row to score. We do wood really well, so KLOAK is an all wooden game and really fun.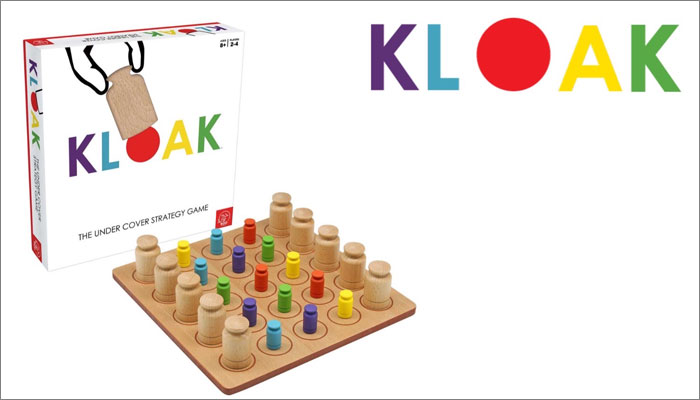 And generally speaking, then, what's your creative process?
I wouldn't say I have a process. I think ideas can come from just about anywhere. Our Feed Fuzzy game is a good example…
This is the game where you have to feed coloured acorns to a plush chipmunk head?
Yes. That came from me seeing a chipmunk with a tiny little body and a great big head. I was confused at first but when she stopped running, I got a closer look… She just had so many nuts in her stretchy cheeks that it looked like her head was bigger than her body. I thought, kids would love to feed a plush chipmunk and have its cheeks stretch to hold more and more nuts and Feed Fuzzy was born.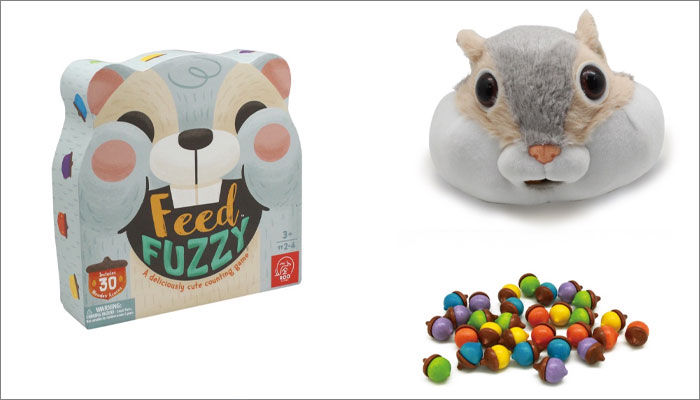 Wow. That really is seeing inspiration. Does Bull's Eye also have a story behind it?
Bull's Eye was a finalist in the ASTRA Best Toys for Kids competition this year. I saw some mini-plungers online that were being sold as stands for mobile phones. The idea was you suction cup them to the back of your phone and then prop them up. I thought, "I bet those would pick up cards really well…" So I ordered a bunch of them – and they did! We made a game called No Clowns in 2016. It didn't sell well because of the theme, but we knew the idea was fun, so we revamped it and it's really worked. Bull's Eye is a fast reaction game and really fun.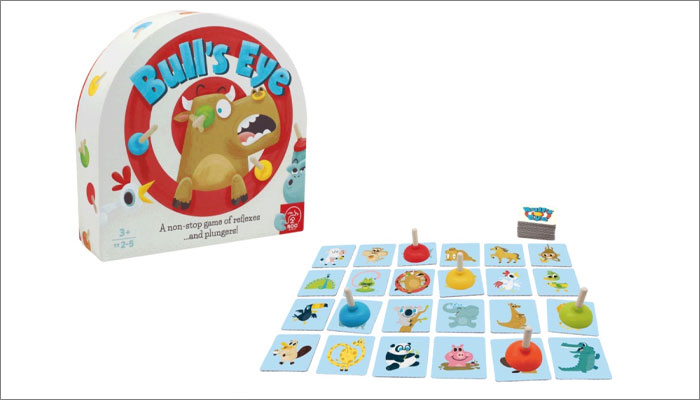 You've told two stories where you've got so far in the process, then backed up and come at the same idea from a different angle. I think that's a really interesting lesson… So in that respect what do you look for in ideas?
You know, "fun first" seems glib, but it's always been my mantra. Over my nine years at Patch Products – now Play Monster – I saw a ton of concepts from inventors that were designed to teach something first and foremost, with the fun coming secondarily, if at all. Those ideas never made it very far. If a toy or game is fun first, it can teach anything…
And how do you know if you're looking at a great idea?
Most times you don't! That's what makes this industry so fascinating. You just never know… We've all seen "can't miss" ideas miss badly, and vice versa. I remember seeing this plastic tile-dispensing mechanism from a famous designer, Theo Coster, while I was head of Product Development at Patch Products. I thought it was interesting, but at the end of the day, I couldn't get it past the sales and production departments internally. That mechanism turned into the Zingo line of games for Think Fun. We sure missed on that one!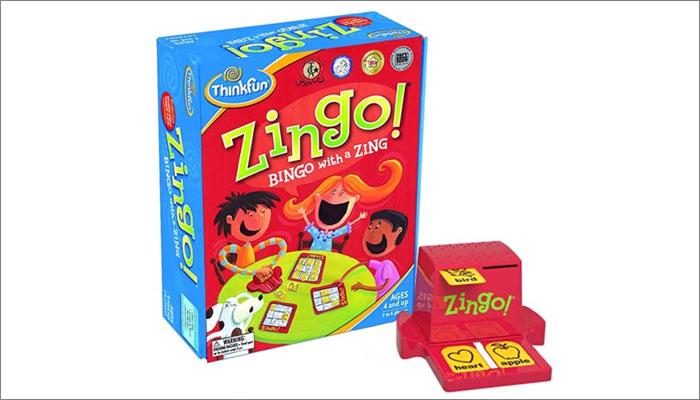 You must be accustomed to pitching ideas. What are the absolute no-no's of pitching?
Never start a pitch meeting with anything but play. So many designers pitching concepts want to "set up" where their idea came from or lead a meeting with who they are and list their credentials and it's just an immediate downer. I learned this the hard way. You have to respect people's time and get to it. "Gate-keepers" or inventor relations executives don't need to hear any of that at the start of a meeting. They just want to get into the play of a concept ASAP.
Music to my ears, Tim! I think that's true in spades!
Right? Once they love the idea, then you can talk about where it came from, where it fits in the marketplace, etc. If they want your help marketing it, then you can tell them why "who you are" matters. If they don't like the play, then nothing else matters… So I always start with the play and really encourage new designers to do the same.
Conversely, what's the secret of a great pitch?
Get to fun right away and have a great demo video. Then be ready with answers to all the pertinent questions: What's the price point? Where does it sell in the store? What category? Why's it different than what's already in that category? Remember: the person your pitching needs to champion the idea within the company, so you have to provide all the tools and answers he or she needs.
Brilliant! Thanks Tim. We'll wrap this up with two questions I think are fun… First, if you were to write your autobiography, what would you call it?
When Big came out with Tom Hanks I was just starting to try and create the game TriBond with my partners. My sister joked that if they ever made a sequel to that film, I could be in it… Since I'm 6' 6" tall – about two meters – they could  call it Bigger. The likelihood of me writing an autobiography is about as likely as that though!
Finally, what is the most interesting thing in your office or on your desk?
I'm a big comic-book geek, and I love Iron Man. He was my favourite Marvel character long before the movies came out. I have a peanut painted and sculpted to look like me as Iron Man.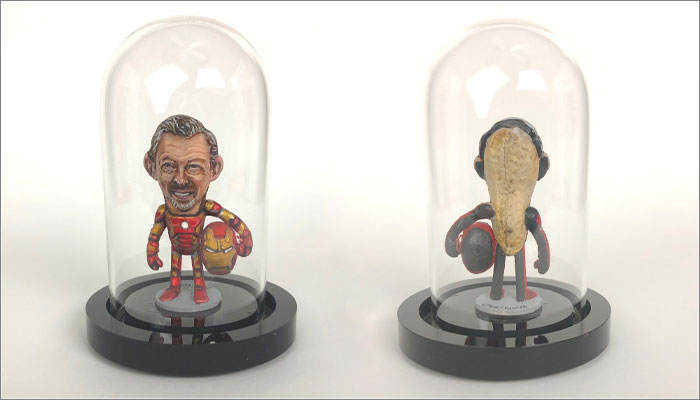 Course you do!
It was made by a friend and fellow toy and game designer named Steve Casino; you can see his stuff at www.stevecasino.com. I met him when he was featured in a documentary film I worked on called Toyland. He's incredibly talented – so now I have a sculpture of myself, as a nut, in a suit of armour. So really, who needs an autobiography?!
Who indeed! Tim, this has been a great pleasure; good luck with Roo Games. Let's catch up again soon and see how it's all going! Thanks for your time.
—-
To stay in the loop with the latest news, interviews and features from the world of toy and game design, sign up to our weekly newsletter here