How do inventors sell D2C? Here, The Sock Game's Jono Green reveals the secrets of working a Christmas market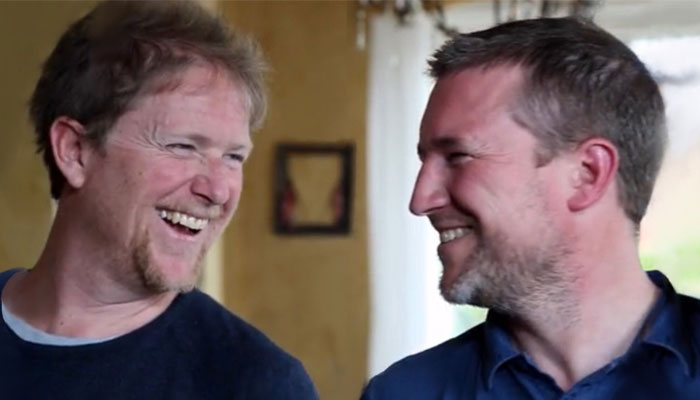 Jono, you're one of the two delightful and inventive brothers behind The Sock Game. We've spoken about your journey to market before… Today, I want to ask about your hard work selling the game. Just so we're clear, though, The Sock Game is no longer with Spin Master – who has it now?
Asmodee are now our distributor in the UK and Ireland. We currently don't sell the game in any other territories.
And why the change?
Without going into too much detail, we felt our game was better suited to a company like Asmodee, and that they have an aspiration to see our game grow. We're one of their top-tier games.
Fair enough! So… One of the things I've noticed is that – despite being involved with some huge publishers and retailers – you continue to sell the game yourself at Christmas markets! Why go to the extra effort?
The Sock Game – more than most games in my opinion – needs to be demonstrated for it to be understood. By this, I don't mean that the concept of the game is difficult to understand…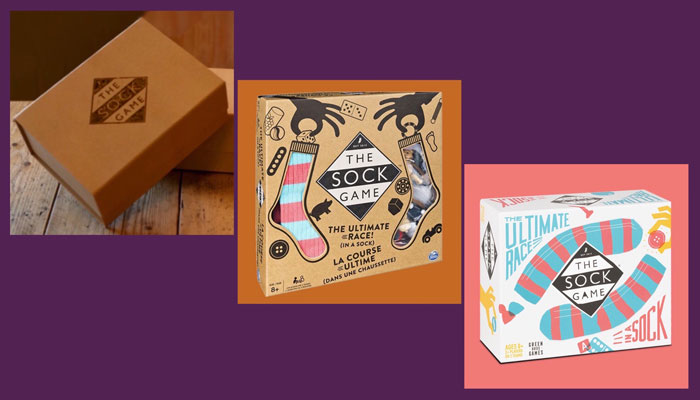 No; far from it! But?
But it's more a perception of how it might go versus understanding it from the actual experience of playing. It's not until a new player puts their hand into a sock and fumbles around for an item that a light comes on – and the true 'understanding' happens.
Interesting to hear that articulated… But yes – to describe it as, "You race to find objects in a sock" doesn't do it justice…
Right. So we constantly get folk saying, "Oh, this is actually really good fun!" – and off we go! So I guess there's still a genuine pleasure I get out of playing our game with people, to see the 'light on' moment. So I still do the Christmas markets as it can be very lucrative… That said, Covid has hugely impacted the past two years.
Hmmm. Yes. And Covid aside, when you're looking for a site, a pitch, I suppose, what do you look for? What kind of markets and fairs do you go to?
I've learnt an enormous amount this year in this regard. I recently moved to Bath, and so I have the best Christmas market on my doorstep. However, this year it was cancelled again, so I took a punt on Bristol and Oxford.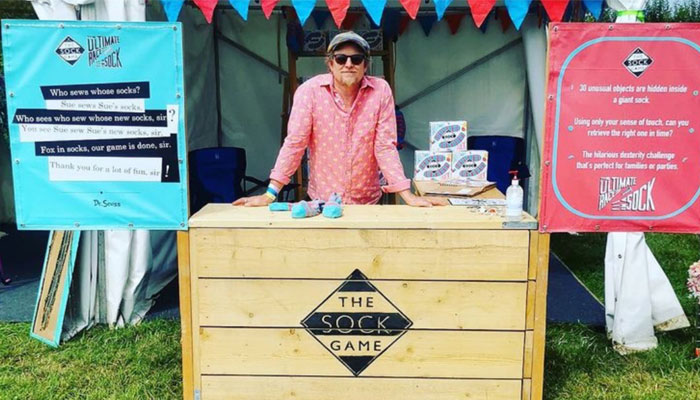 Oh! It sounds like we're having this conversation at the right time. You took a punt on Bristol and Oxford… How did they work out?
Oxford was very good. Bristol was a big mistake! Effectively, it's all about demographics, organiser marketing, footfall and the locality to me. Bristol was particularly bad owing to it not being a "destination market". By this I mean it was plonked next to Cabot Circus shopping centre; it felt more like a thoroughfare.
That's fantastically interesting! I felt that about part of the market in Birmingham when I was up there. Some of the stands were just kind of in the way…
People weren't getting their mulled wine and pottering about as they did at Oxford. One thing to look for is whether or not organisers are coaching people in… At the beginning of Winchester market, in 2019, they gave all of us a print out with the number of coaches arriving each day. Again, this has been affected by Covid, of course…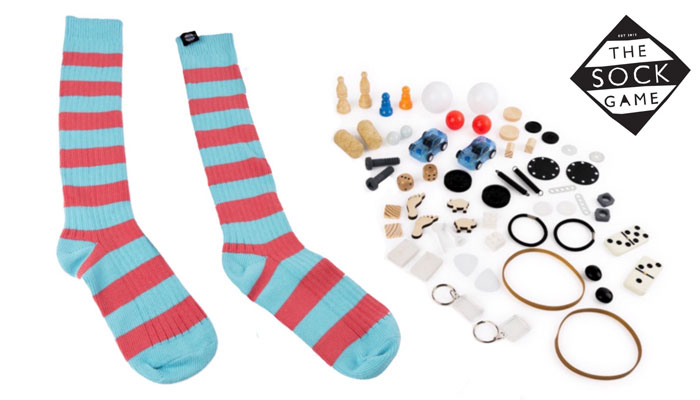 Yes; that's a serious problem. And if we were to be optimistic and imagine a new normal which looks like the old normal, is there anything you can do to influence where you end up at one of these events? Are there predictable good spots and bad spots – what I call 'Tread Spots' and 'Dead Spots'?
Some organisers allow you to pay extra for specific locations – which is great if you know the area. Equally, it'll sometimes be obvious from the price of a chalet whether or not it's in a higher footfall area. Also, if you've been the year before, some offer you the same chalet again for an additional fee.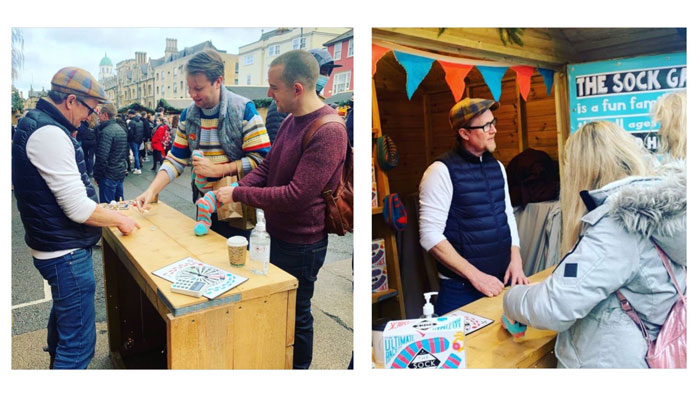 Is that right? Exactly the same for a little bit more? Seems a little punitive! In terms of how you go about setting up your chalet – or hut, if we don't want to oversell the glamour – what essential equipment do you take?
For me, it's very simple. I still have the stand my brother and I made using scaffold planks to take to London Toy Fair…
This is the table top with the recesses cut into it to show the various pieces?
Exactly right, yes… Beyond that, I always go for a barn door chalet so I can edge my stand out into the street as much as I'm allowed – it's good to be in among the flow when selling our game. Add to this some lighting, a simple shelving unit to display the game, a phone and contact-payment machine.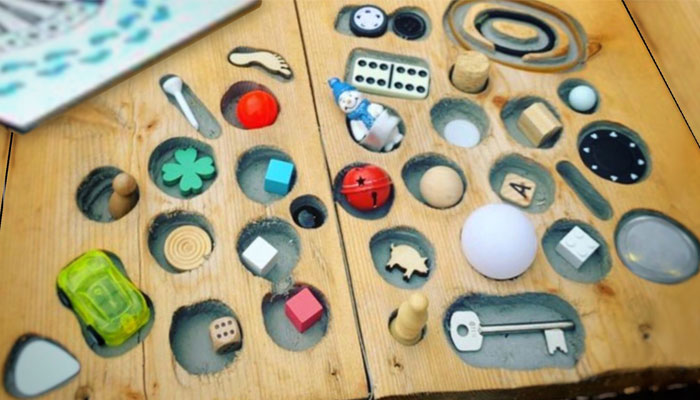 Great! Very lean. I noticed, too, that you have a sign that says, 'As seen on TV.' What TV has the game been on?
It was on How to Spend It Well at Christmas with Phillip Schofield, back in 2017. I've used that sign a little less as it now seems dated.
When you were using it, what did you feel it helped communicate?
It used to give the game a certain validation. If anything, the hook is already created when they come over and ask what is was on.
Got it! And how do you actually demo The Sock Game? What do you do to grab attention, get people to engage in the game… And buy it?!
I've now re-written my signage a good few times – any help gratefully received Mr. Deej! The reason why I keep looking at it is simple: when folk walk past, they just see two socks on a stand, and some random items! So the copy needs to be succinct, punchy and obvious – and even then, folk still think I'm selling socks!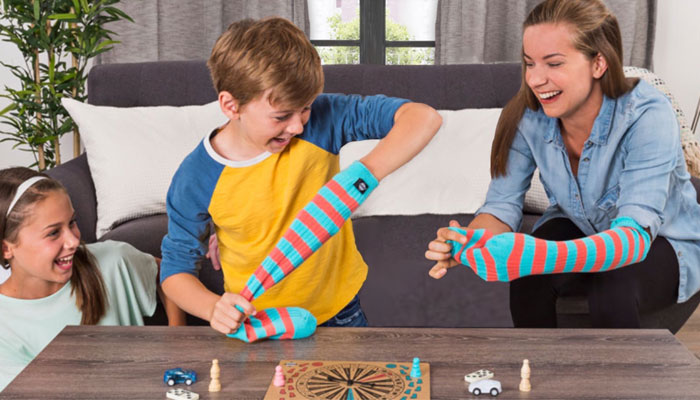 Hahaha! Course they do! I hadn't thought of that! Presumably, though, curiosity pulls in a few of these folk?
Absolutely… And once they've come over, the process is super simple. I explain the game very quickly and succinctly, and I offer up the socks. Before they know what's going on, they've got their hands in a sock and are racing to find a domino – job done! I keep the rules super simple for the demo, best out of three… And so long as they're the right demographic, it's still around seven or eight out of ten that then go on to purchase the game.
Great numbers! Wow… Great numbers. You know, I said to Billy your conversion rate would be terrific: to try The Sock Game is to buy The Sock Game…
Interestingly that figure doesn't include a whole load of folk who, for example, played the game with me at Winchester market… Then went on to buy it at Argos because it was £5 cheaper there!
Really?
Really! Argos sold out! Ha!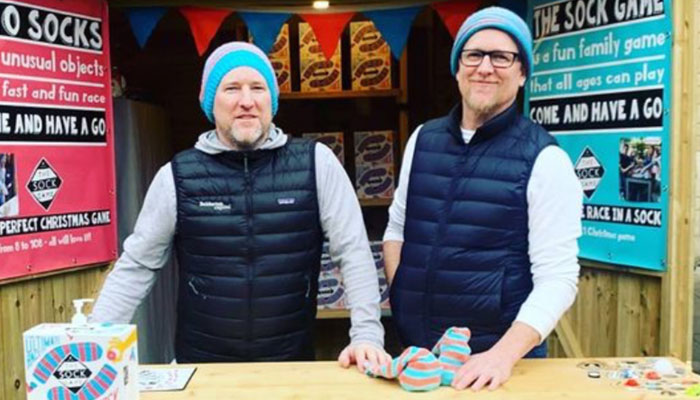 And has the conversion rate always been that high? Or has it gone up as you've refined your pitch over the years?
It's consistently been around that figure, even when Nick and I started selling them back in 2016. I'd say the number could be higher if Nick and I both did the markets together each year… Folk seem to like our camaraderie, and it re-enforces the 'old family game' message. That's genuine, of course, and people really like it.
And without giving away too many of your secrets, do you routinely use the same opening line? And how about closing?
Yes, I now tend to use a similar opening line – purely based on having tried and tested many over the years, I now have it down. Closing is harder. I tend to let folk mull it over – you can usually tell if they're going to buy from how much of a laugh they had playing the game.
And if they decide it's not for them?
If they decide it's not for them, then it's not for them! I've developed a fairly thick skin doing this – and I've heard all the possible barriers to purchase, and have a number of come backs to each.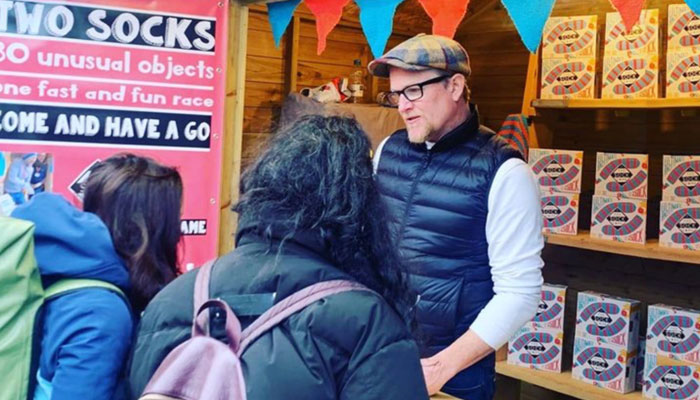 Well, let me ask you this: for inventors that are thinking about doing this kind of pitch work, what three pieces of advice would you give that may not be obvious until after you've done a few?
First, only book destination markets – in other words, those that consumers "make a day out of". Good ones would be Bath, Winchester, Oxford, Salisbury, York…
Brilliant. I hope people appreciate you sharing this stuff; this is gold, Jono!
Second, I'd say crunch your numbers thoroughly. Work out all your out-costs, and then work out the minimum you need to sell to cover costs and go from there. Third, do your homework in regard to chalet placement. If you can, go to the town you're considering and check it out for yourself… Look for areas you think will have higher footfall.
Jono this has been so insightful, I can't tell you. Thank you so much – money can't buy this kind of insight and I really appreciate it. Last question, then: What's the one thing I should've asked you about that I didn't?
How easy or hard is it to find good staff to run a Christmas market?
And what's the answer?
Hard!
Ha! I guess that's why you still do it yourself! Jono, thank you again: when we next meet up, the mulled wine is on me!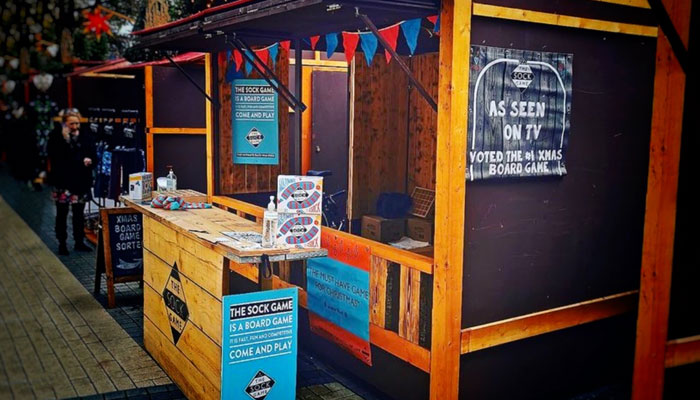 —
To stay in the loop with the latest news, interviews and features from the world of toy and game design, sign up to our weekly newsletter here