"It'll be the best one yet!": Inside Spin Master and Kingston University's upcoming Toy Invention Programme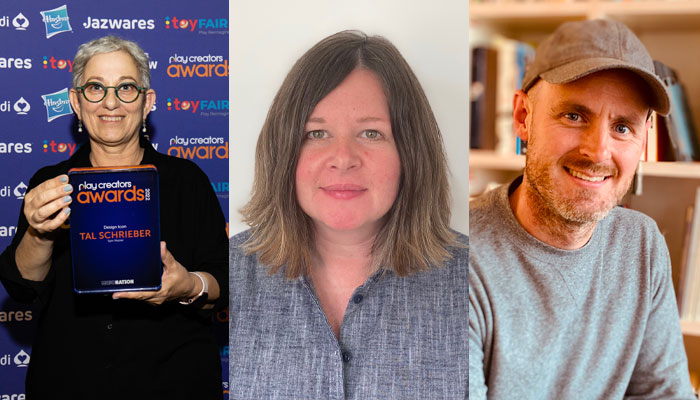 Guys, thanks for taking time out. Rebecca and Kieran, let's start with you. How did you come to embark on careers in teaching design?
Rebecca Davies, Head of Department, Kingston School of Art: I started in education soon after graduating from the Royal College of Art, where I trained in printmaking. I was lucky enough to receive a Fellowship from the College to do a teaching year. It gave me the opportunity to work with an incredible array of people who weren't part of my course. I'm a printmaker through and through, but I got to teach printmaking to car designers, toy designers, fashion designers, animators, graphic designers… It gave me a taste for sharing something you're passionate about with other people. That's what education is – sharing your passions and giving people a toolkit to be brilliant at what they do. It's what we're trying to do with the Toy Invention Programme.
Great stuff. And Kieran…
Kieran O'Conner, Visiting Tutor and Course Leader, Kingston School of Art: I was a bank clerk for two years after leaving school and I soon realised that wasn't for me. I was always into art – the bank job had more to do with my mates getting jobs in the city than a love for banking! So I went back to art college, where I loved that you could be serious about having ideas and being playful. It was hard work, but it was fun.
I never wanted a job like the bank job, so I chased different opportunities and different design jobs. I continually wanted new things to play with, but I've been at Kingston the longest I've ever been anywhere because it's stable, but always changing. That's what the appeal of education is for me.
Tal, Spin Master's Toy Invention Programme started with you at Shenkar in Israel. Since then, it's expanded to Canada, Japan and is opening soon in Hong Kong. Why open one in London?
Tal Schrieber, Innovation & Inventor Relations, Spin Master: London, and the UK in general, has a lot of inventors and a big history in toy invention. I mean, some of the best inventors in the world come from London, so it's a natural fit.
For anyone unfamiliar with the impact of the course in Israel, how has it shaped the toy inventor community there?
TS: When we started the Toy Invention Programme nine years ago, there was around 15 active toy inventors in Israel – and they were very successful. Most of them were game inventors, like the Coster family who invented Guess Who. Now we have a big successful inventor community of around 100 active inventors thanks to the Programme – and you can see their work everywhere in the industry.
Incredible work, and hopefully the Kingston programme can grow the UK's already healthy inventor scene even more. And Tal, why choose Kingston as home for the London course?
TS: When we came to London, we met with many universities. From the very first meeting with Kingston, we knew they'd be the best partner to lead this programme – and we still think this! They're really open and I think it'll be the best programme yet.
And from Kingston's perspective, what appealed to the university about being home to a toy invention course?
RD: I was lucky enough to be in that first meeting when Tal and Amy Pruzansky came over. I had already worked closely with Anne Boddington, who had previously done some work with Tal and the Israel network. I knew that anything Anne pushes my way was going to be interesting, challenging, head-scratching, exciting, eye-watering and never boring! As soon as I met Tal and Amy, I felt we were kindred spirits.
Being a designer, you like to think you know a little bit about a lot of things. It's our job to be interested in lots of different things – but the more I knew Tal, the more I knew that I wanted to learn more about the world of toy invention. It was a wonderful opportunity and a no brainer for the university. It resonated with so many of our other courses, and we relished the opportunity to start something new.
KC: We're a playful group and we have access to maker facilities. The collaborative nature of the university also felt like a good fit. We're all designers, and being an inventor is a different model, so that was an exciting new area to explore.
Is there any specific to the toy industry that you're excited to engage with?
KC: The speed of it. Seeing how many ideas are in play with inventors – the pace and the energy of it is exciting. There's also been a real generosity from people in this community – yourself included! Everyone has a can-do attitude.
RD: Absolutely. We didn't have the experience in toys, but we were never made to feel stupid.
You also have Fuse's Chantal Drenthe and Fun-Damental Invention's Gary Pyper involved in the course…
TS: Yes, we're lucky to have Chantal and Gary involved. It's a creative course, but we want our students to go on to be professional inventors, and Chantal and Gary are living it! They both have a passion to teach, and Kingston students are lucky to have them.
Also, it's worth noting that any inventor I've asked to be involved in any of the programmes from around the world has been happy to help. They all have a passion to help, which is amazing.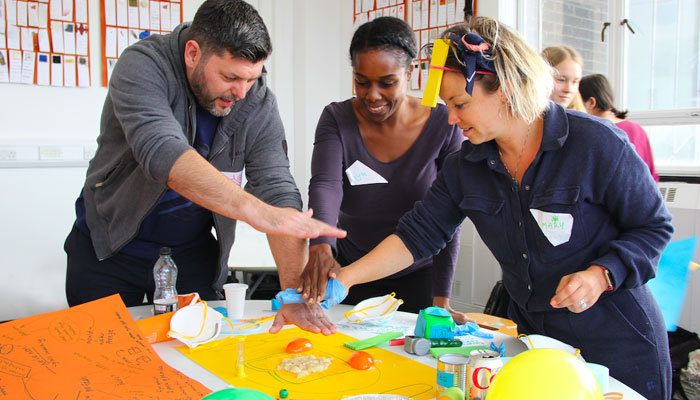 What makes for a good Toy Invention Programme student?
TS: Our students come from different backgrounds, and that makes the course very special. The only thing shared by the students is a love of toys. In terms of what makes a good student – they need to be creative… They should be young at heart and have a passion for toys. Also, because there's a lot of teamwork involved, we look for people who work well with others. It's really important.
RD: I'm always looking for an inquisitive student. Somebody who wants to ask 'why?', 'how?' and 'what if?' Someone who is malleable enough to take on everything that their lecturer – and fellow students – will throw at them. That's a dream student. Somebody that's interested in the world around them.
KC: I'd agree with all that, and I'd add students who are passionately into things and have a genuine drive; people who are itching to get going.
On that, what fuels your passion? What helps you have ideas?
KC: For me, it's about doing a mix of things and having conversations with lots of different people. At the moment, I'm doing some work with a primary school, and it's inspirational. I'm not there to have ideas, but I'm surrounded by incredibly playful brains.
TS: For me, inspiration is all around. When I cook, when I wake up, when I go to the theatre – it all feeds my creativity. I'm also very connected to my inner child. This drives me a lot and I develop things that me – as a child – would love! It's really important.
RD: I'll keep mine short – I love to talk to people. And I love a map, but what I love even more is getting lost.
Does you work-space impact your creativity at all?
RD: I think it depends on the individual. For the course, we're going to create an environment that's movable and fluid enough for students to shape a space they feel comfortable playing in. Play doesn't always exist in an office, or a place that feels like an office, so we'll actually have a wheel-able, portable studio/toy box that we can take to different places – we might wheel it into the Dean's office!
TS: I love that! When you're stuck creatively, you usually need to change your environment.
KC: I agree. It's about feeling you can get messy. There are places full of fun stuff that still feel too polished!
Guys, this has been great. Before we wrap up, let's squeeze in one last proper plug for the Kingston Toy Invention Programme! Why should people sign up to take part?
KC: You get to do inspiring stuff! You'll learn about play, working with others, how the toy industry works, sustainability, child development, prototyping… There's lots to enjoy!
TS: You'll also get a good grasp of how to present, and who best to present certain ideas to. We're really connected to the industry, and that's a special thing about this course. Students learn to how to present professionally and who to take your concepts to.
KC: Absolutely; that access to insider insights is key.
RD: I've been delightfully surprised at the generosity of the Spin Master team and the toy inventor community. I don't know a single course of this level that gives the students so much access to speaking to people at the very top. I don't think it happens on any other course I know of.
TS: And it's worth stressing that the course doesn't focus on Spin Master. We teach how to be a professional toy inventor, generally. Spin Master supports the programme, but our graduates pitch to all companies. Spin Master created the course because they feel it benefits the entire industry.
And I'm sure the industry will hugely benefit from this new course too. Guys, this has been great. I should also add that anyone interested in learning more about the course should head to www.toyinventionksa.co.uk. And the guys are hosting online open days for the course on October 12th and October 26th. Folks can sign up for the 12th here and the 26th here. Or join a workshop on campus on the 19th here.
–
To stay in the loop with the latest news, interviews and features from the world of toy and game design, sign up to our weekly newsletter here