"It's a dream job!": Artist Matthew Robert Davies discusses his work on Disney Lorcana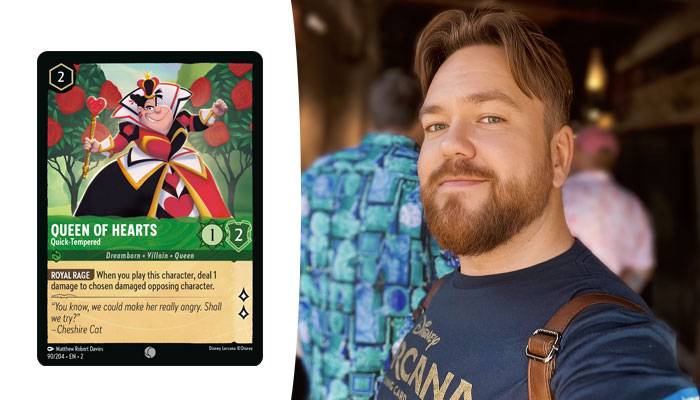 Matt, it's great to connect. We're very excited to debut a brand-new card from the upcoming Disney Lorcana: Rise of the Floodborn, and it's one you created the artwork for: the Queen of Hearts.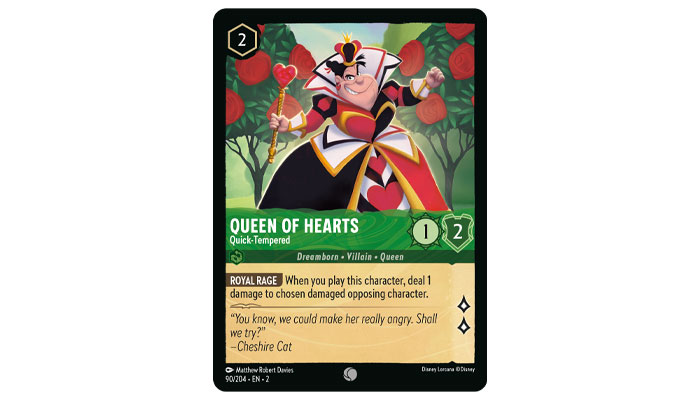 Before we dive into that, were you a Disney fan prior to working on Lorcana?
I was born in May 1990 and the VHS for The Little Mermaid had just come out. My mum bought it for my sister, but it turned out to be the only thing that would keep me quiet… That film was on a loop in our house for about four years! Every Christmas I would get a new Disney VHS. We had a copy of Fantasia at the grandparents' house – for a while, I thought it was a film that only my grandad had!
My mum remembers that once, while watching a Disney film, I pointed at the screen and said: "I want to do that". And while there's a big list of names in the credits at the end of these movies, it was a job no one around me thought someone from rural north Wales could ever do! That said, I always knew I could do it if I kept trying. I don't know where that stubborn determination came from… Actually, I probably learned it from watching these Disney animated films!
So as I grew up, I'd draw and doodle characters, because I wanted to work in animation. I got a job doing TV animation and one job led to another… Then during Covid I got an email from Ravensburger asking if I wanted to work on this Disney project – the rest is history!
So your love of Disney actually set you on a career path that's led to working on a Disney project!
Yes!
And this is your first board game project?
Yes! I've always been a fan of board games, but this is my first foray in illustrating for the tabletop games industry.
Not a bad place to start! Let's dive into your work on this new card – what did the brief look like?
In the game, The Queen of Hearts is a Floodborn character. These can have altered designs that look slightly different from how you might expect them to look… I got to work on the concept phase, where I could sketch the Queen in different outfits, styles and try new things. We embellished her dress and she has a more intricate sceptre, but it's all in keeping with the spirit of the character. We couldn't take it so far that she's unrecognisable.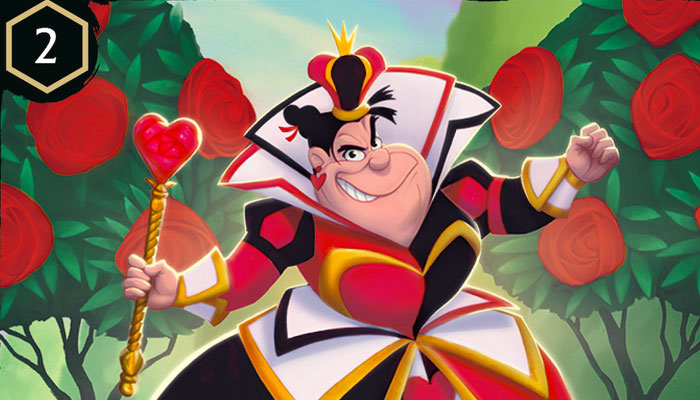 The brief was to have the Queen grinning knowingly… With her character, you just don't know what huge chaotic reaction she's about to have – she's not the most stable character! With that in mind, I drew her as anticipatory… It's like she's just about to do something. The illustration has a real nervous energy. And you never know if you'll get the chance to work on a character more than once, so I wanted to make sure I did something interesting with her.
And this isn't your first work on Disney Lorcana. What other characters have you created fresh artwork around?
I did a card for Gaston. His card was called 'Intellectual Powerhouse'. The brief said: 'Gaston standing in-front of a board with images of his intricate plan of how to win over Belle'. Gaston is very driven, but Belle is the intellectual in that story, so I wanted to reframe that in a way that shows he thinks he's intelligent. I leant into the comedy of it all.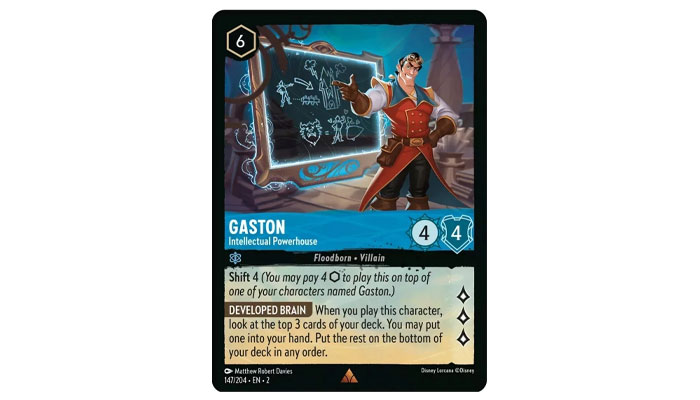 My finished artwork shows him in quite an academic outfit, standing in-front of a magical floating board. The images on the board are silly and almost like a child's drawing – but he thinks it's brilliant and that he's a genius! It felt authentic to his character.
I've also done Hades. The brief there was: 'Hades casting magic'. It gave me so much freedom and a lot to play with. I also did the action card 'The Beast is Mine' where the brief was 'Gaston holding a magic mirror that has a visual of The Beast in it – a magical green energy is pouring from it'. I wondered how I'd cram it all in – it's a 2.5 inch square!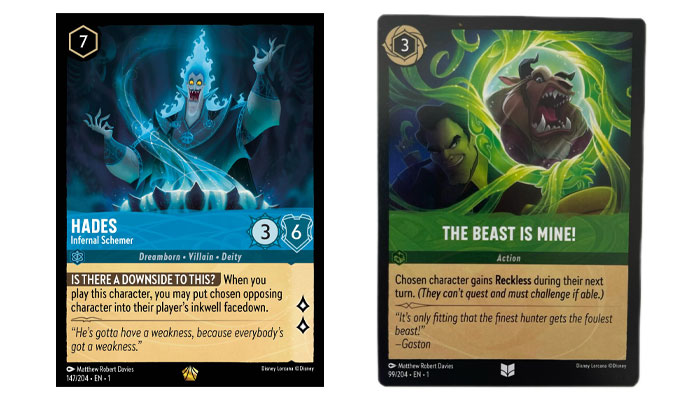 You nailed them!
Thanks! I also did an Elsa, which was great, and I requested to do an Ariel card as it was the first film I ever watched – I could draw her in my sleep! She was a canon character, so that meant she had to look exactly as she looks in the movie. I had The Little Mermaid on repeat while I was painting her! Some of the masters of animation worked on that movie and their craftsmanship was always on my mind throughout the design process.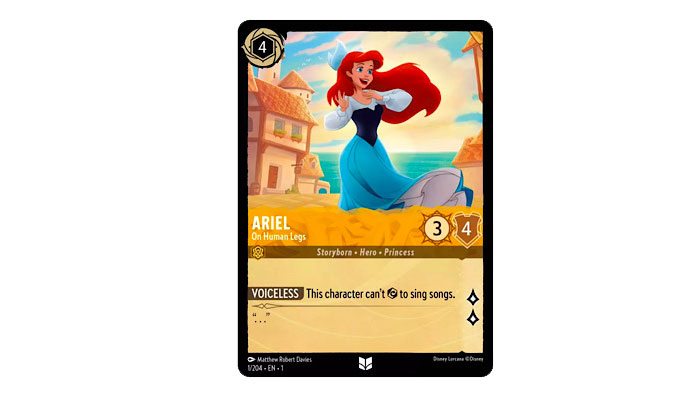 Amazing. Looping back to your Elsa card, that's one of the rare ones right?
I've been lucky enough to do two Elsa cards, but yes, one is an Enchanted card and they are extremely rare! It's tricky illustrating for a CGI character because there's no outline, and where you put that line can really affect how she looks.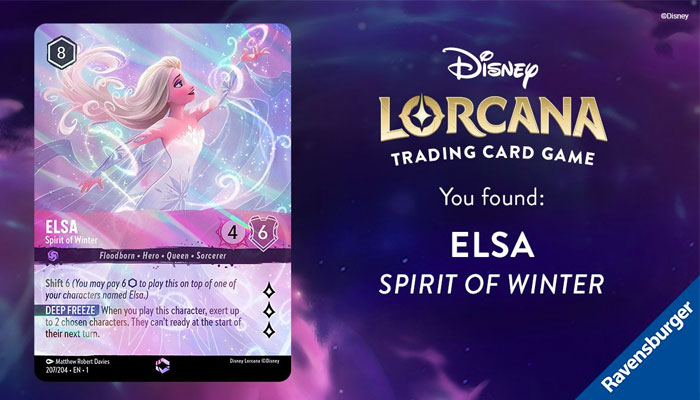 One of those is on eBay for £2000! How does that feel, knowing your art is on a card valued so highly by the diehard fans?
It's fascinating. And I've been at conventions where some fans want their cards signed… The fact that my signature can add hundreds of dollars of value to a card is wild to me. It's a bit baffling to be honest! I've signed people's names and personalised them, but there are some things I won't do… Some people have asked me to draw things on the cards that are outside of the character's world or are a bit edgy – I refuse to do that.
I love these characters and I'd never do anything to jeopardise the quality of the card or the integrity of these characters. My work with these cards carries a lot of responsibility and it's not something I take on lightly. It's a dream job.
Matt, a huge thanks again for this. Much appreciated.

–
To stay in the loop with the latest news, interviews and features from the world of toy and game design, sign up to our weekly newsletter here