Jazwares' Naomi Brugnatelli on why there's never been a better time to be an inventor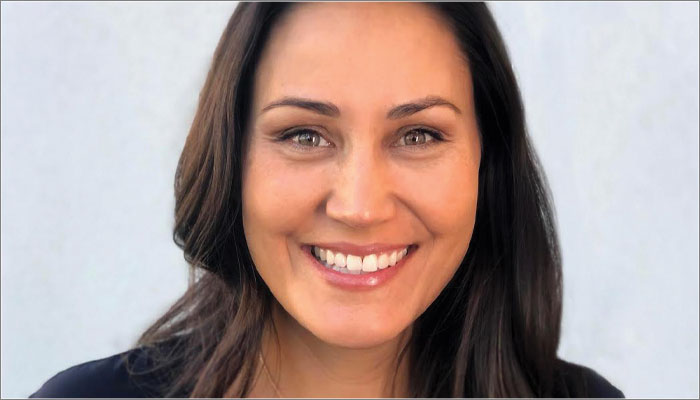 A household name among inventors, especially gamers, Naomi Brugnatelli took the leap to Jazwares in 2020 for a lead role as Manager of Inventor Relations.
We caught up with Naomi to find out more about how she got her start in the world of toy and games, and why it's a good time to be an inventor.
Hi Naomi! Great to catch up; so to kick off, was there a life before toys and if so, what did that look like?
Yes! There was a life before toys! I was previously in special education, teaching at a middle school. I went into that straight out of college, and as a young adult, you think that's a life-long career, but I quickly figured out that I wasn't making enough to live in California on a teacher's salary. It's so sad but it's true! So I had to pivot really quickly.
And toys jumped out?
Well during the summer break I looked online to see what was out there and Mattel popped up as having an opening. I lived down the street from Mattel so I thought why not! I sent over a resume, I had a phone interview and then a three-hour interview in person, but during those three hours they were drafting up my offer letter! I had to make a decision right then and there: do I leave a career that I had always envisioned? I did what lots of young kids do and I took a leap of faith and dove right in!
A toy giant and a short commute; the perfect combination! And did you go straight into the world of inventor relations at Mattel?
No! I started as a coordinator with the Hot Wheels team and then moved over to leadership development.
That sounds like an interesting area!
Yes, it weirdly went back to my teaching roots! I started teaching classes to Mattel employees on things like time management and how to present with confidence. From there I went into licensing, working with the external licensors and getting placements on our Hot Wheels cars.
Wow! Such a varied path! And how long would you have been at Mattel by this point?
I'd been at Mattel for 10 years by that point. I had brand new babies at home – twin girls – and so I went to my HR person and said I wanted to take a break from the corporate world. To my surprise my name had already been circulated for an inventor relations role. I've not left the world of inventor relations since and it's been almost five years; I love working with the inventor community so much!
Did you have any ideas before diving into this space what working with the inventor community would be like?
No! I was thrown in at the deep end! When I took over games, I kept hearing 'game inventors are a different breed, so get ready!' I had no idea what that meant!
It sounds ominous, but how soon was it before you got to know that was meant in good way?!
Well I joined that team in November and in January I went off to Nuremberg Toy Fair  for the first time. So within three months I was meeting game inventors and taking pitch meetings for hours on end and I loved it! It was so fun and I thought 'yes, I can definitely do this!'
I'm interested; who was your first pitch? Who set the bar?!
I'll never forget my first inventor meeting. It was with IDEO and they traveled down from Palo Alto to present a few new items. It also happened to be my birthday. I felt a bit conflicted because they obviously didn't know it was my birthday and they invited us to go out to lunch, but I had made plans to meet up with friends for lunch! Because it was my first time meeting with IDEO, I cancelled my birthday lunch and hung out with them instead.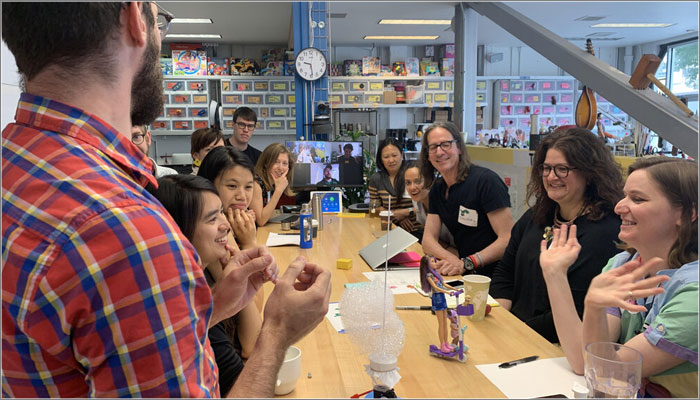 Proper dedication.
Absolutely! It was  a very memorable day, and it turned out to be a great birthday lunch!
Before we delve into your new role with Jazwares, has your approach to inventor relations changed much from that first birthday pitch with IDEO to how you tackle it now?
I've always approached it with an open mind, an open heart and most importantly I'm always honest with my feedback. I appreciate that it can be very intimidating pitching to a big company so I've always maintained a friendly disposition, because that's the first impression that an inventor gets.
I've always wanted to meet them and give them a warm welcome first, before they meet the brand team. That's never really changed. I think it's key to make the inventors feel comfortable and for them to know it's going to be fun and that we're going to have a great time.
Absolutely, and I imagine with your twins, you have the perfect barometer for what's fun.
Of course, my girls are always my inspiration. I always think, would they want to play with this? Would I buy this for them? If they don't find it interesting then how am I going to serve this up to my brand team?
Are they sick of games now? Running into the other room when mum comes home with a prototype under her arm?
No way! Quarantine has only increased our time playing games together. Honestly, they would play games every night if I let them.
Now, you joined Jazwares as Manager of Inventor Relations late last year; in the new role, what are you looking for from the inventor community?
I want to see cool new innovation across all categories and the sky's the limit! Bring me anything and everything! The doors are wide open!
It's really cool that Jazwares is a nimble company that wants to move fast on great ideas.
 
Was that part of the appeal in joining Jazwares?
Absolutely! It also helps that everyone has been so welcoming here! I love working with Michael Rinzler and David Winter. They're well known in the industry and I trust them wholeheartedly; I know that they have everyone's best interests in mind.
You mentioned the importance of trust and having fun; does that sum up what you think makes for a great IR/inventor relationship?
An openness and a trust that we'll take care of your item. We are excited to share your ideas with our brand teams. We want open, two-way communication and while I'll be the one taking your idea in, I still want you to be a part of the process.
It doesn't stop with the inventor relations team. We want to launch your item and help it achieve what you envision it can achieve. I don't want to just take your idea and reskin it. We really think long and hard about this. Okay, here's your item, and this is where I see it going, but do you share that vision? Let's collaborate. It's all about working hand-in-hand.
Now, I want to talk a little bit about the pandemic; I imagine this year you've seen a lot of pitches virtually. What's your thoughts on the pros and cons of seeing inventor ideas this way?
It's interesting because during this time, I feel I've connected more with the inventor community because they're so accessible; we can just hop on a Zoom call. It doesn't matter if you're on the other side of the world. It's fun to be on a call with people in different time zones.
The downside is that it can get pretty lonely! I don't really enjoy talking to a screen all day. I'm a big hugger and I miss hugging people; I don't know if hugs will ever be allowed again!
Yes! We don't want your next hug to be met with five people in hazmat suits abseiling in Monsters Inc-style!
Ha! Exactly! It can also feel quite isolating working from home. My girls are now in school so I have the house to myself and it's really peaceful, but I can't wait to get back out into the real world again.
Absolutely; now you're seeing lots of ideas and often seeing lots in a condensed amount of time. How do you keep yourself engaged and avoid 'idea fatigue'?
Good music on a sizzle is always helpful! Anything upbeat that helps add to the story you're trying to create is great. And videos don't have to be professional; they can be shot on a phone. We want to see if it's fun and also if it's a working model or a mock-up, because it's useful to know if we'd have to put in a little more development. So for sizzles; make them fun, make them lively, make them upbeat!
Great advice. And on the subject of giving out pearls of wisdom, do you like seeing pitches from new inventors, who may be a bit rougher around the edges than the IDEOs of the world?
I love this question because I'm super passionate about supporting young up and coming inventors. That's why I love People of Play's Young Inventor Challenge; you get to meet kids that are super young and help them grasp that they could do toy design as a career. I also love meeting interns that are just starting out. Inventing is a fun, challenging job, but it's a rewarding one when you see your item on shelf.
It goes back to my teaching roots and wanting to share and show the younger generation all of the possibilities of our industry. The folks that have been in the business for a really long time don't need my advice!
That's great to hear. Now, I'm interested, you see so many ideas day-in, day-out; but do you ever have ideas for products yourself? Could you ever cross that divide and dip a toe in the inventing world?
Oh man, I wish! I don't have many ideas, but my kids sure do!
Well they have a pretty good in with the inventor relations team at Jazwares!
They do come up to me and say 'mommy you should do this' and I look at it with my IR lens and tell them that it's going to be too costly! But I can tell you where I am super creative and inventive: making costumes at Halloween!
I wish we went to town with Halloween here in the UK in the same way that you guys do in the US.
I know! One of my daughter's wanted to be a Rubik's Cube this year, but I told her no because I didn't want to spend time making something that cool when we weren't able to go out trick or treating.
Ah, so with the Rubik's idea up in flames, what did she end up dressing as?
She settled for a sloth.
And that was easier than a Rubik's Cube?!
Well I didn't have to make it, you see!
What do you do to fuel your creativity, and has this been affected by the lockdown?
I have definitely listened to more podcasts than I can tell you. It's good because I'm learning as I'm listening. I'm loving Azhelle Wade's Making It in The Toy Industry!
I also like to start my day with my Calm app. It has some meditations on there and puts me into a quiet space that I won't have once my kids get up! That keeps me grounded for sure.
Great and before we wrap up, you mentioned earlier about the next generation of inventors and supporting young talent. Have you got any advice for how new inventors can thrive in the world of toys and games?
Starting out, you need to stay humble and learn from all of the inventors that are in the industry. Connect and network as much as you can through great places like Mojo Nation, People of Play and TinkerTini – shout out to Trina McFarland who is doing amazing work!
Like I said, keeping an open mind and keeping in touch with folks who can help you and who paved the way in the industry. You can learn a lot from other inventors and I think that's one of the reasons why this community is so tight-knit.
You go to events and everyone chats with each other. Everyone knows what everyone else is doing and most are willing to share advice and connections. It truly is about networking and not seeing it as 'me versus him' because we're all in this together. If your item doesn't land with one company, there's 10 others that would love to see your item. I know at Jazwares, if an item doesn't work for us, we're willing to give advice on who it might be a better fit for.
And on something you said there; if we look at the landscape now, People of Play, TinkerTini, The Toy Coach, The Toy Association, The Toy and Game School; the list goes on and on! Is now a great time to be an inventor, because there's so much help out there and lots of opportunities to get ideas licensed?
Absolutely, and look at inventors like Fun-Damental's Gary Pyper or Tantrum's Steve Moore; they've proved the inventing world is hot right now. They've branched out on their own, leaving huge companies, and are doing really well. So yes, I think now is the time to get out there and you can do it. Yes, it's challenging because there's a lot of people out there doing it too, but there's room for everyone to play.
They've actually inspired me; I could've played it safe, but I wanted to take a risk and make a big move while I still can.
Well congrats again on the new role; and a huge thanks again Naomi for taking time out to chat; it's been fun!
—-
To stay in the loop with the latest news, interviews and features from the world of toy and game design, sign up to our weekly newsletter here