Johannes Sich on crafting the characters, crimes and clues that fill his unique detective game, MicroMacro: Crime City

The Spiel des Jahres-nominated MicroMacro: Crime City is a detective game with a twist.
The game comes with a giant city map, filled to the brim with characters, crimes and clues. Players have to scour the map to discover crime scenes, seek out suspects and, ultimately, crack 16 cases of increasing difficulty.
As well as a Spiel des Jahres nod, the game has also seen designer Johannes Sich nominated for Play Innovator of the Year at our own Play Creators Awards. We caught up with Johannes to learn more about the complex design process behind it – and the future for his MicroMacro brand.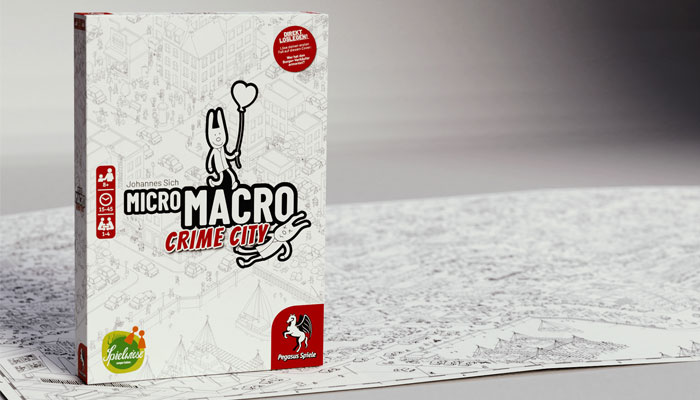 Hi Johannes. Great to connect. To kick us off, how did you first get involved in the world of game design?
Hi Billy; nice to meet you. I studied communication design and focused on illustration and animation. Already at that time, I did some projects related to digital game design. When it came to my Diploma project, I dedicated myself to design my own board game: La Cosa Nostra.
Being primarily an illustration and visual design project, I was fascinated by working on the rules and the actual game design. Long story short… It took me five years to learn board game design, and to make it work as a real board game.
So how did La Cosa Nostra go from design project to a real game?
Well, we started a crowdfunding campaign. It was back in the days when crowdfunding was the new thing, and we really wanted to do it. But it was so much work!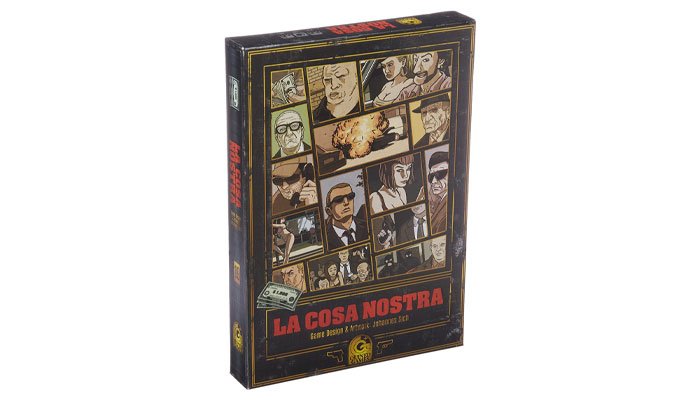 And when you say 'we', who else is part of the team?
It's me, Daniel Goll and Tobias Jochinke. We are now Hard Boiled Games, the studio behind the design of MicroMacro, but those guys helped me a lot with La Cosa Nostra. We all studied design in Düsseldorf, worked on several projects together and have been close friends ever since.
Through the process of self-publishing La Cosa Nostra, we gained a lot of insights and contacts in the board game scene, and at one of the Essen conventions, we got hit by another idea…
Yes, let's dive into that idea – MicroMacro: Crime City. It's a co-op game which sees players look at giant crime-filled city map to uncover hidden information and trace culprits. Where did the seed of that idea come from?
In the first place, our idea was a game that focuses on very tiny details in a huge, printed image. We even thought about details so tiny, that you wouldn't be able to see them without a magnifier! We wanted to have a gigantic 'Macro' image with high resolution 'Micro' detail, in which the players have to find tiny information to solve a puzzle.
This initial vague idea then matured over several months, during which we slowly refined the concept. It became ever clearer that the idea of solving optical puzzles would be best suited to a detective theme and the 'detailed world' would probably be a city. This realisation then formed our vision… The game should be a large city in which players can discover clues and collect information from different locations, while formulating connections and deriving solutions.
We then got the breakthrough idea! Those spots of information would be scenes in different time states of a story. And the puzzle would be the story itself: to solve a criminal case.
I developed a very rough prototype with our very first case, Dead Cat. This one made it into the final version and is still a classic! At some point later in the process, we got rid of the idea about tiniest details you can't see with the human eye – but it's still in our minds…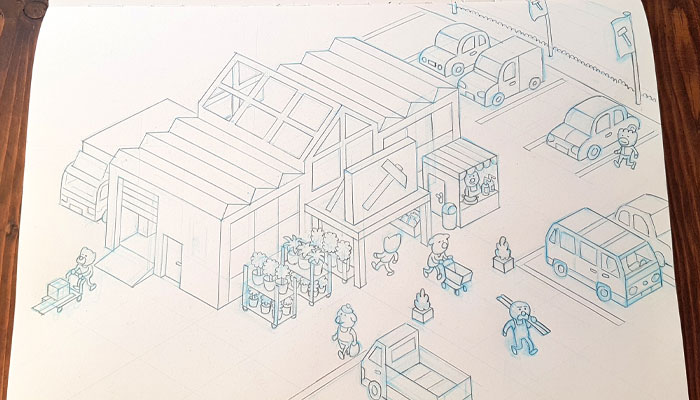 Having had a look at the map in the game, I imagine the design process was quite brain-bending! Did you have a system for filling the map up with images and clues in a way that made sense?
Well yeah, now we have a system, but it took a long time and a lot of trial and error to develop this system. Actually, the map of the first part of Crime City is still based on the very first prototype. Once the basic game concept had proven to be fun in initial tests, we gradually developed more and more cases. The look of the city and richness of details grew with the cases we implemented, step by step, over a period of two years.
The sheer size of the map and the abundance of elements grew into an ever-increasing challenge. This was only possible because we worked in a team. Illustrated scenery, individually designed characters, 3D-designed buildings and countless hand-drawn objects mix together to form a complex overall picture that has to work perfectly to ensure the gaming experience is both exciting and easy-going.
So while the crimes and characters shifted during development, did the city itself take many forms, or was that cemented early on?
Urban planning and storytelling are mutually dependent on each other, and entire blocks had to be rebuilt again and again when regular test games revealed problems in game design.
From a technical point of view alone, the concept presented us with great challenges. Step by step, we developed a workflow system for the dynamic design of the game map. This pays out now – thanks to this system we were able to develop the second part of Crime City in less than one year.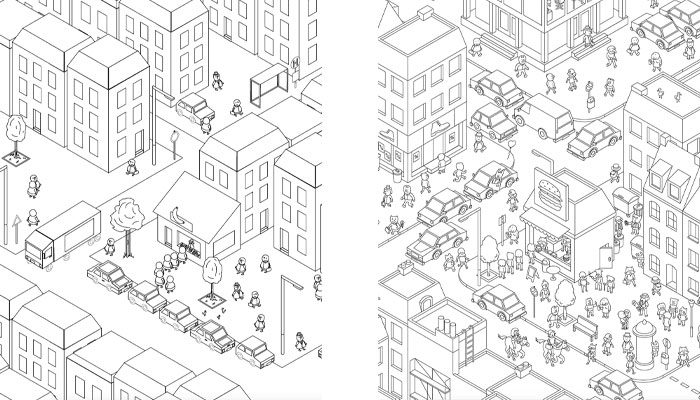 Great stuff, and there's a brill work-in-progress shot there. Thanks for sharing. Now, having a map of this size in a game is a really novel idea. How key was it to find a publisher happy to take on quite a unique prospect?
Very! Our direct partner is Edition Spielwiese and their games are distributed by Pegasus.
We knew MD Michael Schmitt from previous game events, so I showed him the prototype and he was immediately hooked. Quite early on, we presented the concept to his partners at Pegasus and they were also convinced by it quickly.
For us, they were the perfect match. After La Cosa Nostra, we had learned that we wanted to focus on the creative part of game design, instead of investing so much time and work in self-publishing. We knew that the MicroMacro concept had the potential for a big hit, so we decided to find a professional partner for publishing.
In Michael, we found a partner who we already knew that we were on the same wavelength, and who already had a very strong distribution partner in Pegasus Games.
Is there future games planned for the MicroMacro brand?
Yes, it's going to be a series. By the end of summer, the second part of MicroMacro: Crime City will be published. The title of this sequel is Full House. It will be quite similar in terms of theme and base mechanics. It's set in another district of the same city but offers a whole bunch of new cases, side stories, and even some new puzzle mechanics.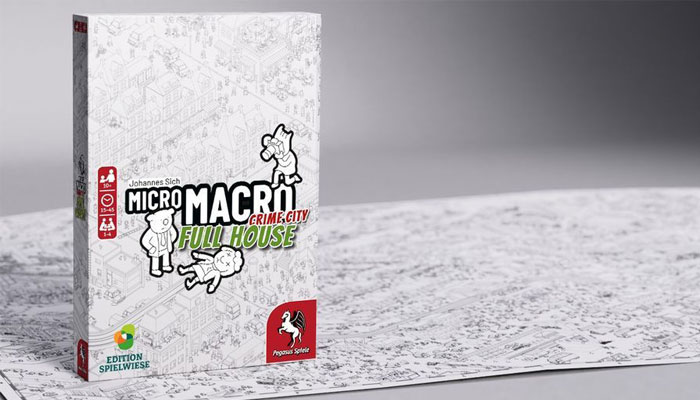 We tried to serve families by offering more cases suitable for children, but also cater to those gamers who were asking for more complex cases. I think we accomplished a good mix; I am really excited to see how players like it!
We have plans for two more Crime City sequels. The stories and the characters will evolve more and more, I am really looking forward to it. We still have so many ideas in our notebooks, not only about stories, but also new themes and new mechanics.
That said, it's a crazy lot of work to develop those little stories and all the necessary details – I think – and hope – this will occupy us for quite some years!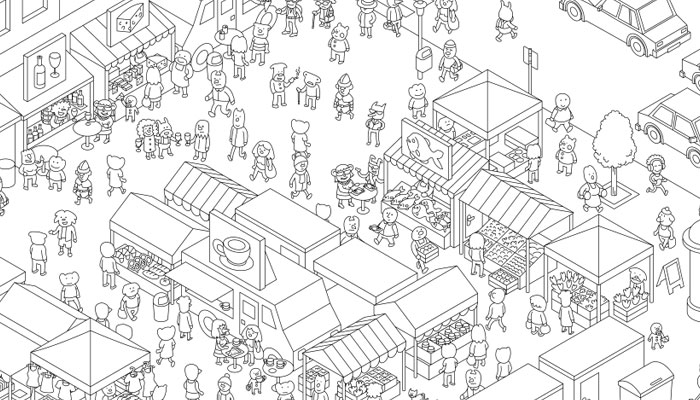 Final question! What do you do to fuel your creativity? What helps you have ideas?
I consume stories in various media, books, movies, comic books, computer games and board games. When I really like something, I feel almost automatically the urge to create something similar, or even better.
I think many people know this from childhood… You would watch a pirate movie and you wanted to draw pirates afterwards! Nowadays I watch a detective movie, and I start thinking about how to transfer this thematic experience into a game or a graphic novel.
Concerning visual input, the internet is a cornucopia of inspiration. There are so many talented artists, illustrators and designers out there, and all those new styles in comic books, animation movies and so on. There is so much going on in the last decade, it's overwhelming.
So actually, I think it's not a problem to get ideas. The way more difficult part is to shape an idea into a concrete concept. In most cases, even a very promising idea will turn out to require very hard work to make it feasible. That part always freaks me out!
Ha! Well, a huge thanks for making time for this. Congrats and good luck with Crime City and the future MicroMacro instalments!
—
To stay in the loop with the latest news, interviews and features from the world of toy and game design, sign up to our weekly newsletter here