Inside Out of Order Part 4: The Retail Perspective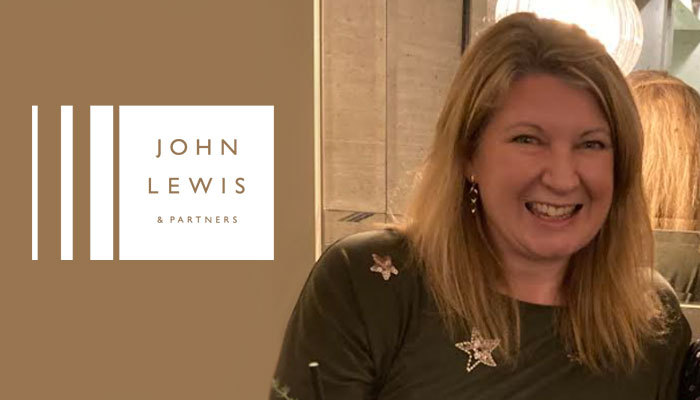 What changes did then games buyer at John Lewis, Lucy Benham, suggest for the Gibsons game Out of Order… And why?
Lucy Benham, it's been a long time since we caught up. Thanks for joining us. As part of our 360-degree look at Out of Order, we wanted to ask a few questions… First, how – without a toy fair – did it come to be in front of you?
I caught up with Gibsons in a virtual meeting around October 2020 and they mentioned this game was being developed. I love a trivia-based game, so I was keen to see how it had progressed as an idea when we met again in the early part of 2021.
In literal terms, who pitched it to you at that time?
The pitch was online through the medium of Zoom! Our account manager at Gibsons, Nicki Gumbrell, knew this would be the type of game I'd love, and would appeal to our customers. Nicki did a good job of pitching the game through explanations and a little bit of visual information on the game's early box design.
And generally speaking, how do you feel about online pitches?
Online pitches vary hugely, but on the whole I'd say they're never as good as hearing pitches in person. They are, however, better than not hearing the pitch at all and just being sent a game cold.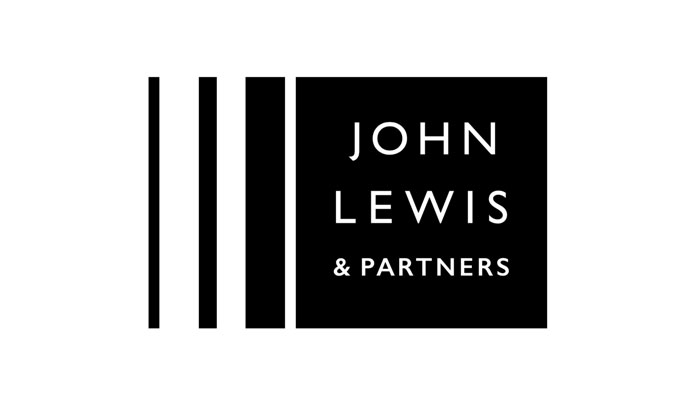 Fair point! What makes it less than ideal in your experience?
The virtual technology is good… But time delays, sound or image freezes, or being out of sync, all make it much more difficult to really engage with, and understand a concept or product. Of course, nothing beats being able to actually have a go at the game to really get a feel for how it plays, and to see and feel the quality of the box, cards or other components.
Right. You're presuming a certain amount about quality and so on?
Yes… Actually playing the game immediately gives me a clear idea of the experience our customers will get, from the dreaded reading of the rules, to the amount of space that will be needed… These things are all more difficult for me to evaluate virtually.
You've told us before that when people pitch to you, the first impression is really important. What was your first impression of Out of Order?
My first impression was of a fun game, not wholly formed at that stage but looked promising. I understood the game design was considering a family audience, and the designers were aware it needed to be quick and easy to learn, and include a fun twist… So it ticked several key boxes in my mind, giving it potential to be included in the assortment.
And what shape was the game in at that point? Were you seeing it with a mocked-up packaging design? Or was it a very rough prototype?
I don't think it was even a prototype at that stage! It was just graphics and example questions on a Gibsons digital presentation.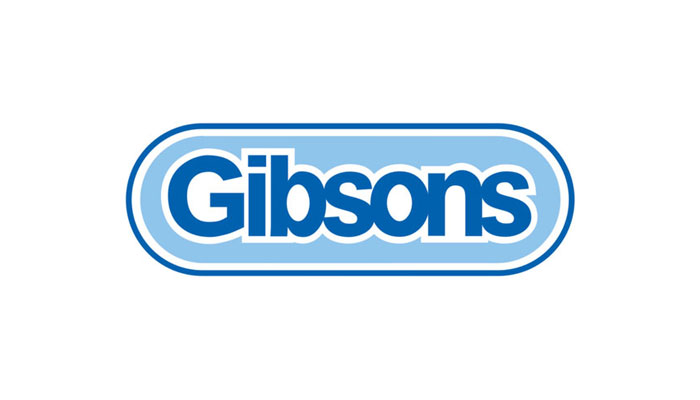 Sounds quite daring! And did you have any feedback that took things in a different direction?
At the time, I think my only comments were on the aesthetics of the box design. I thought the game play looked okay and I could immediately see the comedy value of the answers applicable to the previous question.
And in your experience, how do inventor usually pitches differ from those of publishers?
Inventor pitches are often – but not always – more passionate and more knowledgeable. I need to work harder with most publishers to ask questions to understand, and they don't always know the answer as they haven't designed the game themselves. On the other hand, some inventors do find it tough to take feedback, whereas publishers will always listen and take on views without being defensive.
Makes absolute sense! Inventors tend to be much more emotionally invested…
Yes – and I do get it: inventors are showing me something they've nurtured,  probably over a long period of time, and I'm appraising the result of months of work in only a few minutes… But I think my view has value, as customers buying the game need to be grabbed within moments in the shop, online and when they actually play it as well. Some publishers however, really know their games and they know exactly what I'm looking for, so this works really well as they can take the feedback, and they can properly explain and play the game – there aren't many like this though!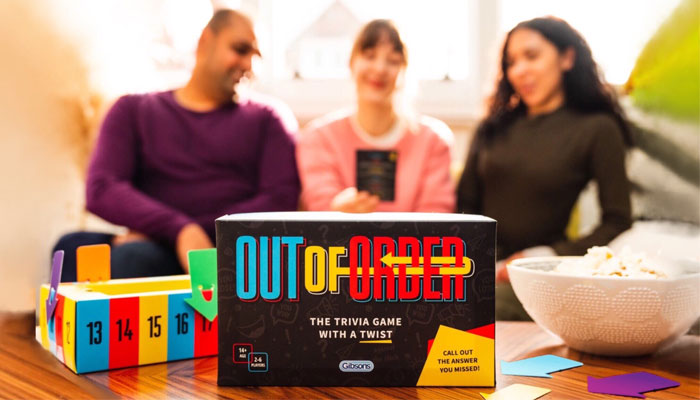 I can imagine! But on that point, was there anything else that made you think Out of Order was a good fit for John Lewis?
I liked the visuals enough to stop and understand the game more. The design was eye-catching and in the vein of other very successful titles we've run, so I knew customers would likely engage with the product. My feedback on the aesthetics was to move the design into its own space and character rather than be quite so close to already published titles.
Interesting…
However, the pitch of the game towards family was important for me. The fact it was trivia-based questions that everyone is likely to know, the fact that all people in the game participate at once so you're always listening, and the way it has broad age appeal so cross-generational play is easy were all important aspects for me.
I also like the humour of the game and the easy playability. All of these make it a great product for our customers, and it will certainly be played in our house over the festive period when we can – hopefully – spend time with family & friends this year.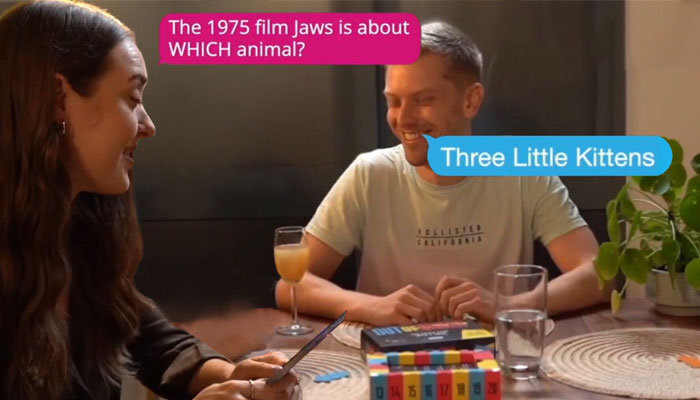 Fingers crossed, yes! And now the game's in store, what's the best way for Gibsons and the inventors to support you?
The best methods of support I find start by getting the message out there about a new game… Social-media platforms are the obvious way to raise awareness and pique customer interest, citing John Lewis as the place to go to buy it. John Lewis customers in branches really love our games demos, and readily engage with people showing the game in shops. This helps bring new games to life and shows customers exactly what they're getting and just how fun it is.
Right. There can be a bit of an occasion playing in store…
Also, providing online video content that shows the game in action is really helpful to customers, and builds trust about what they're getting for their money. Online copy and images should be excellent, of course, and include several photos to show all aspects of the game and make it look as eye-catching as possible, include a PDF of the game play instructions too – I don't ask for much do I?!
I'm still making notes! The rules PDF is an interesting point; you don't see that often enough. And what tips would you give the inventors and publishers about selling the game on promo days in store?
I don't think I can teach good games-demo people very much! If they do all the above things really well, then the game has an excellent chance of delighting our customers.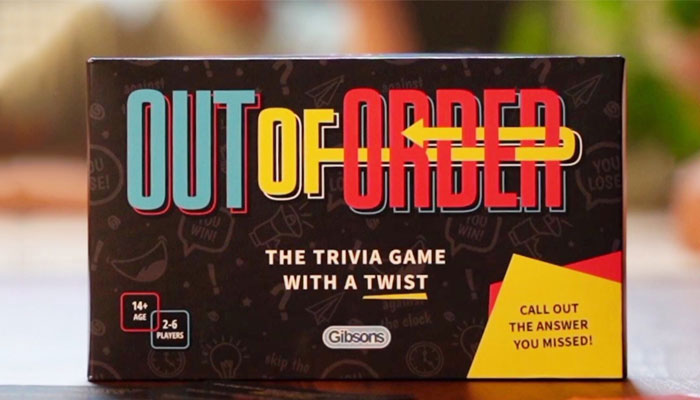 So having a good game to demo is the main secret?! Noted. Final question, then… Since green-lighting Out of Order for stores, you subsequently moved on from games at John Lewis. What are you buying now?
I've moved into an exciting, brand-new role as a Sourcing Manager. I work to support all the Gifts, Seasonal, Cook and Dine offices with their sourcing strategies. I do miss the fabulous games and puzzles though!
Well, Lucy, I want to thank you for making time to speak with us. We're really pleased to get a 360-degree view of the development process and your insight is – as always – incredibly valuable. Thanks again.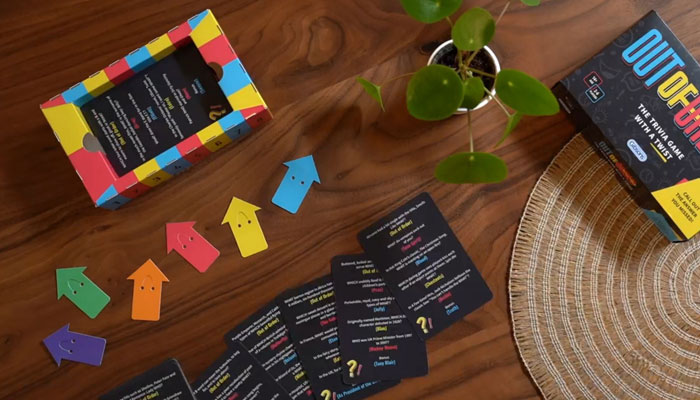 –
To stay in the loop with the latest news, interviews and features from the world of toy and game design, sign up to our weekly newsletter here