Jono and Nick Green talk Kickstarter, creativity and the future of The Sock Game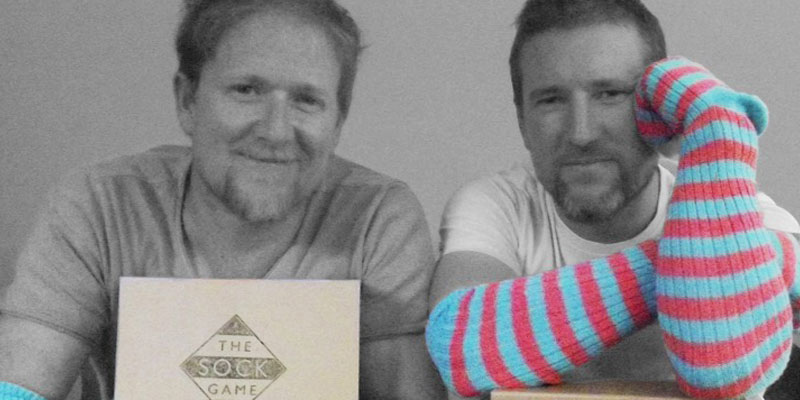 Chances are, if you strolled through the Greenhouse area at this year's UK Toy Fair, you would've plunged your hand into a bright woolly sock, desperate to grab a paperclip.
While it may sound like the result of trade fair delirium, instead you will have been playing The Sock Game, created by the sibling design team of Jono and Nick Green. The game is as simple as they come: there are two socks, both containing 30 different items. Spin the arrow to select an object, and then stick one hand in and rifle around your sock to try and pluck the item out.
Following a successful Kickstarter campaign last year, the Green brother made 1000 sets of The Sock Game to sell at Christmas markets. Seven out of every ten people that played the game bought a copy and they sold out three days early.
The Sock Game then made its Toy Fair debut, where Jon and Nick received a raft of offers from varying people to snap up the game. With a deal now in place, we caught up with the two to find out what's next for The Sock Game and why the firm returned to Kickstarter for their new game, Who Farted?
Where did the idea for The Sock Game come from?
It is a game that filtered into our family many years ago – the exact origins are not 100% clear. However, once adopted, it became a firm family favourite – we made a set in our dads old wooly walking socks. Our mum (Granny woof) became the sock game ninja and we would play in teams every Xmas.
Why opt to use Kickstarter for the initial launch?
Kickstarter is, without doubt, a phenomenon – it not only gives people ways to fund their ideas, but combines this with a great platform from which to launch your product and to garner early adopters and advocates. We could not fund the next phase ourselves so it seemed like a no-brainer to try crowdfunding, and Kickstarter is the original as well as having a solid 'games' section.
How was your first Toy Fair experience?
It seemed daunting – you look around and everyone has these amazing stands that cost thousands – and there we were with our small stand that we made ourselves out of scaffold planks! However, the reaction we received was fantastic – all that played seemed to love the competitive nature of our game, and we received some incredible feedback – as well as learning a lot about the toys and games industry.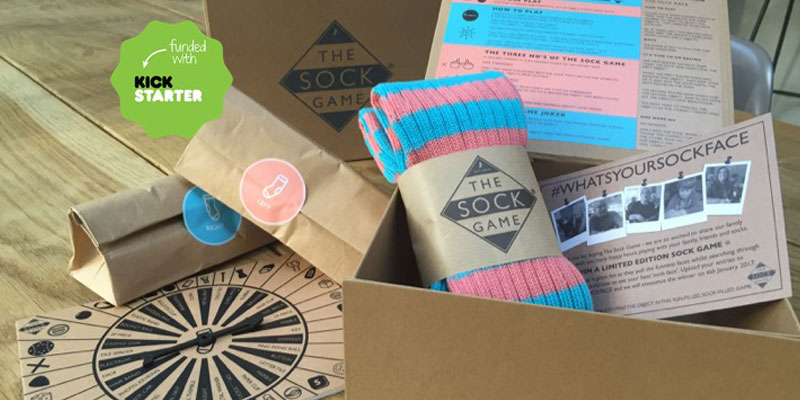 What is the future looking like for The Sock Game?
Good – following the London toy fair, we received a raft of offers from varying people. We have gone with one company (yet to be announced) – and they will be licensing the game from us on a 3 year contract – launching in stores Spring 2018 –  all very exciting !
How do you stay creative?
Since entering this world (the toy industry) – it has really opened our eyes to creating fun, low-fi games that can entertain families and take them out of the digital world. Therefore we are coming into this fresh, and try to bounce ideas around, both within our family and with close friends – new ideas for fun and simple games.
How do you split design duties between you both?
Design is generally split evenly as we both had strong ideas about how to dress the game, Nick has worked in pack design, so he has a fantastic background and knowledge from which to pull ideas.
What do you think the secret is to a great party game?
Simplicity – nearly everyone at the toy fair mentioned the beauty of The Sock Game is in its simplicity – super easy to learn, quick to play, yet each game has a different outcome.

Away from The Sock Game, what's coming up from you both?
We have just launched another project on Kickstarter called Who Farted?, a silly,  super easy card game for families. Plus, we have another couple of games in the pipeline that we are looking to prototype.