Just One, Wingspan and Valley of the Vikings triumph at Spiel des Jahres 2019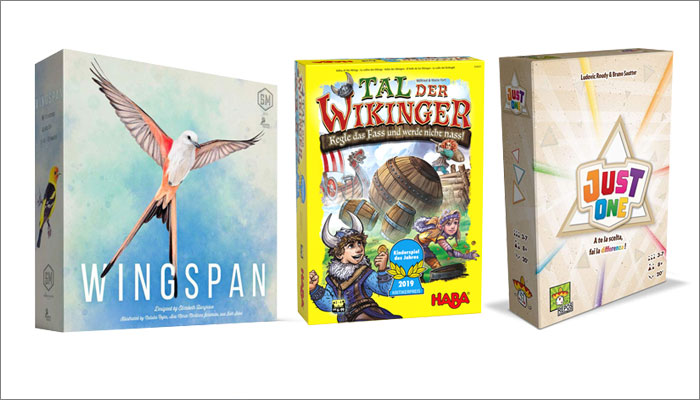 The winner of this year's prestigious Spiel des Jahres award is Ludovic Roudy and Bruno Sautter's Just One, published by Repos Production.
The party game saw off competition from Ted Alspach's Werewords and Reiner Knizia's L.A.M.A.
"The genius of Just One lies in its simplicity," stated the Spiel des Jahres judges.
"It stands out by creating an incredible magnetic attraction: playing it in public means that people will begin to stare, and then they'll want to join in too. There's no reason they can't: the difficulty level is so low that anyone can begin playing straight away. It's a flash of pure brilliance and enjoyment, where every round is a success and a lasting impression is left behind."
Elsewhere, winner of the Kennerspiel des Jahres (recognising excellence for more complex games) was Wingspan, designed by Elizabeth Hargrave and published by Stonemaier Games, while HABA's Valley of the Vikings, from designers Wilfried and Marie Fort, was named Kinderspiel des Jahres (Children's game of the Year).
Of Wingspan, the judges stated: "The theme is lovingly presented and the production is precise: the designer Elizabeth Hargrave has created an almost seamless complete work of art," while regarding Valley of the Vikings, they said: "Wilfried and Marie Fort have created a game challenging both players' dexterity and their tactical thinking, a combination which is as innovative as it is unique."