Just Play UK's Licensing Manager, Charlotte Rodgers, discusses plans, brands and toy-fair stands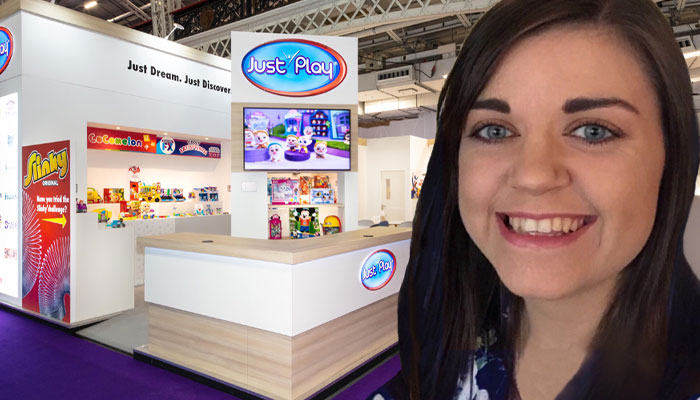 Charlotte Rodgers – with a d. Welcome! It's been a very busy year for Just Play. Tell us about it…
There's so much to tell! Let me speak specifically about Just Play UK, the first subsidiary, which opened earlier this year; 12 years after the inception of the independent US toy company.
By all means…
We're a small but effective team of people who love toys! The Just Play UK team is made up of a lot of recognisable toy industry faces, with many years of valuable experience to propel Just Play to success in the UK market. For me, this means working under a super-experienced team, with lots of knowledge that they're more than happy to share, meaning it's a great place to be and learn!
And what are your immediate plans?
We have our sights firmly set on becoming a UK top-ten supplier over the next two years – for which we're on track. As well as a great team, we have great brands – both licensed and our own IP and, of course, terrific product.
Of course! And speaking of your own IP, a little staircase caught my eye at your London Toy Fair stand…
Yes! We're extremely proud to own the Original Slinky brand! It's still manufactured in the US, with millions being sold every year. Everyone loves a Slinky! Did you have a go on the stand's staircase? Did you get the Slinky speed record?!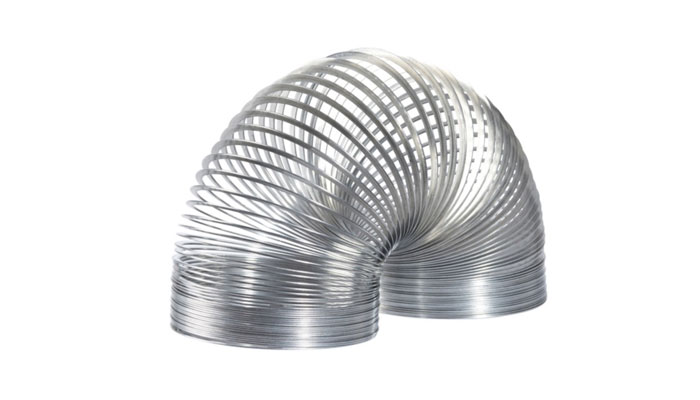 I didn't get the record, but I did try. Several times! In fact, your poor PR person may have regretted asking me to try; I was doing stretches by the end. So… Historically, you traded via a distributor in the UK. Why was 2022 the right time for change?
With a number of significant new brands building the Just Play portfolio, the opportunity reached a size that made sense to set up in the UK and Ireland. In the UK, Just Play toys have been in consumers' hands for five years already due to the distribution partnership with Flair. We're grateful for the start this provided, but – as we now scale the business – it needs to be under direct control to strategically manage our local presence and growth.
And how's it going?
Although we've only been trading since January 1st this year, the wider team setting up the UK entity has been busy getting things ready and managing the transition for the past two years. With just six months' trading so far, our business is up 40% year-on-year, and our account base increased significantly. It's fair to say that it's going very well!
Congratulations! You must be thrilled. And how has the welcome been? Have any retailers rolled their eyes and told you there's no room at the inn?
Ha! No! No; UK retail has welcomed us with open arms. We've also been really excited to partner with them on bringing additional ranges and products to market since opening. Just Play creates some of the best-quality toys in the market, and partners with the biggest global-entertainment brand, which is a powerful and winning combination! From our UK base, we're also busy working closely with our network of distributors across EMEA to grow the Just Play business across the region.
What's your background, Charlotte? How did you come to be in the industry?
I fell into the toy industry a few years ago – and now can't imagine working anywhere else. Who wouldn't want to work on toys and in such an exciting and fast-moving industry that's sole purpose is to create fun?!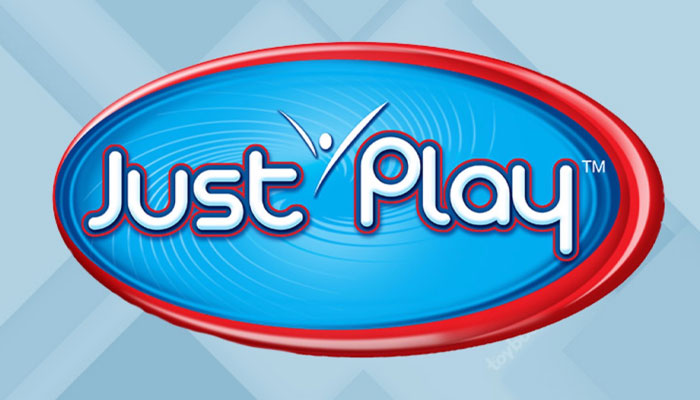 Where did you start out?
After completing my MSc in international marketing, I spent several years in marketing roles at Vivid. I worked on the Crayola brand, and at Mattel working on preschool and construction. During that time, I was introduced to licensed brands, and partnering with entertainment licensors with toys as an important part of the licensed portfolio. There's a strong synergy with marketing and licensing, so the transition to a licensing role was a natural move when I joined Just Play last year.
And as Licensing Manager, for what are you responsible? What do you actually do?!
An average 'day in the life' consists of working – as every toy person knows – in at least three seasons at once! This is very much the case when you're looking even further ahead on new licenses that are in their early stages. Furthermore, anyone who knows me knows that I love to look at data!
Is that right? Spreadsheets and calendars for you?
Absolutely. I'm also still talking about Christmas 2021 and Spring 2022 as regards what's worked, and how brands are tracking to help us, our licensed partners, our distributor partners across EMEA and our UK retailers prepare for success this coming Autumn / Winter.
"We've got great ambitions, and are following in the footsteps of the US success over the past 11 years."
I've also been busy in recent weeks in Spring / Summer 2023 previews with our partners across EMEA as well as helping the UK team with preparations for UK previews which have also now started! Of course, there was also Distoy recently, where I enjoyed seeing many new and familiar faces – it's been a busy few weeks.
Although we've got great ambitions, and are following in the footsteps of the US success over the past 11 years, we're still a small team working from both our Henley office and from home. I enjoy getting involved in lots of other things that perhaps wouldn't sit in a traditional Licensing Manager role, though, including planning toy fairs, developing retailer assets, working with the product-development teams on product localisation needs – or even packing up samples for retailers when needed!
Tell me about some of your licensed ranges.
Just Play really wins in licensed toy ranges. In the US, we hold seven of the top ten licenses in preschool, which sets us up as a key player for the UK and EMEA markets too. It really is great to work on iconic Disney brands such as Mickey and Minnie Mouse, Princess and Frozen, as well as across the whole Disney portfolio through our growing range of Disney Doorables.
Disney Doorables?
Yes… In the US, Disney Doorables is the number-one licensed property in Playset Dolls and Collectibles. With Disney's 100th anniversary celebrations next year, we're excited to further grow these brands. Spring 2023 also sees our toy launch of the new Disney+ preschool show, Alice's Wonderland Bakery which brings a new creative to a classic favourite – and our product range is beautiful! Of course, Just Play work with a lot of licensed brands so there's plenty more to share…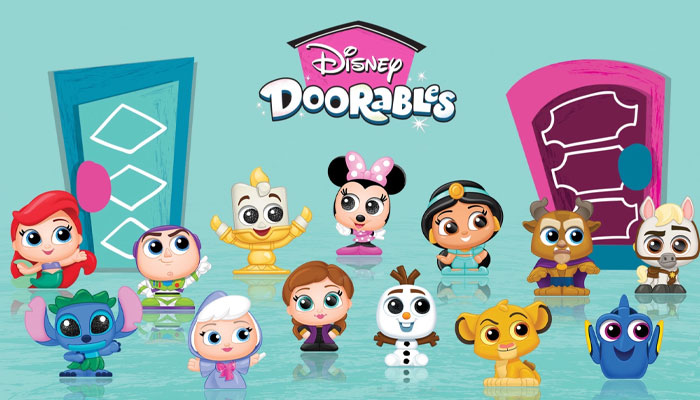 For example?
We have a wonderful line of Electronic Learning Toys with the latest preschool smash hit, CoComelon and lots more to come on from our partnership with this new and fast-growing entertainment powerhouse, Moonbug, the coming years as they continue to innovate in the preschool space.
Finally, I should mention the number-one global toy property… We have a high performing line of Barbie role-play toys, including styling heads, electronic role play, a huge 28-inch Barbie, and our newly launched Barbie Pets segment which has got off to a flying start. Another new and significant partnership is with Sesame Street which will see a new range launched globally next year!
What unites them all, Charlotte? What makes them all great licenses for Just Play?
I didn't mention all of our licensed ranges just now but what all Just Play product has in common is that – as an industry leader in plush, preschool and role play – we believe kids should 'just play'. Our ranges encourage children to learn, have fun, build their confidence, and encourage creativity and most importantly, to just be kids!
"We enable kids to recognise product and play out their own adventures based on what they've seen in the content."
Great!
We often refer to our toys as 'show to shelf' because our product and features replicate what's seen in the show, to be sold on the shelf enabling kids to recognise our product and to play out their own adventures based on what they've seen in the content.
How does Just Play encourage creativity?
Fundamentally, our consumer is key to everything we do, and pivotal in product development and marketing. Our products are enablers for multiple important factors of a child's life and – most importantly – allowing kids to be kids in a fast changing and demanding world around them.
At Just Play, we work with the best licensors, so the brands lend themselves to exciting, innovative product that drives creativity and imagination with our target audience. Whether that's telling stories and adventures with our Barbie Pets, playing peek a boo with our Blue's Clues & You! Peek a Blue or even playing 'house' with our Minnie Mouse Flippin'Kitchen.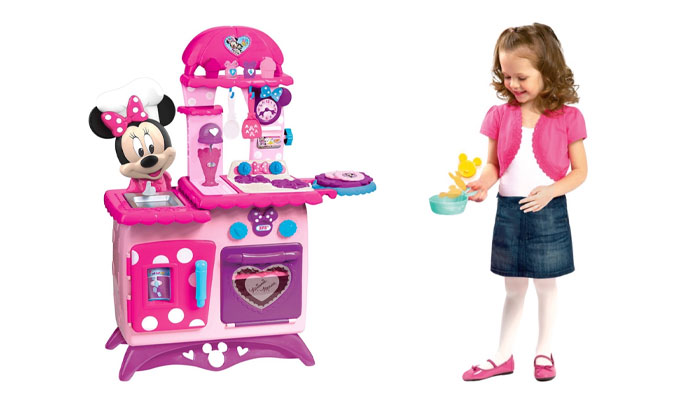 Where are Just Play UK's ambitions heading next year?
We're already in the throws of Spring 2023 previews, and feedback, so far, has been extremely positive. As I mentioned we have ambitions to be a Top 10 Toy company in the UK by the end of 2023 and all is going to plan. We have lots of new launches planned to drive this ambition into a reality, including some very exciting new licenses that are still under wraps, so watch this space!
What's the one thing I should've asked you didn't?
That's the trickiest question of all! Hmmm. Maybe I should do the obvious and share my favourite toy memories… So, "What were your favourite toys growing up?"
It's a great question! And what's the answer?
I was a child in the nineties, so it's rather lovely to see lots of the same brands still around today or making a comeback for kids to enjoy… Just without me buying them this time! Two things spring to mind when I think about my favourite childhood toys. The first is a beautiful Disney Princess Cinderella Castle with mini figures.
Tell me a little about that…
It folded out to open the castle and back away to keep all the pieces safe inside. This was also something I displayed for a few years after I was past playing with toys.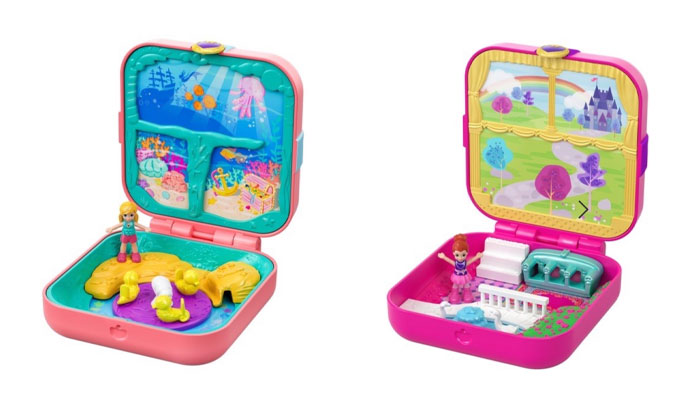 Anything else?
I don't think I could be a true 90's child without recalling my collection of Polly Pocket compacts. They were my pride and joy, and all lined up to form a little Polly Pocket town. Only a few years ago did I ask my parents if they were still in the loft and if I could have them back! Toys really do create memories to last a lifetime!
Lovely answer. Thank you Charlotte for joining us and telling us more about Just Play UK. Brilliant stuff.

–
To stay in the loop with the latest news, interviews and features from the world of toy and game design, sign up to our weekly newsletter here