KID Group's Dan Klitsner on the story behind Freefall, a game 22 years in the making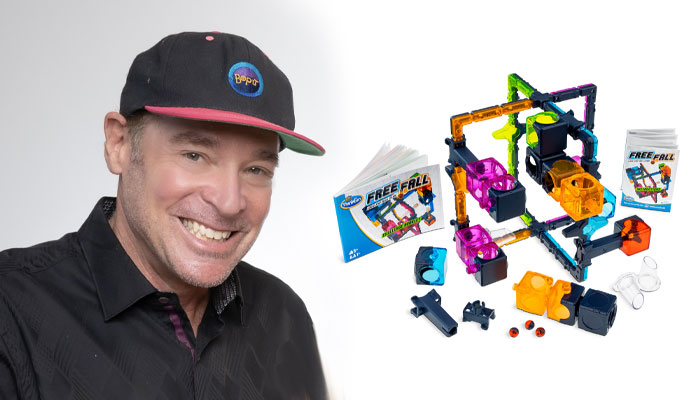 Dan, it's always great to chat. I wanted to talk about some of your recent inventions, some of which were highlights of the Toy Fair season earlier this year. Let's start with Pop It Pro. It launched from Buffalo last year and has gone down a storm!
Yes, people who play it, love it – and it think it's all down to the reset.
It brings gameplay to the popping trend – very smart! How did it come about?
Well, popper fidget toys have been around for years. I had one at my desk and kept thinking 'This should be a game'. Then we had the idea to add lights to it, and that you'd pop the lights when they came on – but how do you 'upop' them? That's when we came up with the reset mechanic that pops them all back the other way. It's a really satisfying crunch!
We'll put a video in here so people can really appreciate that!
The game is all about popping and unpopping within a timed window, so people get really addicted to it. Gary Levenberg, my partner, did most of the code for it. Both partners – Gary and Brian Clemens – are doing a lot more production work on the electronic games than we've ever done before. It means we can only do so many concepts, but it's worth it to get the interaction design perfect.
Would you say Pop It Pro is quite a typical KID product?
Absolutely. Gary is a programmer and sound designer, Brian has an amazing sense for execution and I'm more about the concepts and looking at things in a three-dimensional way. When you look at the blend of music, 3D and production design – that's all three of us.
I also always want to animate the person playing – and this relates to our other new game, Freefall, quite a bit too. We like to take a product that you'd typically see as being stationery and move the person around it. Look at Bop It – it animates the person using it. It doesn't just sit on a table.
I'm glad you mentioned Freefall. I saw this at ThinkFun's booth at Nuremberg and it looked fantastic. How did it come about?
It actually started life 22 years ago as a game called Drop Zone. It was an electronic game that we came up with pre-Perplexus. It was a clear ball with cups on the outside and a marble on the inside. The cups would light up and you had to rotate the ball so the marble would fall into the right cups at the right time. We licensed it to Tiger but it got dropped. Here's a shot of the prototype…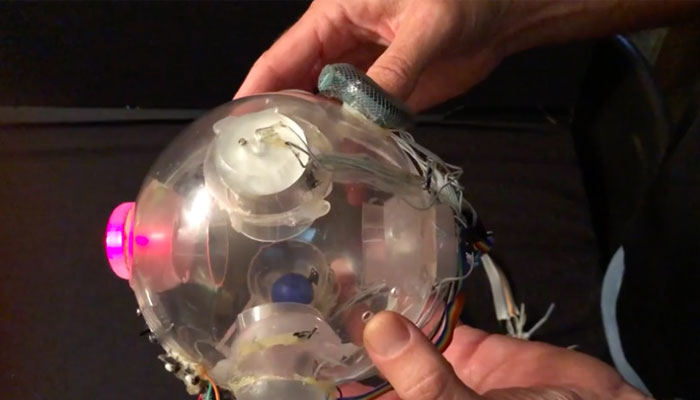 Looks like a fun idea. Why do you think it got dropped?
Well, Perplexus then launched– which obviously wasn't electronic – so it sort of just fell away. That said, we actually did an electronic Perplexus called Perplexus Light Speed and it wasn't successful either – so that was probably a sure sign that this "ball drop" idea was much better to execute without electronics.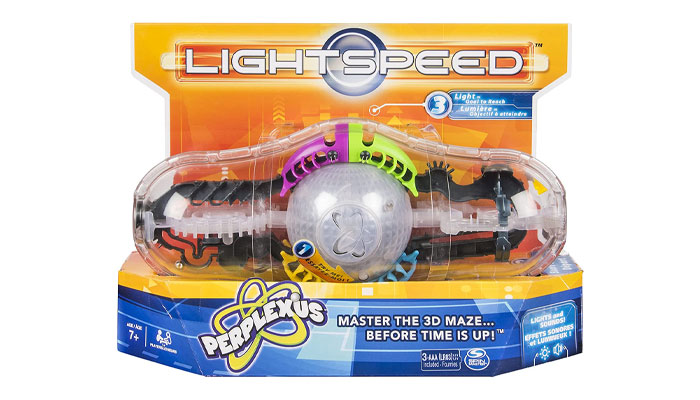 Ah, so that sends Drop Zone on its way to becoming Freefall. What else sparked the transformation?
It really came from talking to ThinkFun's Josh West. We kept showing variations and I kept trying to push them into the electronic age. I'd say "would you ever do an electronic puzzle?" and they'd say "Well, maybe…"
We'd had a 'do-it-yourself maze' in our back catalogue for a while and the conversation around that evolved into 'Could it be a 3D challenge puzzle?' The leap was making it a ThinkFun game by changing it from 'Building something three-dimensional' to 'Building something three-dimensional – and then having it verified'. That's what you do with their challenge puzzles; you verify that you've solved it in the right way. That was the conversation with Josh that I think really made this into a viable project for Think Fun.
Drop Zone was 'Which cup should this marble fall into?' and Freefall is 'Use only these parts to make the marble go from start to finish.'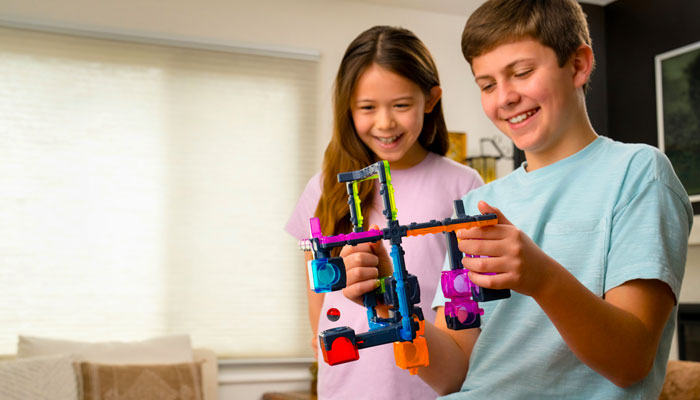 How did you gauge the difficulty of each level? When is 'difficult' actually 'too difficult'? Is that something you lean on ThinkFun for?
Well, we found that the levelling up wasn't about physical skill, it's about the inclusion of more parts. That's what ups the challenge each time. But we leaned on ThinkFun's team a lot, because we didn't want to accidentally design something that was easier to solve than we thought it was.
On that, what were the ThinkFun team like to work with?
Well, it really took Josh West's incredible attitude to make the whole thing happen. He's not just a 'show it to me' guy. He's willing to brainstorm and is the real reason for Freefall happening. Also, ThinkFun designer Nick Tourville was incredible in how he worked and refined it. It was a team effort.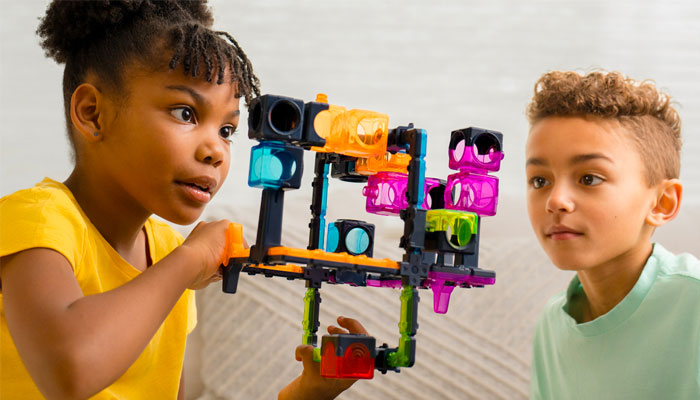 You mentioned Josh being instrumental – and you've worked with lots of inventor relations execs over the years. What makes someone good at the role?
Well, the role has changed a lot over the years and there's such a high level now. Lot of great people are building off each other. Hasbro's Tanya Thompson used to work with Josh, for example, and they're both really, really good at what they do. They're both fearless.
Inventor Relations execs need to be able to let inventors know they understand the idea – and they have to be willing to say 'What if…' Josh is like that. Tanya is like that. They can take concepts and really think through it with you. They're collaborators and that's very important, especially in the way I work.
I've told this story before but when I pitched Bop It to the legendary Bill Dohrmann at Parker Brothers, he said: "We aren't doing these kinds of games right now – but we should be." That was the moment Bop It was really invented.
And on the flip side, what makes for bad inventor relations?
It's a great question. People who are too literal can then be too careful about things, and that's not a good fit for inventor relations… They might make good bookkeepers, but they won't be good at inventor relations. They're not inspiring, and in that role, you need to be able to give people hope – especially when you consider how much work inventors put into these concepts.
I also find it frustrating if an IR person says: "Well I gave you that idea…" Inventors give ideas away for free all the time! Whenever someone says that – even if they jokingly say "I should get a point on that because I gave you that idea" – it really bothers most inventors.
Great answer. And what do you think is key to successful inventor relations overall?
Respect on both sides. You want to be able to call an Inventor Relations person and say "Hey, I'm thinking of this, I just want to check I'm not wasting my time." They've also got to be willing to say "Well, we've looked at things like that, but how are you going to do it?" rather than just shutting it down with "Well, we've looked at things like that."
The advantage of knowing and trusting each other is the ability to pick up the phone and get into 'Is this something we should pursue?' I really admire those that can do IR well.
Going back to KID for a moment, I don't think we've ever asked what brought you guys together?
Well, KID was Klitsner Industrial Design and Brian was an intern from Stanford. He was here for three months – our standard internship. When it was time for him to leave, we said "Why don't you do another three months?" He's such an amazing guy – hardworking, reliable and we work well together. We then hired him as a designer. And I'd worked with Gary on a sound production project for Yes Entertainment and he was a neighbour. He was walking by our street and I met him and his wife. We had lunch and talked about an idea that became the Keytop Toys.
These are the toys that you'd put on top of a keyboard and interact with on the PC?
Yes, it combined what he knew about computers and what I knew about toys. We did a Tonka Workshop one and a Tonka Dig' n Rigs one. It was the first gesture recognition game. It fit on your keyboard, so when you moved the saw, it pushed down on that part of your keyboard.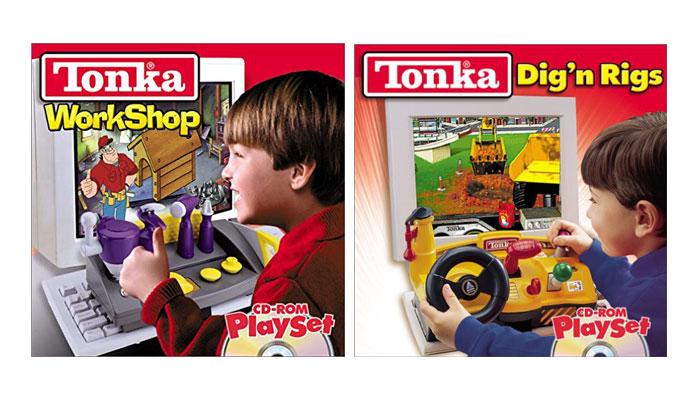 KID partnered with Gary on that line and it became a big deal for us. We even had KID Interactive for a while, where we separated computer-based projects. Then we made it a partnership and became KID Group with me, Gary and Brian as partners. The best businesses are partnerships – you succeed together and you fail together.
Dan, as ever, this has been a treat. I have one final question for you: What's your most underrated invention?
Gosh, there are so many! The most interesting one is the Sand Claw. It's an ergonomic digger that you slip over your hand to dig in the sand. It was the very first idea that I licensed. I spoke to Deej about it in the last article we did, but I'd say it's underrated because it became public domain as it wasn't patented correctly. I go to Toy Fair and see it everywhere. It's the most elegant, simple thing I've ever licensed – and it's been knocked off thousands of times. There's probably more of these sold than Bop Its.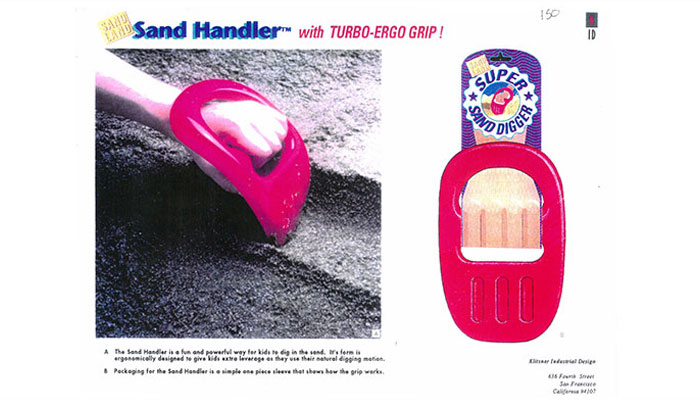 The other one that come to mind is Early Bird. It's a game where there's a layer of paper on top of the tree trunk and you have to bend the bird so that it swings and pecks the paper. Once the paper pops, a worm flies out of the tree trunk. It's kind of like Don't Break the Ice in reverse. People who play it love it, but it never seems to sell well.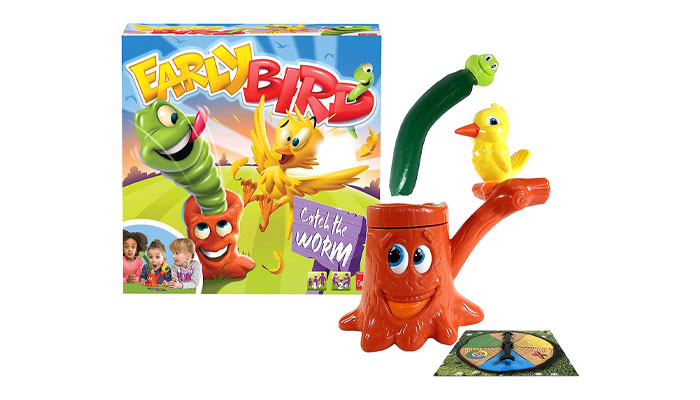 And it's out with Goliath now?
Yes, but it first came out 10 or 15 years ago. I kept pitching it and pitching it. When Ron Weingartner retired from Hasbro, I happened to be there that day. He was VP of Inventor Relations for Hasbro Games and he was handing the torch down to Mike Hirtle. The concept was called 'Worm in a Can' back then, and I kept pulling this game out in meetings with Ron asking "When will you do this game?"
I did a sort of roast for Ron that day in the style of Dr Seuss. It went: "I will not buy it Dan-I-Am, I will not buy Worm in a Can. I will not buy it in a box, I will not buy it with a fox. I will not buy your invention Dan, I will not buy Worm in a Can." At the end, I popped it and something else flew out of the tree trunk. All I'll say is that it was quite adult… It wasn't a worm!
Haha!
We laughed and Mike Hirtle said to me "Now I'm in the job, I won't retire until we sell Worm in a Can".
Did he stick to his word?
He retired a few years ago and it was right after we licensed it! We actually licensed it to Longshore and Mike was working for Longshore. Vivid bought it from them, and then Goliath more recently.
A great pick, a great story and a great-looking game. A huge thanks again Dan, let's catch up again soon.
–
To stay in the loop with the latest news, interviews and features from the world of toy and game design, sign up to our weekly newsletter here