The Last Gameboard's Shail Mehta and Lee Allentuck on innovation, immersion and evolution in the tabletop space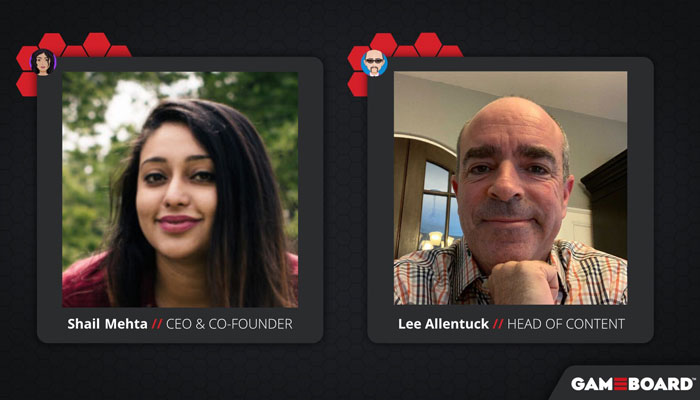 Founded by Shail Mehta back in January 2019, The Last Gameboard is building a tabletop gaming platform that blends physical objects with digital gameplay.
The firm's 16″ x 16″ square tabletop game board gives players unlimited 3D touch, network play, and aims to 'take each game night into a whole new dimension'.
We caught up with CEO and Co-Founder Shail Mehta and Gameboard's Head of Content, Lee Allentuck, to find out more about the development behind Gameboard – and how designers and publishers alike can engage with the platform.

Shail, Lee, great to catch up! Shail, if we start with you… Where did your passion for gaming stem from?
Shail Mehta, CEO and Co-Founder, The Last Gameboard: I've always loved playing tabletop games and board games; that's my hobby, it's what I do. I love getting together with friends for game nights where we drink whisky and play board games. Ever since I was little, gaming has defined me and Gameboard is a product that's always been on my mind.
If you talk to any tabletop gamer and ask them about the future of tabletop games, they'll say "I want to play any game in an instant with anyone anywhere in the world, have your imagination almost come to life – and have holographic tags like in Star Wars!" They'll give you a whole roster of things, and I've been thinking about these things too for years.
What helped turn this from a long-gestating idea in a fully-fledged company and product?
SM: I kept wondering why this idea hasn't been achieved in a way that feels seamless. Technology had advanced so much and gaming had evolved across lots of different industries, except tabletop. Why couldn't I use a chess set on an iPad? Those kinds of questions sparked what Gameboard was to become.
I reached out to lots of professors and came up with a white paper on how integrating physical pieces on a digital surface was possible to do, in theory, in a seamless way. That sparked the first prototype and, ultimately, the creation of Gameboard.
And fast-forward to today, where Gameboard is now a reality. For anyone that hasn't seen the product yet, how would you describe it?
SM: It's a 16 x 16-inch square hardware device. It's thin, portable and pretty lightweight. You just turn it on and play a board game! It has the ability to do something that no other touch screen can do today…we have unlimited touch on Gameboard, which captures touch in a 3D space – yes, even hover!
Think about how you interact with touchscreens today. You maybe have 20 points of interaction and the bigger the screen gets the more lag in touch. On Gameboard, we have unlimited touch, so it can detect multiple hands/inputs/gestures touching the digital surface at the same time and interact with multiple physical game pieces.
We have the proprietary hardware component, but we also have a machine learning algorithm, and we apply computer vision; there's a lot going on when it comes to the software side. We created an operating system for tabletop games that can take any digital game and make it playable on Gameboard.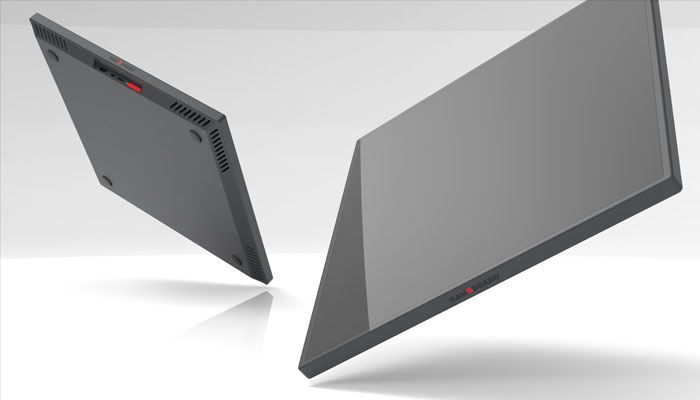 Properly exciting stuff! So how are you collaborating with game publishers to translate their games into fun experiences on Gameboard?
SM: For us, it's very important to have well known studios on board, like Asmodee Digital, Nomad and Steve Jackson Games. They have such iconic games that translate so well onto Gameboard. Gameboard is a nostalgic and futuristic product at the same time, so we want those solid games that attract people who want to experience games like Mystic Vale in a completely new way. But we're also looking for small, independent studios and developers to join our platform where they can bring their own game experiences to life in a fast, efficient and enhanced way.
We've been able to show publishers that this is a way to diversify your revenue stream. We're not trying to eat at an analogue experience or existing digital experiences. We're taking both of those efforts and creating a new hybrid model that attracts a wider audience. That's the value proposition to game creators. This is the future of play, and we want them to join us.
And I imagine there's plenty for both publishers and designers to tinker with on Gameboard so that they can craft the best experience possible?
SM: Absolutely, Gameboard is a sandbox. Anyone can build any sort of game they want for Gameboard – whether built in Unity, Unreal and any native Android-based games. Our SDK simulator handles the magic and teaches developers how to use the features and functionality of Gameboard. If you have any sort of digital game, it can be deployed onto Gameboard.
Is it straightforward for board game designers to create games for Gameboard? Or would they need some sort of digital design know-how to work with the platform?
SM: If there is an existing digital version of their board game out there, then it's simple. If they are creating something from analogue, that's truly the future of Gameboard. We want people who don't have that much experience with 'game development' to be able to put their analogue game experiences onto Gameboard. That's the future.
Right now, though, for speed to market, it's easier to leverage games with a digital footprint of some sort in order to deploy it onto our platform.
One thing that I think Gameboard looks like it'll excel at is bringing the themes of games to life in a way that traditional board games may sometimes struggle with. The example that comes to mind is Catan… I'm a Catan fan but I've never truly bought into the fact I'm transforming an island while playing it. The theme just doesn't really come to the forefront for me. On Gameboard, with sounds and animations – waves lapping at the shore, figures hanging out at the ports – I imagine it can help push the stories behind the mechanics to the forefront…
SM: Absolutely. That's exactly what we want to do with Gameboard. It's not about creating a video game and it's not about having a static image on the screen. This is about making that intersection come to life through a bit of animation, environmental sounds and, like you said, having the water move, and touches like that.
It's not about total control of game logic like video games do. It's about giving game experiences a bit of tech-enhancement, where you feel immersed in the environment and world of the game. It will help these games feel even more interactive. It's about finding that beautiful middle ground between analogue and digital – that's the mission of Gameboard.
Here's an example – and it's just an example, I'm not saying this will be on Gameboard – but look at Arkham Horror. It has spooky mysticism and on Gameboard, that immersive experience would be incredible. Imagination comes to life.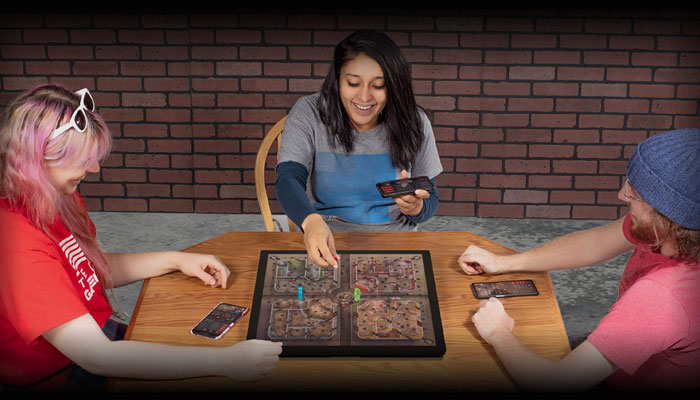 Lots of brands are embracing the board game space at the moment. Do you think Gameboard will suit certain brands that have, in the past, felt that a traditional analogue gaming experience couldn't quite do their brands justice?
SM: Absolutely. Someone from a very large video game brand told me that he didn't feel he could do a traditional board game because the audience wasn't the same and the brand wouldn't suit an entirely analogue experience. On Gameboard, it changes that dynamic because you have the ability to embrace network play as well as having at its core, a tabletop experience.
Sometimes with analogue games there's a bottleneck in distribution and as a creator, you might feel that you can't get the reach you need. Even if you do, you have no knowledge of who your players are or how often they're playing your game. There's no data or stats behind analogue distribution. On Gameboard, you have a whole ecosystem of data. Even though tabletop has done billions in sales, it could do so much more with that kind of data.
Lee Allentuck, Head of Content, The Last Gameboard: To add to that, if you're a brand looking to get into board games – or if you've been avoiding board games – it opens up the door to create something that truly aligns with what your brand is all about. It comes down to the imagination of the brand owners and the game developers. The ability to create truly incredible immersive brand experiences is something unique to this platform.
On that, what sorts of brands do you think could lend themselves especially well to Gameboard?
SM: Brands from every industry are thinking about gamification; even the ones that have never considered doing board games. There are huge opportunities to do that effectively on Gameboard and we always say the coolest game on Gameboard is bound to be something we haven't thought of!
We've mentioned tabletop a lot here, do you think there'll come a time where the mass market companies can work with Gameboard on bringing their brands to the platform?
LA: Eventually, but it's about authenticity with this audience. Hobby gamers are incredibly authentic and if you bring something in that doesn't feel authentically tabletop, you'll lose that incredibly important group of gamers. So, our goal is to start with hobby games, and grow our library and universe so it appeals to mass down the line.
Looking ahead, what does the rest of the year look like for Gameboard?
SM: We launch our closed beta this summer and then Gameboard goes out to anyone that's purchased one this Fall. The long-term vision is that I want a Gameboard in every house in the world.
Great stuff. Huge thanks again for making the time guys. I'm looking forward catching up again soon.
—
To stay in the loop with the latest news, interviews and features from the world of toy and game design, sign up to our weekly newsletter here