LEGO and Peugeot partner for LEGO Technic Peugeot 9X8 24H Le Mans Hybrid Hypercar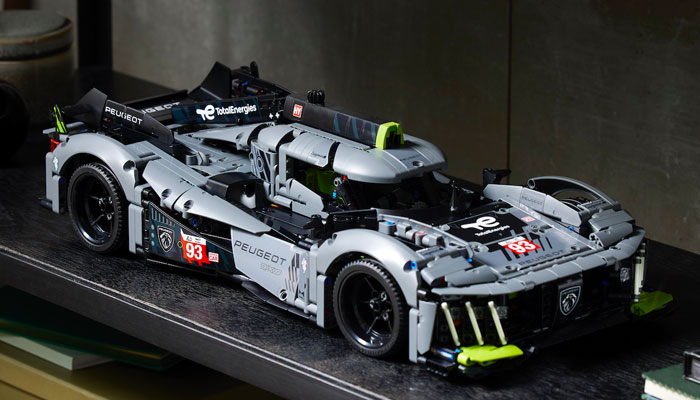 LEGO has teamed up with Peugeot to launch the LEGO Technic Peugeot 9X8 24H Le Mans Hybrid Hypercar set.
The real-life 4-wheel drive hypercar has been replicated in a 1,775-piece set, which contains the V6 engine connected to the rear wheels and a LEGO Technic replica of the electric motor connected to the front wheels.
The model also sports the hypercar's unique doors, low-emission hybrid powertrain Technic cables and glow-in-the-dark light elements.
"Our two brands have come together to create a product that celebrates a new era of hybrid racing and engineering," said Kasper René Hansen, Designer at the LEGO Group said:
"Recreating the shapes and details of such an elegant car using LEGO Technic elements wasn't an easy feat, but it's been an honour to work so creatively with the Team Peugeot TotalEnergies on this one – I'm proud that together we have been able to build the hypercar for real in LEGO Technic form."
Olivier Jansonnie, Technical Director at Peugeot Sport, added: "Our technical cooperation with the LEGO Group started in January 2022, five months before the Peugeot 9X8 reveal. It took one year to fully develop the project with the technical and design teams, allowing us to directly transpose the technical details of the Peugeot 9X8 to the LEGO Technic model.
"It was very important for both brands to create a model that is as realistic as possible. Peugeot, Peugeot Sport and the LEGO teams had numerous meetings about the development of the suspension and hybrid systems that cannot be replicated from photos. We thank the LEGO Group for this project, we are very proud and impressed by the final result that is more than we could have imagined."
The LEGO Technic PEUGEOT 9X8 24H Le Mans Hybrid Hypercar set will available from May 1st.
–
To stay in the loop with the latest news, interviews and features from the world of toy and game design, sign up to our weekly newsletter here