LEGO Art debuts World Map set containing the most pieces ever included in a LEGO set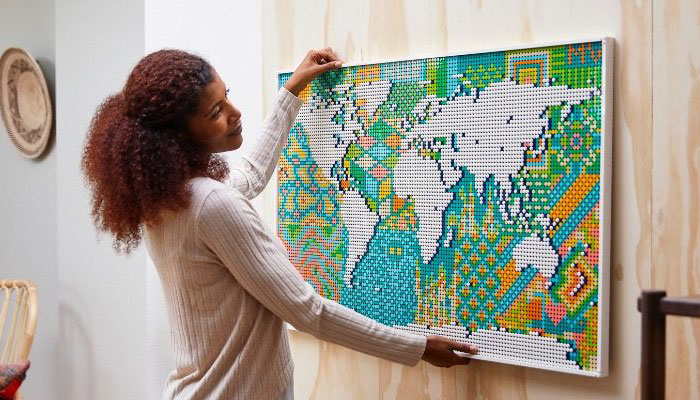 LEGO has bolstered its LEGO Art range with the addition of the LEGO Art World Map, a launch containing the most pieces ever included in a LEGO set.
The set's 11,695 elements can be arranged in one of three different ways, allowing consumers to place their favourite part of the world in the centre of the map. Customisable brick-built pins can be also placed to mark out destinations already visited or highlight those still on the builder's bucket list,
An accompanying soundtrack featuring stories from travel experts has been curated to immerse listeners in their passion for exploration as they build. The soundtrack features travellers' tales from bloggers and adventurers including Torbjørn C. Pedersen, the first person to visit every country in the world in one unbroken journey without flying.
"We know that our adult fans love to travel, but many haven't been able to do so for over a year now," said Fiorella Groves, Creative Lead for LEGO Art.
"We thought that there was no better way of helping them explore the world while relaxing in the comfort of their home than by allowing them to build, rebuild, plan and reminisce through building. We hope the LEGO Art World Map will inspire new adventures in some, and help others relive and celebrate wonderful travel memories from the past."
The LEGO Art World Map will be available from LEGO.com and LEGO Stores globally from June 1st 2021.
—
To stay in the loop with the latest news, interviews and features from the world of toy and game design, sign up to our weekly newsletter here