LEGO celebrates 60 years of McLaren with first-ever Speed Champions double pack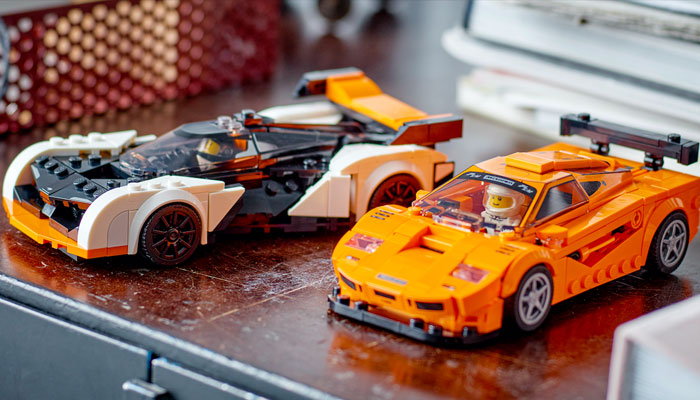 To mark 60 years of McLaren, LEGO has launched a special Speed Champions set celebrating the McLaren F1 LM and McLaren Solus GT.
Both LEGO creations pay homage to McLaren's technical innovation and design language with authentic details from the real-life cars, including the Papaya Orange colour of the F1 LM, its central driving seat position and cooling ducts.
The 581-piece set also features two LEGO minifigure drivers in their his and hers McLaren 'race suits'.
The LEGO Group and McLaren first joined forces in 2015, and since then have created six LEGO Speed Champions McLaren cars and two LEGO Technic McLaren models.
"As 2023 marks the 60th anniversary of McLaren and our founder's passion to create the ultimate supercars, we felt this was the perfect opportunity to come together with the LEGO Group and celebrate some of the iconic McLaren road cars whose designs were born of that vision," said Goran Ozbolt, Chief Designer at McLaren Automotive.
"Together with LEGO Speed Champions, we have created our first ever McLaren double pack which features the iconic McLaren F1 LM and our latest track focussed hypercar, the Solus GT of which only 25 will be sold to customers and which was originally created as a video game concept car.
"Whatever age you are, you can have fun building and exploring the cars and through that I hope we can inspire future designers and engineers who will help us look to the next 60 years and beyond."
Christopher Leslie Stamp, Design Manager at LEGO, added: "We aim to inspire LEGO vehicle fans of all ages with new and unique building experiences, every time we expand the Speed Champions Collection. This launch is another great example of this long-standing partnership."
In celebration of McLaren's 60th milestone, designers from both the LEGO Group and McLaren came together at the LEGO HQ in Billund, Denmark. You can watch the video of the meeting below:
–
To stay in the loop with the latest news, interviews and features from the world of toy and game design, sign up to our weekly newsletter here