LEGO debuts Everyone is Awesome, a set designed to celebrate diversity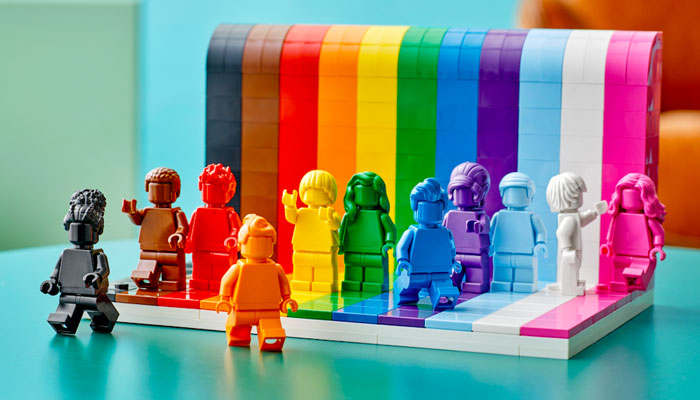 The LEGO Group has debuted LEGO Everyone is Awesome, a set designed to celebrate the diversity of LEGO fans.
The set is inspired by the iconic rainbow flag which is used as a symbol of love and acceptance by the LGBTQIA+ community, and features 11 monochrome minifigures each with its own individual hairstyle and rainbow colour.
"The starting point for this was my feeling that we, as a society, could be doing more to show support for each other and appreciate our differences," said set designer and Vice President of Design at LEGO, Matthew Ashton.
"Being LGBTQIA+ myself, I knew I needed to step up to the plate and make a real statement about love and inclusivity, and generally spread some LEGO love to everybody who needs it.
"Design-wise, I love how bold yet simplistic the set is. It sends a powerful message, but it is also fun and quirky and doesn't take itself too seriously. We've made sure to include black and brown colours to represent the broad diversity of everyone within the LGBTQIA+ community. We've also added in the pale blue, white and pink to support and embrace the trans community as well. I purposely put the purple drag queen in as a clear nod to the fabulous side of the LGBTQIA+ community.
"I hope it's a joy to build and a joy to look at, and hopefully it will bring a lot of joy to people's lives."
The 346-piece model goes on sale on June 1st, to mark the start of Pride Month.
"I am fortunate to be a part of a proud, supportive and passionate community of colleagues and fans," added Ashton.
"We share love for creativity and self-expression through LEGO bricks and this set is a way to show my gratitude for all the love and inspiration that is constantly shared."
—
To stay in the loop with the latest news, interviews and features from the world of toy and game design, sign up to our weekly newsletter here