LEGO debuts Fender Stratocaster set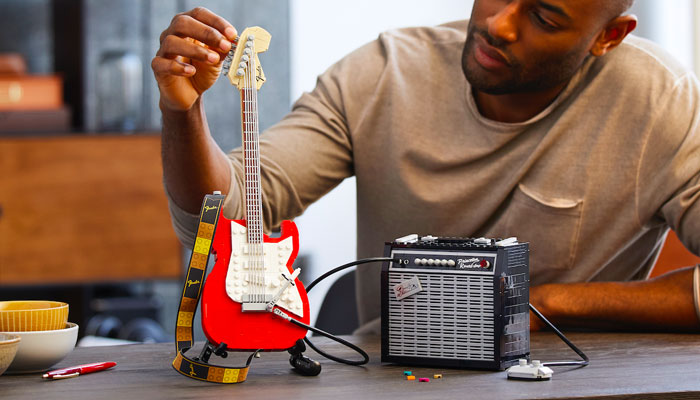 The LEGO Group has debuted the LEGO Ideas Fender Stratocaster set, created by LEGO Ideas fan designer Tomáš Letenay.
The LEGO model of the 1970s Fender Stratocaster includes the option to either build a red or black version of the iconic guitar.
The guitar features six strings, poseable tuning pegs and a tremolo arm. There is also a folding display stand and an accompanying foot pedal and amp. The amplifier's back and top covers can also be removed to show its inner speaker code, wiring and intricate details such as the tubes, speaker and motherboard.
"I used to play electric guitar when I was a teenager and I always dreamed of owning a Fender Stratocaster – but I could never afford it," said Letenay.
"The competition on LEGO Ideas gave me the chance to create it in LEGO bricks. The Stratocaster was my gateway into music and I love seeing my LEGO design with the stand. I am hoping that other guitar fans get as much joy out of building it as I have."
Richard Bussey, VP, Accessories, Lifestyle and Licensing at Fender, added: "The Fender Stratocaster was designed to help artists unlock their creativity, and decades later, the model continues to pioneer the future of guitar playing with its distinct sound and undeniable impact on popular music.
"As the Stratocaster has developed a cult following through the years, so has the LEGO Group. Bringing these two brands together marks an iconic musical moment for a passionate group of guitar and LEGO brick lovers."
—
To stay in the loop with the latest news, interviews and features from the world of toy and game design, sign up to our weekly newsletter here