LEGO debuts latest theme in LEGO DREAMZzz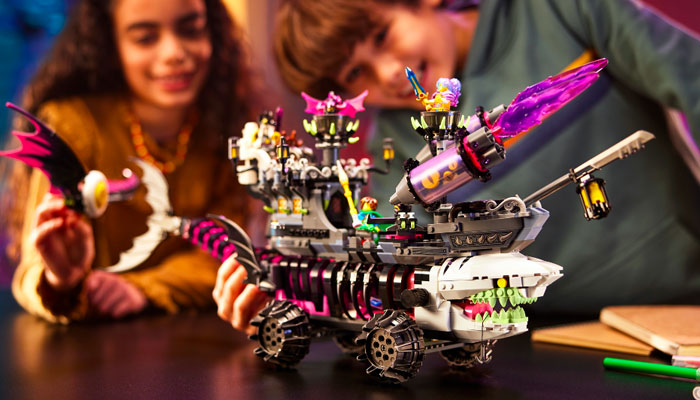 The LEGO Group has debuted its latest theme in LEGO DREAMZzz.
The LEGO DREAMZzz TV series follows the adventures of school friends – Mateo, Izzie, Cooper, Logan and Zoey – as they join a secret agency, journey into the Dream World and learn to defeat the tyrannical Nightmare King.
The TV show launches on May 15th, followed by a product range boasting sets like the Crocodile Car, the Nightmare Shark Ship and Mr. Oz's Spacebus.
"LEGO DREAMZzz is our very first concept that celebrates the wondrous world of dreaming and explores what happens when dreams become real, ordinary kids become extraordinary and creativity is a superpower!" said Cerim Manovi, Creative Director for LEGO DREAMZzz.
"We want children to feel empowered to bring their wildest dreams to life and revel in the true force of their creative imaginations while dreaming – and this is just the beginning!"
LEGO DREAMZzz was developed by the LEGO Group alongside in-depth global research into children's imaginations, the psychology of dreams and their importance in processing emotions.
The research revealed of those experiencing complex emotions, such as stress or loneliness, almost one in five (22%) report having more nightmares as a result. More than half of children (55%) say nightmares affect the rest of their day, including school. Most children (86%) experience positive emotions while dreaming and around two thirds (68%) believe happy dreams help them to be more creative in the daytime.
Working with the LEGO Group on the research, psychologist and behavioural sleep expert Dr Shelby Harris, added; "The research has clearly shown that kids that have access to free play time increases their frequency of dreams and as a result makes them feel happier and more imaginative. It's great to see content like LEGO DREAMZzz, which shows kids how the stuff of our dreams can be used in the real world to help them reach their full creative potential."
–
To stay in the loop with the latest news, interviews and features from the world of toy and game design, sign up to our weekly newsletter here