LEGO debuts Mickey and Minnie Mouse buildable characters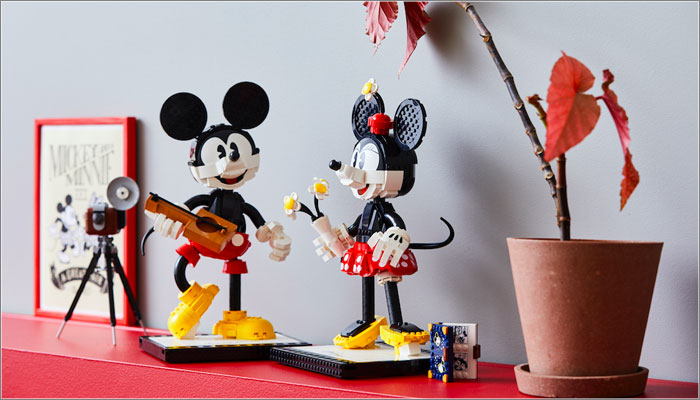 LEGO is launching a new set featuring Disney's most iconic couple, Mickey and Minnie Mouse.
The large-scale LEGO Disney Mickey Mouse and Minnie Mouse Buildable Characters come equipped with a series of unique buildable accessories to pose with, including a retro camera, a guitar and a photo album complete with 'pictures of the iconic duo's adventures from years gone by'.
Helping to bring some nostalgic movie magic into any home or office, each figure in the new set also stands on a base that resembles an old-time film reel, complete with the original character signatures.
"We always look to design things that people would like to put on their shelf, including my own, which is why we went for the 'classic' Mickey Mouse design with the iconic silhouette and colour palette – as a surprise for builders, the characters insides are built from colourful elements inspired by classic outfits worn by the pair in the past," said LEGO designer Ollie Gregory.
"The Mickey Mouse and Minnie Mouse Buildable Characters are extremely detailed and intricate, and there were lots of challenges to overcome. For example, to create the tips of their noses we even had to bring back the LEGO Classic Space Helmet in black, which hasn't been seen since 1987. LEGO fans will also notice that we have debuted a new colour in this set, 363 – TR. Brown with Opalesence, the first time it is included in any set – so there's lots to explore with this build!"
The set, which launches on July 1st, will also feature the new adult-focused packaging in order to reflect the sophisticated nature of the creative process and allow adult builders to find products related to their passions.
—-
To stay in the loop with the latest news, interviews and features from the world of toy and game design, sign up to our weekly newsletter here