LEGO to pilot audio and braille building instructions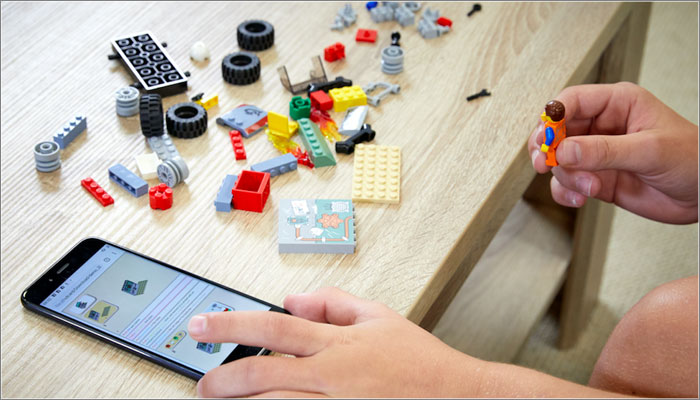 LEGO is piloting audio and braille building instructions to help make LEGO more accessible to those with vision impairment.
The idea came from Matthew Shifrin, who was born blind. As a child, he developed a strong passion for LEGO, but needed assistance when it came to specific LEGO building instructions.
"I had a friend, Lilya, who would write down all the building steps for me so that I could upload them into a system that allowed me to read the building steps on a Braille reader through my fingers," said Matthew.
"She learned Braille to engage with me and support my LEGO passion, and then spent countless hours translating LEGO instructions into Braille."
When Lilya passed away in 2017, Matthew was inspired to honour her memory by ensuring others benefitted from her idea of creating LEGO building instructions for those with no or limited sight.
Through a friend at the MIT (Massachusetts Institute of Technology) Media Lab, he was then introduced to the Creative Play Lab at the LEGO Group. The team took his idea to the Austrian Research Institute for Artificial Intelligence who developed new AI software to translate LXFML data (LEGO Exchange Format Mel Script) from the visual digital building instructions to text based descriptions for braille and voice commanded instructions. Speech synthesis company, CerePro then provided the Software Development Kit used to create the voice that reads the instructions.
"Matthew's story demonstrates the power of LEGO play," added Fenella Blaize Charity, Creative Director at The LEGO Group.
"It brings people together, helps to build confidence and sparks creativity. It has been an honour to work with Matthew, his passion and energy are truly inspiring. But most importantly his project will help visually impaired children around the world experience the same joy of building and pride of creation that all our fans feel."
Available in English as a free service at www.legoaudioinstructions.com, the first four instructions to be launched include a set from LEGO Classic, LEGO CITY, LEGO Friends and The LEGO Movie 2.
Consumers can either choose to hear audio instructions using their screen reader or with audio provided by the LEGO Group, or choose to read the instructions using a Braille reader.
Consumer feedback on the four pilot instructions will be collected until the end of 2019, and the intention is to then launch more audio and braille instructions first half of 2020.
The pilot launches just four months after LEGO Braille Bricks were announced – an initiative aimed at supporting young children with vision impairment to learn Braille in a playful and inclusive way.