LEGO senior design manager Amy Corbett on how the firm's new arts and crafts brand – LEGO DOTS – builds creative confidence in kids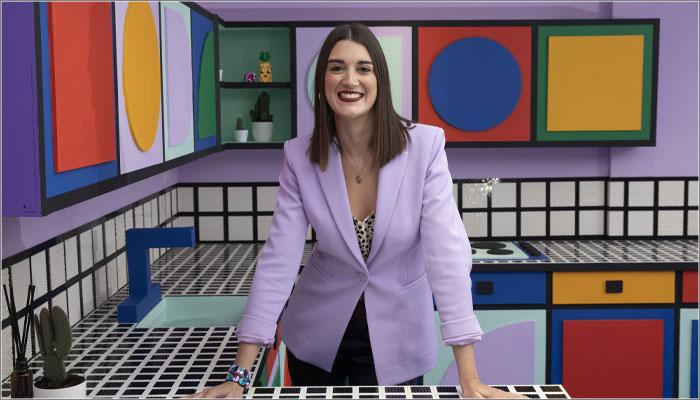 Amy Corbett started her LEGO career in 2013 as a Junior Designer for LEGO Friends. She has since taken the lead on several projects, driving the design team, art direction and play experience as a Design Manager, starting on the LEGO Disney product line.
Now as a Design Lead, Amy drives a team of designers to explore and develop new play propositions, and is also a judge on the LEGO Masters USA TV show.
We caught up with Amy to learn more about one of her recent projects – a new arts and crafts brand called LEGO DOTS, boasting initial lines that span blind booster bags, wearable bracelets and room décor items like photo cubes, picture frames and pencil holders.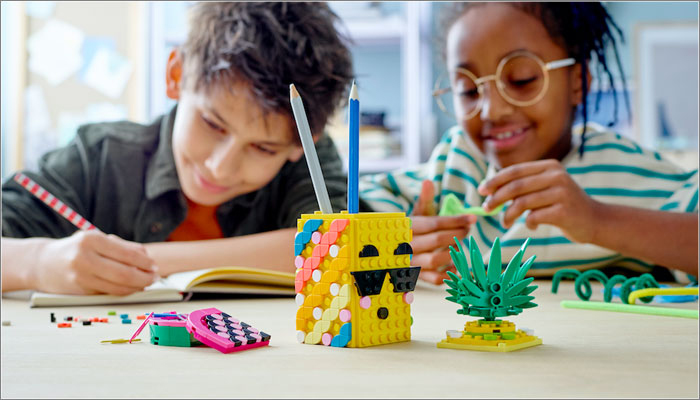 How did you get your start in the world of toy design, and what led you to LEGO?
Since I was a kid, I have always loved designing and making things, so my dream was to turn my passion into a job. I went on to study Product Design Engineering, where I learnt to bring the fun and playful experiences in my head to life as real products.
From the very first project, I knew that creating toys was the job for me, and where better than The LEGO Group.  I dedicated each project to honing my skills in toy design, and soon after I graduated, got my dream job as a toy designer for LEGO Friends. I have since moved around the company and worked on many different projects. That was almost seven years ago, and I love it more every day.
And your latest project is LEGO DOTS – a foray into the arts and crafts space for LEGO. It's such an expansive sector, and you could have gone in almost any direction, so how did you go about deciding what would work for DOTS?
We wanted to bring a creative experience that would celebrate the LEGO system and build creative confidence in kids. To do this, we knew we shouldn't stray too far from the elements we know and love, but instead, find a way to reimagine and breathe new energy into them, making the experience relevant and engaging for a new audience.
Our goal was to democratise creativity for everyone, which meant having instant success, but also being able to build on that, getting better and more adventurous every time.
We tried many different directions, but we soon found that the 2D building platform and designing through pattern making were the perfect foundation…and after a lot of looping, LEGO DOTS was born.
Finally, we wanted to showcase the patterns and creativity in a meaningful way; celebrating the designs through items like a pencil box, photo holder or bracelet. With LEGO DOTS, you can play with shapes, colours and decorations to make endless combinations. And something seemingly simple, that anyone can try, can turn into something amazing!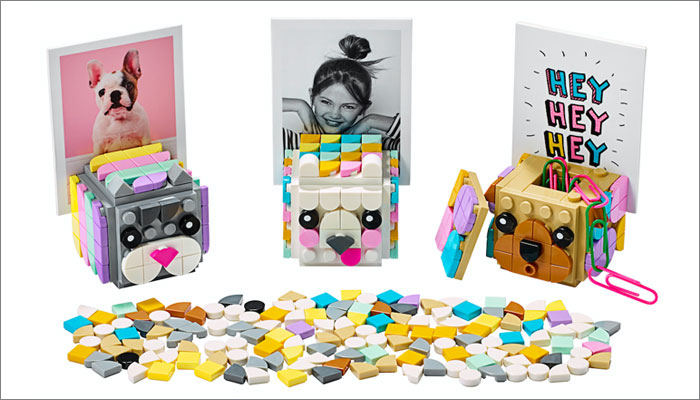 You mention wanting to build creative confidence in kids; how do you see DOTS doing this?
I like to think of it as a playground for experimenting with creativity and design. With DOTS, there is no right or wrong. Even our instructions are designed to inspire and spark ideas to help fuel your own imagination.  This encouraged kids to try out their own designs and patterns. And because it's all the LEGO System, you can take it apart and start again, creating endless designs. It takes away the fear of making a mistake that we see in many kids, and instead, gives them the tools to build their creative confidence through design and play.
Sounds brilliant – and on that, as a designer, how do you fuel your own creativity, aside from playing with DOTS?!
A lot of people ask me this question, and it's hard to answer. I think I get energy and inspiration from all around – the artists I follow on Instagram, what's hot in fashion, street art while I'm exploring a new city, and even sitting in the window of a cafe watching the world go by. Colours. Patterns. Details. Even the smallest thing can spark an idea if you view it in the right way.
I also love following the instructions to build LEGO sets. I always get inspired by the creative ways other designers have solved problems and created builds.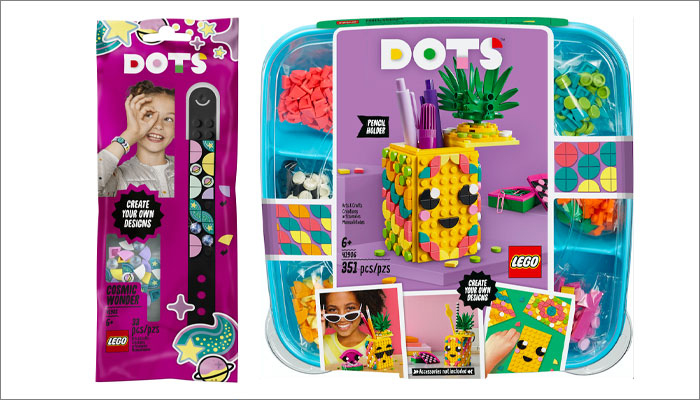 And before we let you go, looking ahead, what can you tell us about the future of LEGO DOTS?
All of our future projects are top secret, so I can't say much. It's much more fun when it's a surprise. But I can say that we love LEGO DOTS, and it seems like many other people do too. It's a great new platform for self-expression through the LEGO System, and we have plenty of ideas…
Exciting times. Thank you so much Amy.
—–
To stay in the loop with the latest news, interviews and features from the world of toy and game design, sign up to our weekly newsletter here