LEGO and Universal Music Group debut new music video making brand, LEGO Vidiyo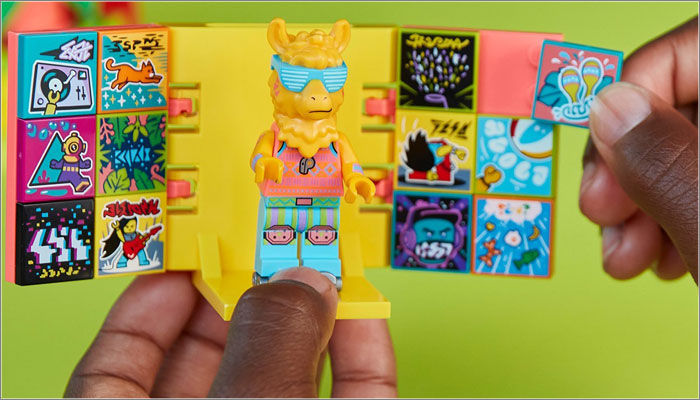 The LEGO Group and Universal Music Group have debuted LEGO Vidiyo, a new music video maker brand that uses an array of LEGO elements, minifigures, music, augmented reality and an app.
LEGO Vidiyo gives children the opportunity to direct, produce, star in, and share their own music videos, using tracks from across the globe, including hits from UMG artists.
Kids can choose a song from the app and create a band from a vibrant collection of new, physical minifigures. The band can then be customised and brought to life in AR via the Vidiyo app.
Users can add special effects to their videos thanks to decorated 2×2 square LEGO elements called BeatBits that can be scanned to unlock digital and audio effects like confetti showers and saxophone solos.
Music videos and performances can be uploaded to the app feed and shared, but only once the content has passed moderation.
New music, challenges and content will be added regularly to the App to keep gameplay fresh and encourage children to continue developing their creative skills.
"We want to feed the imagination of the next generation of creatives, providing a new canvas for kids to creatively express themselves," said Julia Goldin, Chief Product and Marketing Officer at the LEGO Group.
"Research shows over three quarters of parents globally wish their children had more creative confidence, so we're launching LEGO VIDYO to help make that happen. We know children are always chasing new ways to experiment creatively, and LEGO VIDIYO is here to help all kids with a passion for music unleash their creativity through LEGO building and music video production. We can't wait to see what they come up with!"
Olivier Robert-Murphy, Executive Vice President at Universal Music Group and Brands added: "Through this innovative global partnership – with the power of music and play harnessed to support early development of creativity – children around the globe will be able to express themselves as they stage, direct, perform, and share their music videos. LEGO VIDIYO is a great way for millions of kids to discover new music and get closer to their favourite artists while learning and connecting through play."
The first LEGO VIDIYO products will be available in most countries around the world from March 1st.
—-
To stay in the loop with the latest news, interviews and features from the world of toy and game design, sign up to our weekly newsletter here