LEGO design manager Jonathan Bennink on collaborating with Nintendo to bring Super Mario to life in bricks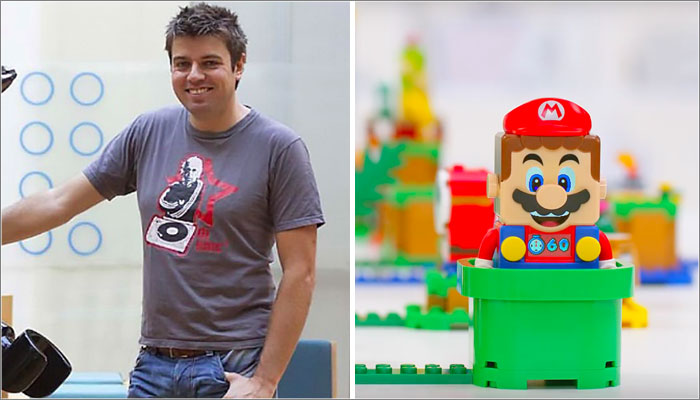 Back in March it was announced that designers from both LEGO and Nintendo had been working together on a new, interactive LEGO Super Mario line.
Rather than taking the form of a traditional LEGO set, LEGO Super Mario features an interactive LEGO Mario figure who collects coins in real-life game levels created with LEGO bricks.
We caught up with Jonathan Bennink, design manager at The LEGO Group to learn more about what went into giving the iconic moustachioed plumber a LEGO makeover, and how a close relationship between designers from both LEGO and Nintendo was key.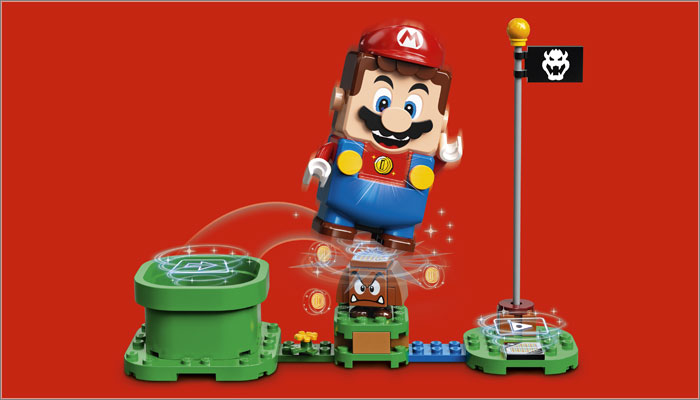 Hi Jonathan, so first off, how did you get your start in the world of toy design, and what led you to LEGO?
After completing my master's in Industrial Design, I started my own design firm in high tech product design. After a couple of years though, I decided I really wanted to work at The LEGO Group and I took a six-month sabbatical to make a product prototype for LEGO: a physical video game using tech enhanced LEGO bricks. I contacted some LEGO people through LinkedIn and managed to get an opportunity to present this idea to LEGO's Creative Play Lab. After some freelance work, they offered me a job in Denmark!
For the last four years, you've worked on what has to be one of the most exciting toy announcements of the year so far: LEGO Super Mario. The character has been around for over 30 years and the world of the videogames is so expansive… I imagine it was tough finding out where to start when it came to bringing this world to life in bricks. What did those first steps look like?
Early on, we made a prototype of a character with a screen and speaker, and painted it in the Mario colours. The LEGO Group and Nintendo team all instantly fell in love with him, so we decided this technology-enhanced LEGO Mario would be at the centre of anything we would develop. It really was based on a gut-feel initially, but when we saw how kids reacted to LEGO Mario in focus groups, it reinforced our excitement to create him.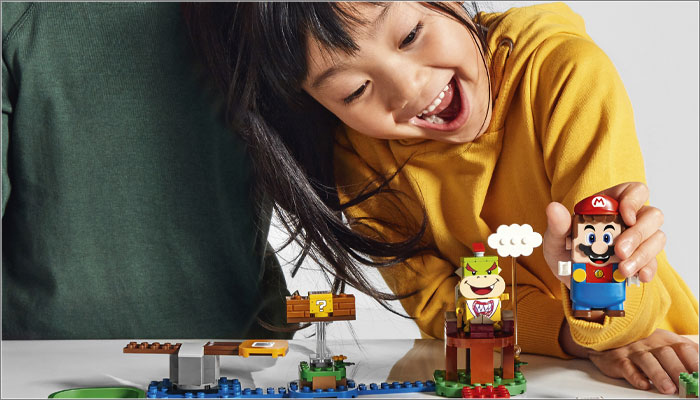 You mentioned it's a 'tech-enhanced' set, and there's lots of interactive gameplay involved in this line. Why opt for this approach, rather than going down the route of a more 'traditional' LEGO set?
Both brands have a lot of fans, and we wanted to give them something worth waiting for. At the start of the project, we decided we wanted to make a product that only The LEGO Group and Nintendo could do together. This means the product needed to have 100% LEGO and 100% Nintendo DNA. A traditional LEGO set with the Mario IP would undoubtedly be very cool, but it does not leverage what Nintendo is good at: seamless digital interactivity that is unique to the world.
As we developed LEGO Super Mario, we came up with the idea of creating levels for Mario to play and collect coins on. All of the team were very happy to see in focus groups that we can use the digital interactivity of LEGO Mario to inspire kids to enjoy the core LEGO play: to build from your imagination, take apart, and rebuild again.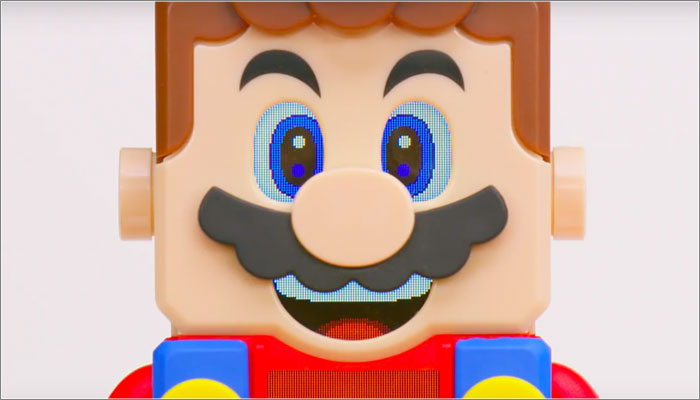 And on the subject of tech – how does the set actually work? What sort of wizardry is underneath that iconic moustache?
As you can see in the video released so far, Mario has displays for his eyes, mouth and tummy screen and a speaker to talk to you and play music. The screens and speaker together bring him alive and you feel he is your friend. The sound actually proves to be the most important feedback for kids, as the sounds of the Super Mario universe are so iconic!
He also has a colour sensor that reads a selection of the LEGO colour pallet and action bricks. Kids find it simply magical to see how LEGO Mario react to bricks: blue bricks are now all of a sudden water and red ones are fire!
This sensor also reads action bricks: these are specially decorated tiles that give Mario a unique reaction to that brick. He knows when to start a level, defeat a Goomba, get items from the ?-block, when he is on the exciting platforms and when to finish the level.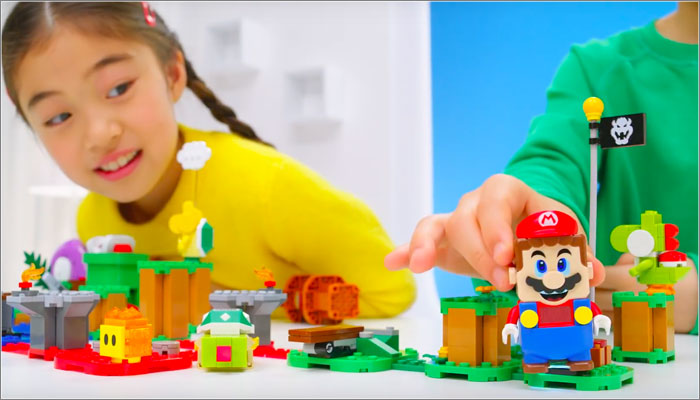 And as you've mentioned, designers from both LEGO and Nintendo worked together on this line. How did this collaborative design effort work out? Lots of Skype calls between Billund and Kyoto?!
You are right! Most of the development is done via weekly Skype calls. At the end of each call, we all wave at each other and because of the time difference, we wish each other a nice evening or workday. A few times per year we meet up physically for a design workshop in Kyoto, Billund or Seattle or we meet at focus group tests in the U.S. or U.K.
It has been a true privilege to work with the Nintendo team and we have become close friends over the years as we have a lot of values in common.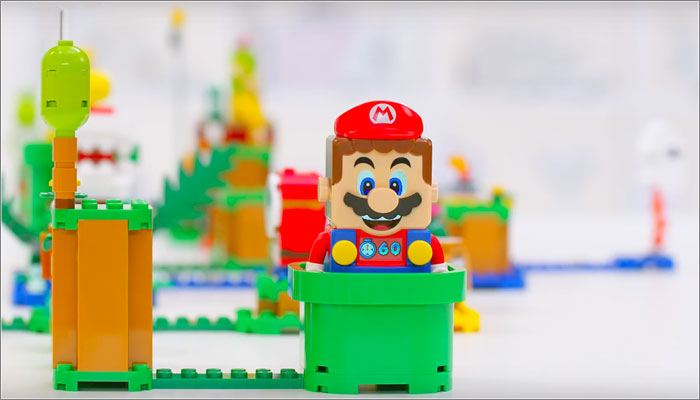 Sounds like an incredible process, but squeezing that much tech into such a small plumber can't have been easy. What was the biggest challenge in giving Mario the LEGO treatment?
Definitely fitting the right amount of technology inside an attractive package that is true to Mario! Technology does not only tend to be expensive, but also rather square! Displays and batteries are rectangular shaped, but Mario and the Super Mario universe are organically shaped. However, since this is Mario coming to the LEGO world (and the iconic LEGO brick is also square) we felt it was very natural for LEGO Mario to also be rectangular.
After this decision was made, it was a matter of finding the right balance in the design that we then carried throughout the line.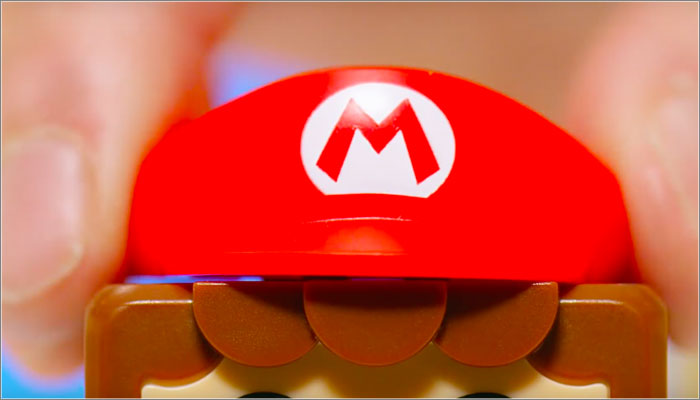 For example, Mario's hat is so iconic, that is had to be organically shaped instead of square. Following this design style set by LEGO Mario's design, the non-tech characters are also brick-built with a mix between square and organically shaped bricks.
These brick-built characters also turned out to be a natural fit to the build/rebuild nature of the line.
Amazing. Well before we let you go, one last question: how do you fuel your creativity?
Cool question! I find inspiration from a couple of things. Personally, I love solving complex problems and figuring out the mix between technology, new and exciting play and business/price. Basically, I love doing things that haven't been done before!
I secretly also love it when the common notion is that it can't be done or is difficult to do. That really sparks me to find a creative solution within the boundaries given. When I do get stuck, I sometimes use a technique called 'related worlds': how do others solve similar problems in a different industry and how can it be applied to our work.
Finally, working in teams is simply the best; bouncing ideas of each other feels so inspiring and the best way to solve the puzzle is doing it together.
'Related worlds' – I've made a note of that one! A huge thanks again Jonathan – looking forward to giving LEGO Super Mario a go when it launches later this year.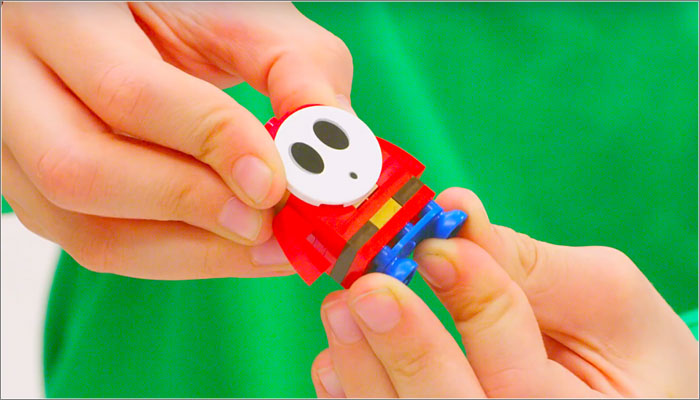 —–
To stay in the loop with the latest news, interviews and features from the world of toy and game design, sign up to our weekly newsletter here