"It's less 'right place, right time' and more 'right person for the job'": Jamie Noble-Frier on connecting different corners of the tabletop space with DoodleMeeple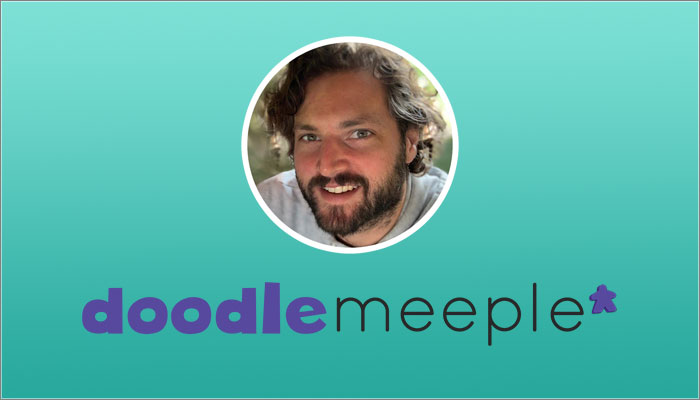 DoodleMeeple, a new platform that looks to connect board game publishers with an array of external talent including artists and sculptors, is now live.
The brainchild of Jamie Noble-Frier and Tim Simms, publishers can use DoodleMeeple to connect with a wide range of talent, spanning artists, sculptors and graphic designers, to rules editors, playtesters and game developers.
We caught up with Jamie to learn more about the origins of DoodleMeeple, and how publishers can best utilise the platform.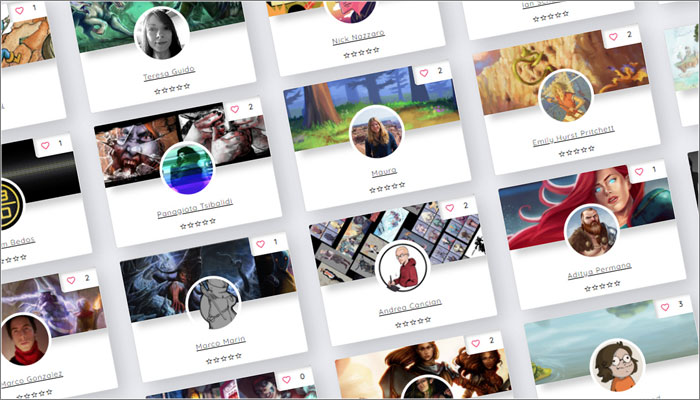 Hi Jamie, thanks for doing this. So before we dive into DoodleMeeple; what did you do before launching this new platform and how did you first engage with the tabletop industry?
Hi Billy, thanks so much for talking to me. I love what you guys are doing at Mojo Nation; your values and results on helping people in the hobby industry is something we share and hope to achieve at DoodleMeeple.
I love this first question, I'll give the short version, so as to save your bandwidth! For the past decade I've worked as a digital artist. I started off in the video game industry, then about seven years ago broke off from the online game company I was working for in London to go freelance. I pushed my career towards fantasy fiction illustration and board games. That probably sounds like an easy transition, but I wasn't always involved in art.
I studied art at school, then briefly at college, but after a year of hearing about a doomed career path, where I was told – even by tutors- that 'there are no jobs in art', I decided to try for a career that had more opportunities.
I decided to study media at university instead of what I wanted to do. It was a combination of 'trying to be sensible' and, if I'm honest, imposter syndrome. I saw the other artists at college waxing lyrical about art, and all I wanted to draw was dragons and goblins. I figured that it was never going to happen for me, I didn't see a path so I began my studies in media.
I was always pretty good and finding contacts and building a rapport, and soon enough I got a placement at Sky TV. It was a short gig, but gave me enough time to see the sheer number of interns working for free for up to a year, without the promise of a job at the end of it. I realised, it wasn't just art there were 'no jobs in'. I should have known then, that if I was to work my butt off, I should have done it in a career I wanted to follow.
The contract ended, my course ended, and I found myself climbing the ladder of restaurant management. It suited my chatty personality, but something was missing. I had my major epiphany, – while cleaning urinals on my hands and knees when our restaurant cleaner had to quit short notice – I was going to turn my hard work in the direction of something I wanted to do.
And that's when the world of board games entered the scene?
Yes, I went back to college for a year and studied game design, specialising in concept art, and loved making projects with other students. The possibility of 'doing your own thing' felt really refreshing. It's exactly what I do now. I now work as an artist under my own limited company, The Noble Artist, I've published my own board game, Hero Master: An Epic Game of Epic Fails, launched my own geeky ecommerce shop, GeekingsCards.com and now want to encourage people to make their own board game projects at DoodleMeeple.com. I want people to experience the excitement, creative freedom and if they choose the creative career I absolutely love.
We'd been playing a lot of board games at home back when I decided to pack in the restaurant thing, and moved from household names like, Risk, to less mainstream games. My friends used to laugh as I'd always turn up with a massive travel bag of board games. I began using Board Game Geek as a resource, and noticed that people were making their own games. It took a long time but I began making contacts and getting clients by scouring forums and even using Linkedin, which at the time had very few of the board game publishers you'd see on there today.
What was it about that experience that planted the seed for DoodleMeeple?
First it was my long, hard fought journey into building a network of contacts, probably pre-GDPR 'hit and hope' emails – apologies all round! – to companies I hoped would have a bit of work going.
I realised there was no real hub to find a reliable source of board game work. I was digging around on mainstream freelance sites in hope I'd find someone looking for artists. These were few and far between, but the demand for board games, and the access to publishing them was increasing with the emergence of Kickstarter.
In 2018, I saw the other side of it. I saw why I occasionally did find an "artist for board game needed" post on a mainstream freelance site. Publishers and new designers were having the same problem as I had been in the early days of my board game art career, they couldn't find the right connections.
That was the year I published Hero Master, and found it really hard to find the professionals I needed to help me publish. I could do the art bit, but it was pure luck that I was introduced to video editors who could make 'how to plays' and rules editors who could sort out my messy rules document I'd been going back and forth over for five years.
It was apparent that publishers new and old were finding it hard to get the talent they needed to make professional looking games, and board game industry people didn't know where to find the consistent work to turn their side-gig into a career. Unlike the other industries I worked in as an artist, there was no industry-centric platform where you could find and be found.
So I took the idea to my best friend, and web developer, Tim Simms. Tim loved it, and has been working on it with me for the past year.
For anyone that hasn't seen the platform yet, what is DoodleMeeple and who should be engaging with it?
DoodleMeeple is a platform that connects board game publishers, from established large publishing studios, to hobbyists looking to see their game design get made, with the tabletop industry professionals they need to make it happen.
Board games are booming, but what comes with that is a much more competitive need to make professional products. At DoodleMeeple, we provide everything from visual and creative designers, like artists and world builders, through to our developers, rules editors and testers, right on to the marketing and community-building side to get your game to the point of sale.
If you're looking for help with your game, check out our rapidly growing creative roster. Similarly if you're a board game professional looking for an additional avenue to find new projects, you can make a profile and start getting approached for work. It's a commission-based business, so setting up an account is completely free. You won't see any fees unless we find you a collaboration.
For anyone that wants to get themselves on DoodleMeeple, what's the process?
I made a super easy video to show users just how easy is to get set up. You simply register for free and build a cool looking profile, following the profile's intuitive steps.
We use the terms Creative and Creator at DoodleMeeple. Creatives are our hireable professionals, from artists through to marketers, and Creators are our commissioning publishers who are looking to hire.
As a Creative you'll have to link a Stripe account and for countries not covered by Stripe, we're working on an alternative currently. If you're a Creative, once you've built a profile and linked to Stripe so you can get paid, you're done! You can just let us find you great projects, and respond with quotes when a Creator is interested in working with you. The Creator chooses you so, there are no enormous job boards to grind or blanket emails to send. Just make a profile that looks great and you'll find work!
As a Creator, we also encourage you to set up a nice-looking profile. Remember our Creatives get to choose to work with you too, so it's important you look like a great project coordinator to get behind. Once you've set up your profile, you can start designing a brief, which once filled out will filter the Creatives you need, and allow you to add up to five of them to your brief.
The reason we keep things tight is the quality of the interaction. Our process means there are less irrelevant blanket applications for Creators to wade through and inevitably decline, and better quality responses from Creatives as they know you choose them. For our Creatives, it gives them more time to return a more personal quote, as they aren't having to spend their time trawling a huge job board. There's less 'right place, right time' and more 'right person for the job'.
We've mentioned how it relates to the tabletop space, but do you think mass market game publishers could also utilise DoodleMeeple? Does mass suffer from similar blind spots?
That's a great question. We've had some really great conversations with larger publishers regarding our service. They almost suffer more than first time creators, because they have added time pressure to find reliable professionals to work with.
If a publisher is trying to release a couple, or several games per year, they can't lose weeks looking for an artist that fits their new aesthetic, or a developer who can innovate with mechanics in a way that will make each of their games stand out on its own merit. Having a centralised place to find them means they can get on with the meta stuff they have to deal with, and let us arrange the details for them.
We're also interested in talking to large publishers about what they need, as to whether they'd want us to put Creatives in front of them on a regular basis, or provide a "personal shopping service", where we'd fulfill their personnel needs from the criteria they give us.
One step at a time though, we need to establish DoodleMeeple before we add a bunch more cool features we've been discussing behind the scenes!
Absolutely; and finally, how do you fuel your creativity? And has this changed in lockdown?
I really feed excitement off other people. I'm definitely not the 'hermit-artist' type you see in the movies! I'm not sure you can be now, to work in the commercial creative industry. I love networking as everyone has a project or a story I get inspired by. It's why I love building a rapport with clients, and I'd encourage other creatives to do the same. My best work comes on projects where the client and I really click. You just get excited and throw ideas around more.
I think in some respects, lockdown has reminded people of the side hustles, and projects they've been putting off. It's actually been fairly busy for me as an artist! I do miss the social interaction I have outside of work, but having a wealth of online communication tools has been awesome. I love to video chat to my clients, so it's been an added bonus.
For DoodleMeeple, I think it's helped us to get in front of people who are missing the live conventions they'd go to and further their network. But I'm sure we'll be at those too when they reopen, furthering our own network! Come and chat to us, if you see us!
Well a huge thanks for taking time out for this Jamie and good luck with all things DoodleMeeple!
Thanks Billy and everyone at Mojo Nation for letting us tell a bit of our story. Come and join us at  https://bit.ly/doodlemeeplemojo-int and find great people and great projects in the board game industry.
—-
To stay in the loop with the latest news, interviews and features from the world of toy and game design, sign up to our weekly newsletter here