LittleBits debuts Avengers Hero Inventor Kit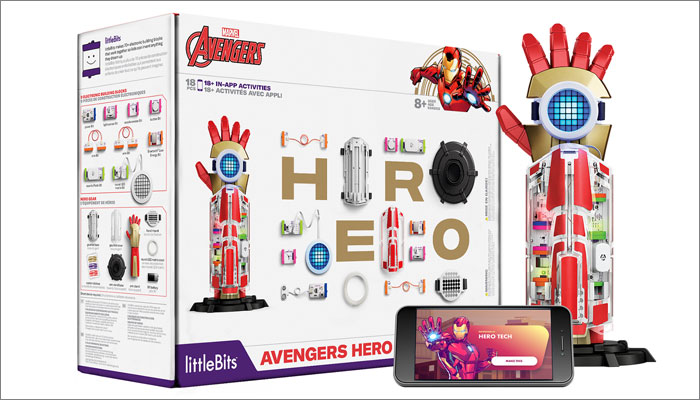 Following the success of its previous Disney collaboration with the Star Wars Droid Inventor Kit, littleBits has launched a new Avengers Hero Inventor Kit.
The kit allows kids to create their own high-tech hero gauntlet with wearable tech sensors, in-app block coding, a customisable LED matrix light design and authentic Marvel Avengers sound effects.
Users can also guide heroes, including Iron Man, The Hulk, Black Widow, Black Panther and Shuri, through hero training in the free Avengers Hero Inventor app, which includes step-by-step instructions and video tutorials for over 18 in-app activities.
"From creating circuits to introducing super powers like stealth mode, rainbow control, power boost, and more, the Avengers Hero Inventor Kit teaches kids about STEAM in a fun, accessible way," said Ayah Bdeir, founder and CEO of littleBits.
"We're thrilled to extend our relationship with Disney to now work with the amazing team at Marvel to give kids the skills – and the confidence – to change the world."
Paul Gitter, SVP Licensing, Marvel Entertainment, added: "It's important to us to provide kids with varied experiences and inclusive role models.
"LittleBits' Avengers Hero Inventor Kit enables kids of any age, gender, and technical background to find super powers that appeal to them, embrace these skills, and invent their own. This rich and fun experience allows kids to 'be more' by allowing them to learn and challenge themselves."