Liz Peters, Head of Portfolio UK and Ireland at tonies®, discusses what makes a great brand partner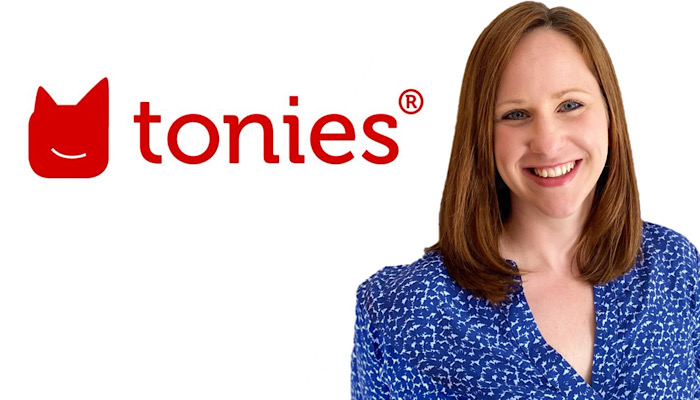 Thanks for joining us, Liz. For the uninitiated, who are tonies®? How would you explain the product range and the consumer process?
So tonies® is a leading audio platform for children, with two main products lines – the 'Toniebox' and accompanying 'Tonies' – plus a range of accessories including headphones, carrycases and shelves for storing Tonies at home.
Tell us a little about those…
The Toniebox is a colourful, softly padded musical storybox that brings kids' favourite characters to life. When you pop one of our hand painted Tonie figurines on top of the box, it unlocks hours of stories, music and educational content!
And the Tonies themselves… These are the colourful characters that sit on top of the box?
Exactly. There're over 150 different Tonies available, so children can always find their favourite character… Whether that's Peppa Pig, The Gruffalo, or Elsa from Frozen. Pop your favour character on top and you immediately transport into their world as the audio content plays.
Sounds great! And I don't mean that as a pun. Now that I mention it, though, the quality of the sound is excellent… Crystal clear.
Thank you! It's worth saying that you can also record and upload your very own content on a Creative-Tonie – perfect for that extra bedtime story or message from Grandma or Grandpa. There's lots of free content which you can download onto the Creative-Tonie in the mytonies app too.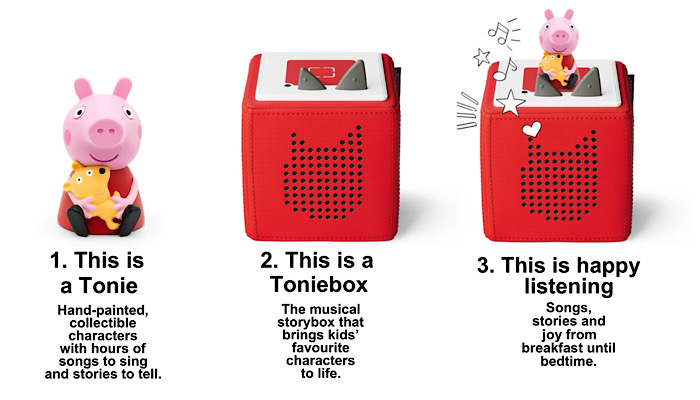 And that's available as a separate entity, is it? The Creative-Tonie?
Well, every Toniebox Starter Set comes with a Creative-Tonie… So you have up to 90 minutes of space to add your own content. You can also bundle up and save by adding on your favourite Tonies… The more Tonies you collect, the more you listen, and the more you love it!
Lovely! You know, it seems like a lifetime ago but I was very excited when I first saw Tonies – I think it was in Spring Fair in Birmingham. There was a lot of hubbub about! So tell me… How did the company come about?
We were founded in 2013 by Patric Fassbender and Marcus Stahl, two German dads who wanted a screen-free solution for their kids to listen to their favourite audiobooks. The first Tonieboxes hit the German market in 2016, and fast-forward seven years, tonies® now has offices in Düsseldorf, Schwäbisch-Gmünd, Hamburg, Berlin, London, Paris and California, and we've sold over 4.1m Tonieboxes and 51m Tonies globally.
You're the Head of Portfolio at tonies®. This is undoubtedly a make or break part of the business… What are some of the licenses you hold?
It's definitely the most fun job! We work with all the big entertainment licensors, holding licenses for IP such as Frozen, Moana and The Lion King, Peppa Pig, Paw Patrol, Thomas the Tank Engine, CoComelon, and Gabby's Dollhouse.
Not just that kind of media, though, is it?
Oh, no – we also partner with some best-in-class publishers to offer literary classics such as The Gruffalo, Peter Rabbit, The Magic Faraway Tree, Matilda and Paddington. With over 150 Tonies in our UK portfolio, and lots of new Tonies being released every month, it's definitely a team effort in securing all the licenses for so many launches every year!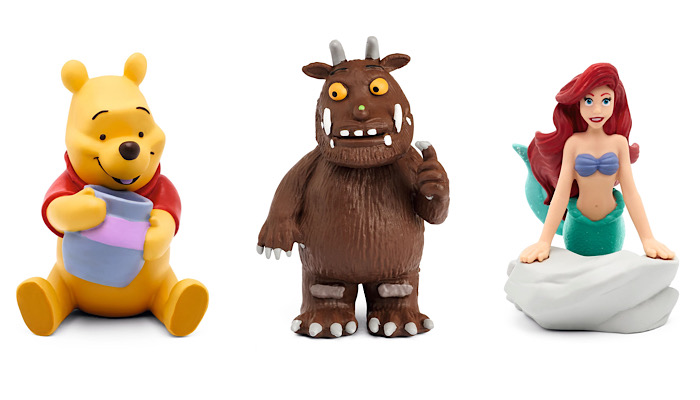 What unites them all? What makes a title right for tonies®?
All our Tonies contain brilliant audio content – being able to acquire or produce our own high-quality audio is absolutely key to our product. Additionally, a cute character is a must… We want our little listeners to be drawn to the figurine, and to know that when they put a certain character on the Toniebox, it's going to play their favourite stories or songs.
Yes – I can see how that's important! Anything else?
We want popular brands that we know will be loved for many years to come – we know that Tonies stay in the kids' bedrooms for years, and get passed down to little brothers or sisters, so an evergreen brand or content is always a first priority.
Also, we always look to balance our portfolio across different topics and target ages. That means making sure we have different content that covers entertainment, books, music or education. That's really important, as well as having content that's appropriate for different ages, or that can grow with the child.
Got it. And, by contrast, what kind of Intellectual Property would never be of interest?
If there's a strong storytelling or musical hook, we believe we can turn anything into a compelling audio offering for kids. But we don't really go into pure lifestyle or fashion-led brands – that's not to say never, though!
Never say never! Okay. So are there any areas into which you'd like to expand? Anything that's so far proved elusive?
Not elusive – but we're honing in on the educational benefits of listening to the Toniebox.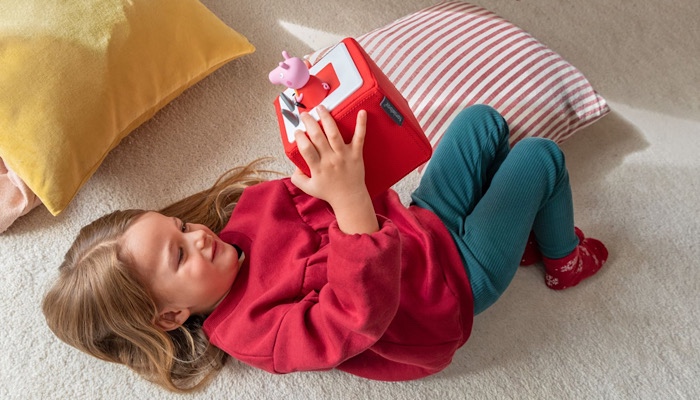 Interesting. Tell me more!
We know through our research commissioned with the National Literacy Trust that listening to audio can improve a child's reading skills and vocabulary. We're truly passionate about raising confident readers – even the very littlest ones! One of the fun ways we do this is to test our little listeners' comprehension skills with audio quizzes based on the content they've listened to. We've added quizzes to some of our audiobooks and offer them as free supplementary content in our mytonies app too.
And in what are the ways would you encourage learning?
We encourage learning through song as well! Little ones can travel around the world and learn about different countries with our Travelling Songs Tonie, or learn counting and numbers with our Counting Songs Tonie. We've also created engaging educational content by partnering with National Geographic, Horrible Histories and Twinkl, the leading online educational resources platform for parents too.
Gosh, it's a real endeavour!
It really is! There are just so many benefits to listening to audio, and we're so excited to be able to use the Toniebox to facilitate these learning benefits! We'll continue to offer new exciting and immersive story-led audio via our Tonie figurines, as well as more educational topics and learning resources through the mytonies app.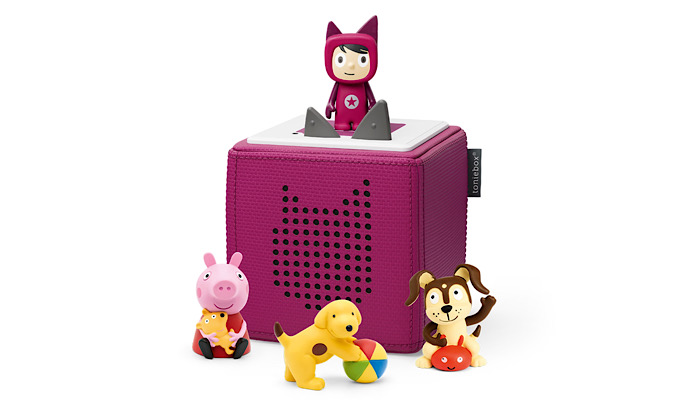 How did you get here, Liz?! What's your past experience?
I've had a kind of squiggly career, but always with the red-thread of great content and licensing running through! I started out at PRH in their rights team, selling audiobook and translation rights. I then moved into apparel licensing, and spent a couple of years in Düsseldorf with a textile licensee – don't ask me about my German skills though.
Ha!
Finally, I was at Universal in their EMEA Softline's team, before landing my dream role at tonies®!
What's next for the brand? What news might you have that we can share?
We have so many exciting new launches this year – both Tonies and new accessories, with lots coming that our customers have been asking for! We're just launching our new Sleepy Friends range, where we tap into our number one use for the Toniebox – sleep! – offering products that directly help little ones – and their parents – relax at bedtime and fall asleep peacefully.
Fantastic! And finally then, Liz, what's the one question I could've asked you today but didn't?
What product launch am I most excited about for this year from tonies® UK?!
And what's the answer?
Well, there's way too many to choose from, as always…
Then I'm glad I didn't ask!
Ha! Well, we have Tonies launching from some of our most requested brands, but I think I am most looking forward to a brand new, really innovative product that's coming in spring. I can't say too much, but if you're having trouble getting your little one to sleep, you need this product at the bedside – guaranteed to get kids drifting off into a peaceful slumber.
It IS the spring, Liz! Come back soon and tell us about it!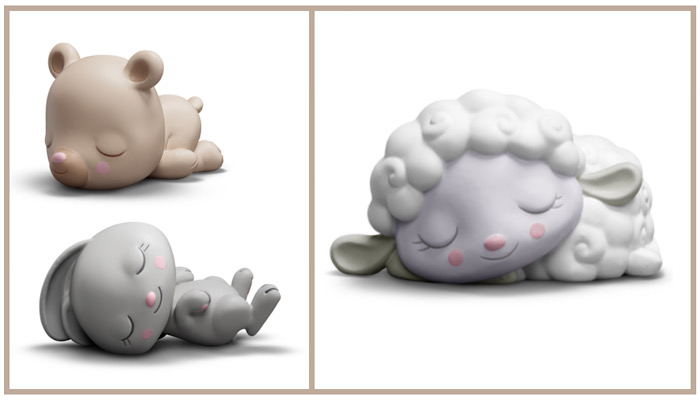 –
To stay in the loop with the latest news, interviews and features from the world of toy and game design, sign up to our weekly newsletter here