Marina Khidekel on the origins of her award-winning weighted plush range, Hugimals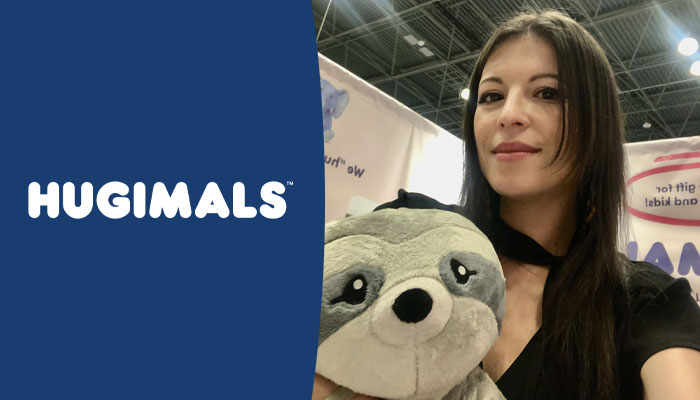 Marina, it's great to connect. To kick us off, where did the idea for Hugimals come from? What started this journey?
Thanks Billy. I created Hugimals as a solution to my own night-time anxiety. For a while, my racing mind prevented me from falling asleep… The only thing that helped was using my partner Mike's arm as a 'mini' weighted blanket, which wasn't exactly a sustainable solution – or comfortable for him!
I had a weighted blanket, but like so many other people say, it was too hot and smothering. I began researching smaller weighted products, and I wanted to love the weighted plush options I found – but I didn't. So, I decided to create what I couldn't find: a design-forward, heavier weighted plush for kids, teens and adults that I'd be proud to have out in my living room or gift to friends.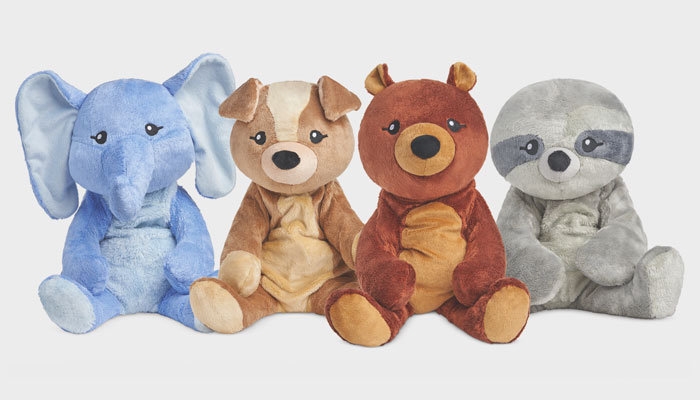 Fantastic – and I imagine Mike is relieved to have his arm back! Now, your background is in journalism, working at titles like Women's Health, Glamour and Cosmopolitan. Did this move into toy design come with a steep learning curve?
It definitely did, but my strategy was to focus on using the skills I had as a health and wellness journalist and editor to create a superior product and tell the brand's story. I leaned on my research skills and familiarity with the mental health landscape, as well as an ability to spot trends before they hit and my storytelling capabilities.
What did your research into toys look like?
Well, I went to New York Toy Fair as a journalist before the pandemic to peek under hoods and see if anyone was making the kind of weighted plush I felt was needed – but nobody was! The focus was mostly on STEM, and despite experts warning of an impending mental health and anxiety crisis, I didn't see much other than fidget spinners answering that call. That hole in the market inspired me to move forward. I then brought on some amazing toy industry experts as consultants to help me stand up the business, since there was so much about launching a product and brand that I didn't know.
We launched in summer 2022 and I've been so excited to see Hugimals resonating both in the press and with a diverse customer base, including kids, parents – who often steal their kids' Hugimals for themselves – teens and college students, Gen Z and adults. We're also seeing a lot of orders and positive feedback from psychologists, occupational therapists, and teachers.
I launched Hugimals in the toy industry because I knew at first glance the product reads as a toy, but I also knew children wouldn't be Hugimals' only customers.
I can understand why because the range looks great. Can you talk us through the design process behind Hugimals?
Thank you so much! As a journalist, I started with a ton of research. I tapped the expertise of top doctors, psychologists, occupational therapists and toy industry insiders to thoughtfully design each detail of Hugimals. This includes the Hugimals' weight, which approx. 4.5 pounds, and facial expressions, which are neutral to support a range of emotions in a no-judgment zone. It also extends to Hugimals' calming colours which are inspired by river stones, as well as a patent-pending removable weighted insert. This makes Hugimals machine washable and distributes their weight evenly throughout their body for a blissful 'hugging you back' feeling.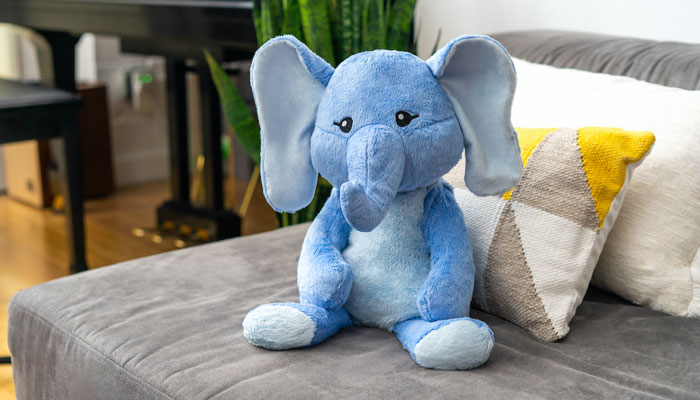 And why choose these animals?
I leaned on market research, interviews with potential customers and a bit of my own intuition. And I had a very specific design in mind that was different from anything out there.
I'd imagine with a product like this, you want to test that it's having the desired effect. When did you know you'd nailed that 'hugging you back' feeling?
Before launching, I did a pilot program in five children's hospitals around the country to learn as much as I could about Hugimals' efficacy. The response was incredibly moving. The child life specialists at these hospitals confirmed that Hugimals were a hit, and "a fantastic source of comfort and sensory support" for kids and families navigating a hard time. One of these hospitals now uses Hugimals as a standard response tool to help calm and comfort kids who require extra intervention. They said giving these kids a Hugimal calms them within minutes.
Amazing.
When I got that feedback, I knew without a doubt that this product worked the way I intended it to. I quit my job as a chief content officer at a tech start-up to go full-time on Hugimals World and focus on the launch strategy.
Can we dive into the science a little bit? What is it about weighted products that makes them so soothing?
Hugimals work by way of Deep Touch Pressure, similar to weighted blankets and other weighted products, which all had their start in the autism and special needs world. The extra weight stimulates the parasympathetic nervous system – bringing on the release of 'happy' neurotransmitters like oxytocin and serotonin.
This elicites a physical relaxation response and tampers down a fight or flight response, making the user feel comforted, calm, safe and secure – which can also lead to falling asleep easier. Basically, Hugimals combine the physical calming effects of a weighted blanket with the emotional connection – and portability – of a favourite stuffed animal.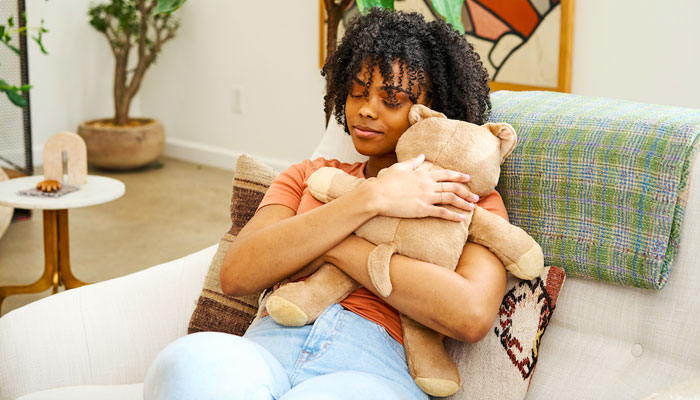 A smart combination.
Absolutely. When you snuggle up with a Hugimal on you lap, or lay with it on your tummy or chest, you feel it 'hugging you back' with its weighted pressure, providing comfort and reducing stress in moments of anxiety like bedtime, travel and transitions — or anytime you need a calming hug.
I don't think I'll attempt another Toy Fair season without one!
Ha! Well, one of the things that brings me so much joy is seeing people's reactions when they first hold a Hugimal. You can see some of these on Hugimals' TikTok. I'm not the only one who enjoys watching these: we have 15M views and counting!
We'll put one of those in below for people to check out!
Looking ahead, what's next for the brand? Are further characters planned?
We've gotten so many requests for new Hugimals characters, and yes, we are planning to launch two new adorable friends this year to join the core four of Sam the Sloth, Darby the Bear, Charlie the Puppy and Emory the Elephant.
We've also listened to our customers and data and seen that Hugimals aren't viewed just as a toy, but as a mental-health boosting wellness gift for kids, teens and adults alike. So we are planning to expand the line with other types of calming, design-forward wellness products as well.
Makes perfect sense. I also can't help but wonder if licensing could be on the cards, with Hugimal versions of popular characters. Would this be of interest at all?
Absolutely, and I've already been approached by some people who've wanted to discuss this. I would love to do it when the time is right. Hugimals are very unique in the way they are designed and I really love the idea of a therapeutic, calming Hugimal version of so many popular characters – we've already gotten tons of requests!
So far, I've been very focused on building the Hugimals World brand and making it a household name. It has been humbling to see the brand win awards like TIME magazine's Best Inventions, Good Housekeeping's, Parents' and Fatherly's Best Toy Awards and People's Products Worth the Hype, as well as earn organic coverage in outlets like TODAY, Goop, People, Real Simple and many more.
My focus now is on continuing to build the brand. When the time is right, I'd be very open to licensing discussions.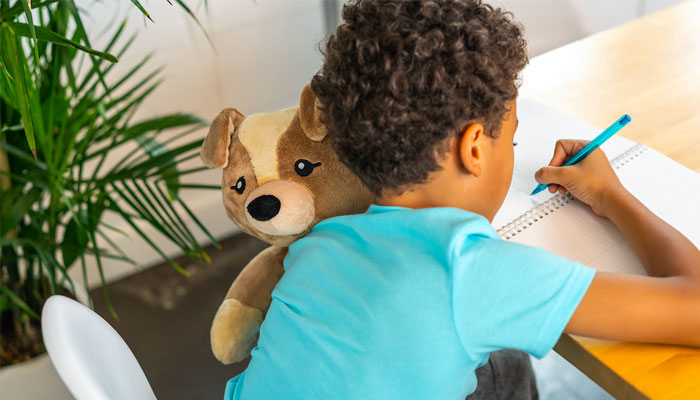 Well I'm sure there'll be plenty of interest. Last question! How do you fuel your creativity? What helps you have ideas?
I live in NYC and there's nothing like walking the streets of the city, people-watching and eavesdropping a bit to feel inspired and plugged into the pulse of what people care about. I walk around the city every weekend for hours, and it's both meditative and energizing.
On the other end of the spectrum, I love a bit of sensory deprivation for bringing on creative ideas and 'a-ha' moments. Think about shower epiphanies: the state of sensory restriction helps nudge realisations from the dusty corners of our brains into our conscious minds. My go-to place for this is AIRE Ancient Baths in Tribeca. It's a beautiful candle-lit subterranean space with multiple baths ­– hot, cold, saltwater, whirlpool – to explore. I've had some of my best ideas there.
AIRE Ancient Baths – I've made a note! Marina this has been great. A huge congrats with the success of Hugimals to date. I look forward to seeing where the brand goes next!
–
To stay in the loop with the latest news, interviews and features from the world of toy and game design, sign up to our weekly newsletter here