Mark Solomon, SVP at BYJU'S, on Osmo's unique approach to teaching through play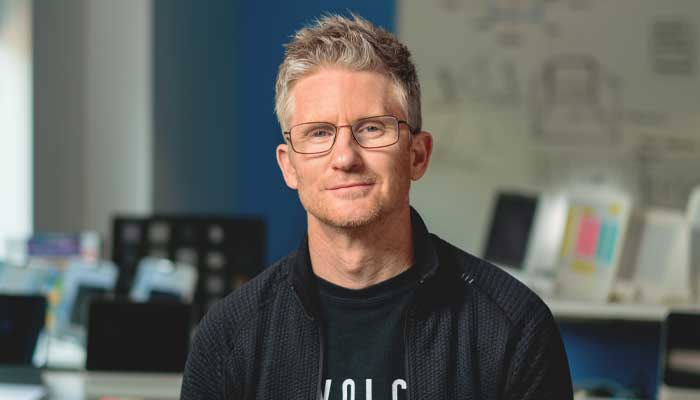 Mark, it's great to connect. To start at the beginning, what set you on the path to design?
When I was younger, I was obsessed with creating, drawing and building things. Career-wise, I thought I was going to become an architect or graphic designer, but I was then introduced to industrial design which kind of merges the two and I realised I wanted to train as an industrial designer.
Let's talk about Osmo. I'm sure our readers will be familiar with some of Osmo's games, but for anyone new to the brand, what's the company's mission?
I'd start by saying we're part of a neat ecosystem since we were acquired by BYJU'S, arguably the largest edtech company in the world. We emphasise the interaction and fun part of the learning process. We believe that through the technology we have, we can help others learn better. The digital games we create are an excellent way to introduce basic education to young children and increase learning skills in an engaging way.
At Osmo, when we bring together the physical and the digital – the 'phygital' as we call it – the experiences have better outcomes. The 'return to learn' is higher.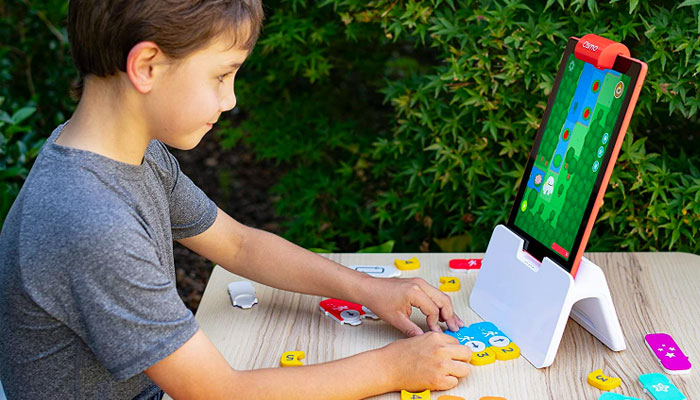 Why do you think play is a powerful means of boosting that 'return to learn' factor?
It's true that kids learn better when they're playing, but fundamentally, everyone learns better when we're playing. Learning should be a fun experience; it should encourage a growth mindset.
At this moment, we're very strong at helping young kids learn; it's incredibly important for childhood development. It fosters creativity, it fosters exploration, it fosters the ability to embrace things you wouldn't normally do. Play makes learning much more effective, and it can promote a lifelong learning mindset. We aim to eventually make learning better for everyone, whether you're nine years old or 99 years old.
If we all embraced the idea that learning is fun, fast and easy to achieve through playful moments, life would be a lot cooler – and we'd all have awesome, massive brains!
I'd imagine getting that balance of educational content and play is a difficult thing to get right. How does Osmo approach it?
It's about learning through play. It's a unique process that includes educators, game designers and technologists defining the experience. We start with the curriculum, apply that to games and vigorously playtest with families, students and in classrooms. We track and measure both the play outcomes and educational outcomes to ensure they meet our expectations. But you're right, it's hard!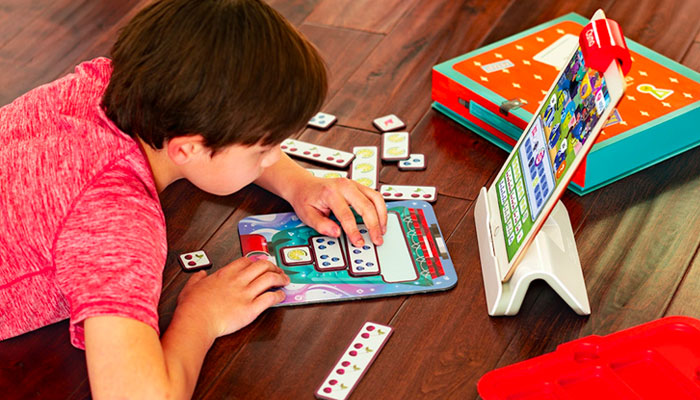 The physical components in your games have a real tactile quality. With games that have such a strong digital element, how important is it to get the physical pieces right?
Parents and teachers really appreciate the tactile quality of our products, and ultimately, that's what you're actually interacting with. They're well made, and they stand for something; I think that combination keeps kids coming back to the games.
We've just launched our Reading Adventure game, and we went through hundreds of physical wand designs. Not only testing from a safety and durability standpoint, but our computer vision recognition system has to recognise it at every angle and in every point of light. And then it's about how it interacts with the book, and the other tangible elements. It's all very well thought through, and I think that's unique to what Osmo brings to learning.
The digital and physical aspects of Osmo's products are equally important to maximising the impact on a child's learning as well as encouraging them to continue interacting with the product long-term.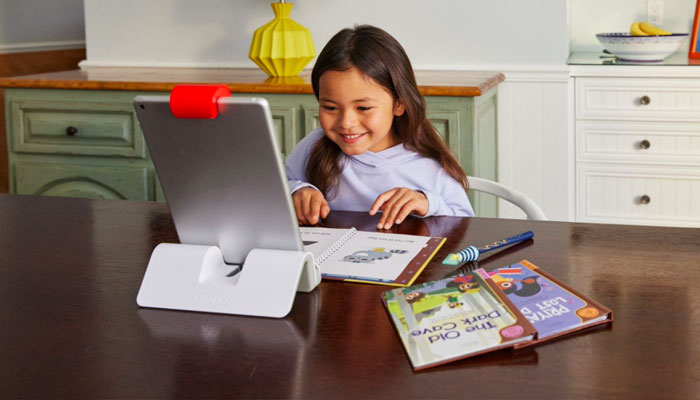 I'm glad you mentioned Reading Adventure, it looks fantastic. For anyone that hasn't seen it yet, talk us through the experience.
It's a one-of-a-kind experience that brings together physical books, a digital gameplay experience, artificial intelligence, speech recognition technology and a physical wand to help children become stronger readers.
We've put together an experience where we can assess where the child is entering the learning journey – in terms of their strengths and what needs to be worked on – and put them on a path, through gameplay, to become a stronger reader.
Through research, we know that when kids are interacting with a character in a game, their defences come down… shyness, inhibitions, a reluctance to learn; it all goes away. So, in Reading Adventure, kids help Oliver, a friendly dog who is just learning to read, complete epic adventures by reading books and playing phonics games that help him on his quest. The program offers correction and instruction as the child needs it. Together with Oliver kids practise reading skills and get instruction and coaching as they learn new skills. The teamwork with Oliver is a magical thing; it's unique.
It feels like this would be an incredible tool to use in schools, as well as the home.
Absolutely. With Osmo's first product, we found that teachers actually went out and bought it for their classrooms. It was a new way to reinforce learning and it was adopted quickly. We believe Reading Adventure, like so many Osmo products, is a unique tool that can be used in schools. Reading Adventure can be especially beneficial in one-to-one settings, for example when a student is working with a reading interventionist or specialist where a customised reading program like this can help strengthen particular skills.
Osmo is in many schools already, mainly due to passionate teachers who want to use our products as a practice and reinforcement tool. Games like Reading Adventure and Math Wizard are curriculum-aligned and so they are better suited to be adopted in schools. We do have a team that focuses on getting classrooms prepped to use Osmo. As classrooms become more tech-enabled, we believe Osmo has a part to play in helping teachers achieve improved outcomes with their students.
We would love to hear from educators because we'd love for schools to embrace Reading Adventure.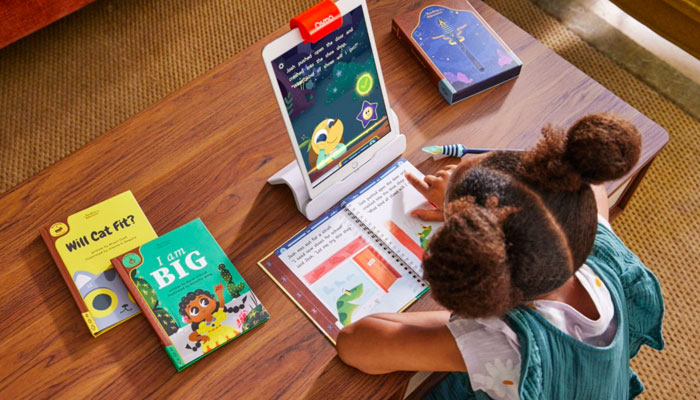 Exciting times. Bringing it back to the toy industry, does Osmo see itself as a toy company?
First and foremost, we're trying our best to be a learning company. That's our north star.
In order to be a learning company, you have to look at who you're trying to teach and use the appropriate tools and channels to do that. The toy industry is a very strong market for us to bring the best learning to children. So yes, we do consider ourselves part of the toy industry in that regard.
Mark, this has been great. I have one last question. What do you do to have ideas? What fuels your creativity?
I still sketch, I still draw on whiteboards to map things out…
I've worked mainly in start-ups and tech. At HP, I worked for five years in the CTO office helping HP – as well as companies like BMW, DreamWorks and Beats – look at the intersection of tech + design + business plans for five, ten and 15 years out. That forward-thinking forces you to be creative
That said, it takes work to be creative. It's fine to have lots of ideas but you need to have a system to capture them, whether that's through taking notes or drawing things. Locking ideas down helps you to be habitually creative. It keeps ideas coming.
Thanks again Mark, let's catch up again soon.
–
To stay in the loop with the latest news, interviews and features from the world of toy and game design, sign up to our weekly newsletter here