Mattel Creations teams with Shepard Fairey for latest UNO Artiste Series launch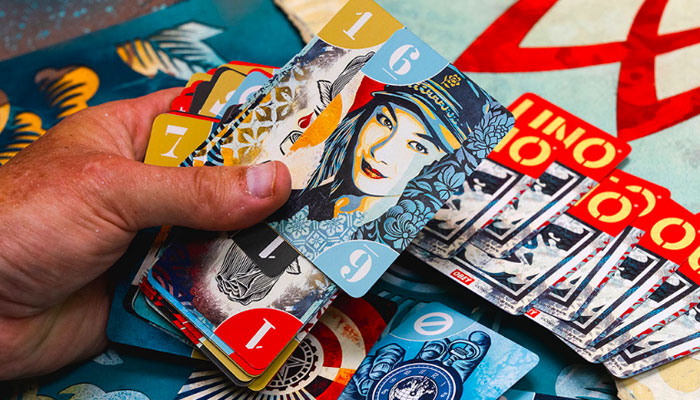 Mattel Creations has teamed up with artist Shepard Fairey for the latest launch in its UNO Artiste Series.
This collectible deck features unique designs by the artist, activist and illustrator and follows previous UNO Artiste launches with the likes of Jean-Michel Basquiat, Keith Haring and Nina Chanel Abney.
"We are excited to partner with the renowned artist, Shepard Fairey," said Richard Dickson, President and Chief Operating Officer, Mattel.
"Through curated partnerships, Mattel Creations offers toys as art and art inspired by toys, and the UNO Artiste Series: Shepard Fairey collaboration is the embodiment of that philosophy."
Shepard Fairey added: "I was honoured to work with a brand as iconic as UNO to translate my artistic vision to this medium. As I continue to search for unexpected ways to connect with people, I loved the challenge of finding the balance between my voice and visual language combined with the recognisable visuals of UNO.
"Moreover, this partnership is personal to me – I played UNO with my family as a kid, and so the game brings back fond memories, and I love that my art can be part of the conversation as friends and families enjoy a game of UNO."
This launch is also the first UNO Artiste Series deck made without plastic trays or cellophane. This forms part of UNO's plan to remove the cellophane from all standard, paper-based decks entirely in 2021 and Mattel's goal to achieve 100% recycled, recyclable or bio-based plastic materials across all products and packaging by 2030.
In honour of this partnership, UNO is making a donation on behalf of Shepard Fairey to Ocean Conservancy, a non-profit organisation dedicated to protecting the ocean from today's greatest global challenges.
—
To stay in the loop with the latest news, interviews and features from the world of toy and game design, sign up to our weekly newsletter here