Mattel launches first Barbie doll with Down's syndrome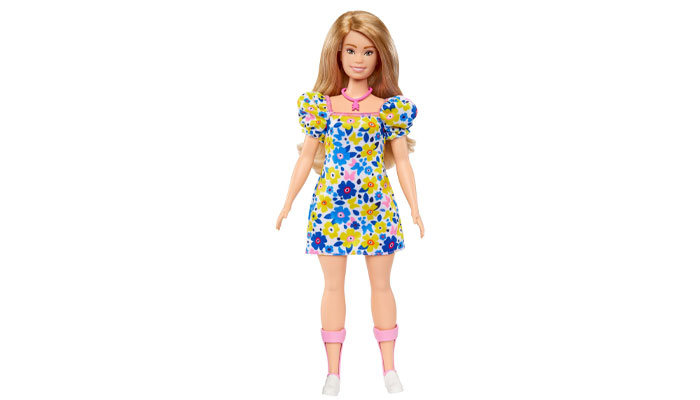 Mattel has launched the first Barbie doll with Down's syndrome – designed in close partnership with the National Down Syndrome Society (NDSS) and medical professionals in the USA.
The doll introduces a new face and body sculpt to be more illustrative of women with Down's syndrome, including a shorter frame and a longer torso. The new face sculpt features a rounder shape, smaller ears and a flat nasal bridge, along with almond-shaped eyes. The doll's palms include a single line, a characteristic often associated with those with Down's syndrome.
Guided by the NDSS, the doll's pink pendant necklace with three upward chevrons represents the three copies of the 21st chromosome, the genetic material that causes the characteristics associated with the condition. The chevrons are synonymous with 'The Lucky Few', meant to represent the lucky few who have someone with Down's syndrome in their lives.
The doll's puff sleeved dress pattern features butterflies and yellow and blue colours, which are symbols associated with Down's syndrome awareness.
"It was an honour working with Barbie on the Barbie doll with Down syndrome," said Kandi Pickard, NDSS President and CEO.
"This means so much for our community, who for the first time, can play with a Barbie doll that looks like them. This Barbie serves as a reminder that we should never underestimate the power of representation. It is a huge step forward for inclusion and a moment that we are celebrating."
In addition to the Fashionista doll with Down's syndrome, this year's Fashionistas line-up includes new dolls including a Barbie wearing braces and a Ken with a prosthetic leg.
"As the most diverse doll line on the market, Barbie plays an important role in a child's early experiences, and we are dedicated to doing our part to counter social stigma through play," said Lisa McKnight, Executive Vice President and Global Head of Barbie & Dolls, Mattel.
"Our goal is to enable all children to see themselves in Barbie, while also encouraging children to play with dolls who do not look like themselves. Doll play outside of a child's own lived experience can teach understanding and build a greater sense of empathy, leading to a more accepting world. We are proud to introduce a Barbie doll with Down syndrome to better reflect the world around us and further our commitment to celebrating inclusion through play."
The Barbie doll with Down's syndrome doll is available to pre-order from today at Smyths.
–
To stay in the loop with the latest news, interviews and features from the world of toy and game design, sign up to our weekly newsletter here