Mattel teams with artist Nina Chanel Abney for limited edition UNO set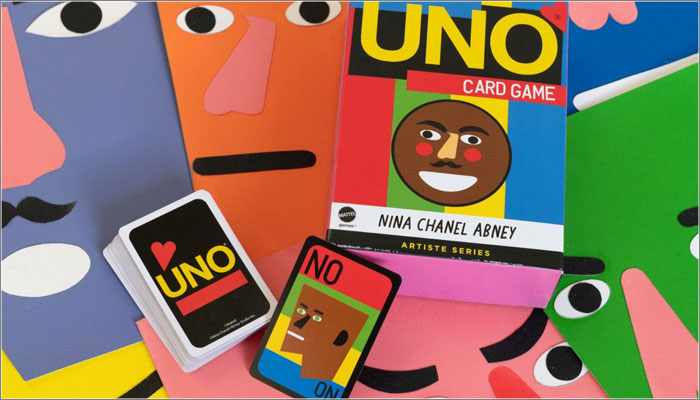 Mattel has teamed with Chicago-born artist Nina Chanel Abney on a special edition of UNO available on its Mattel Creations platform.
The special UNO set has been completely reimagined by Abney, even featuring has a few special plays imagined by Abney herself.
Some of the unique touches include hand drawn numbers and letters on every card, bright artwork and WILD NO cards that twist the rules.
The UNO Artiste: Nina Chanel Abney deck was created in collaboration with Pharrell's Black Ambition, a non-profit organization that will provide a bridge to success for Black and Latinx entrepreneurs who are launching tech, design, healthcare, and consumer products/services start-ups. As a part of this partnership, Mattel will be providing a financial donation to Black Ambition in support of the initiatives' efforts.
"I wanted the cards to have personality," said Abney, adding: "UNO can be such an emotional game, I thought it would be fun to create cards that could speak for themselves and elicit even more of a response from the players than they already are.
"I typically try to create work that can start a conversation, and I wanted to take the same approach to the UNO project."
The launch is the latest in the UNO Artiste series, which has already Jean-Michel Basquiat and Keith Haring have their artwork incorporated into special sets.
Check out the UNO Artist: Nina Chanel Abney deck here.
—-
To stay in the loop with the latest news, interviews and features from the world of toy and game design, sign up to our weekly newsletter here