Mattel's Tyler Kenney on bringing toyetic fun into fingerboarding with Hot Wheels Skate
Tyler Kenney – Mattel's Director of Design for Licensed Wheels & Matchbox – discusses the "challenger spirit" that drives Hot Wheels.
Tyler, it's great to connect. To kick us off, how did you find your way into toy design?
I was a senior in high school when a representative from Otis College came into my art class to pitch the school. On her way out the door she casually mentioned that there was going to be a new Toy Design program, but she didn't know much about it. It hadn't really occurred to me until that moment that I could make a living in the arts but that sounded pretty exciting. Fast forward a few years, I was in the first class of Toy Design graduates from the Otis program.
Fast forward to today and you're Director of Design for Licensed Wheels & Matchbox. What does that entail and what brands do you touch?
I cover Disney Pixar Cars, Matchbox, Hot Wheels Skate and the majority of licensed product in the Wheels portfolio, including Star Wars and Mario Kart.
You mentioned Hot Wheels Skate there. This is an exciting collection of fingerboards and play-sets for skate fans. Can you talk us through the origins of this range? How did it come about?
Something you may not know is that Hot Wheels has been involved in the skateboarding community for years through our 'Challenger Program' and partnerships with Camp Woodward and Nitro Circus. We sponsor young athletes and host open competitions and clinics, all aimed at giving young athletes a fun, safe way to learn and compete. So, we've been playing in this space for a long time now, even if we weren't making product to match.
But the skate world is changing rapidly… Skateboarding is in the Olympics now. Its popularity has been increasing and going more mainstream. Fingerboarding is also more popular than ever, but it seemed like there was a hole in the marketplace.
Fingerboarding is really hard, but we felt like we were the right brand to take on that challenge. Our whole focus turned to making it easier for kids to start, making something that feels difficult, fun, and then giving them a path to improve and master new skills. With our clip-on shoes, you can have fun on day one – no matter what your skill level – and then you can progress from there to more difficult methods.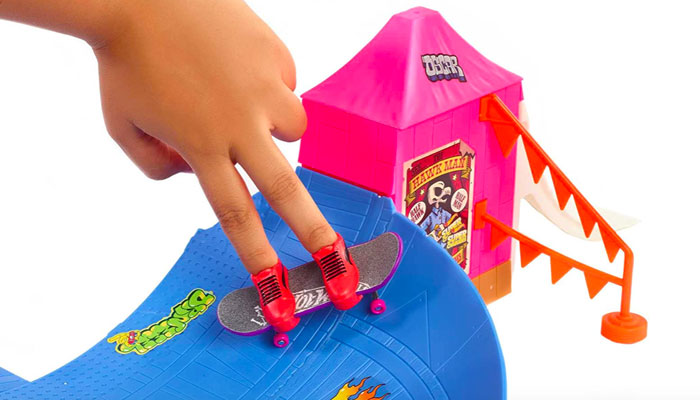 How did you go about ensuring this car-free range still felt very Hot Wheels?
Hot Wheels is a vehicle brand, of course, but it's also a lifestyle brand. It's an attitude. It's fun, but it's also cool. We took a lot of inspiration from the over-the-top themes of our play sets like Hot Wheels City. Why can't a skatepark have a giant shark in it? Compared to that, fingerboarding has felt a little stuffy and self-important. We wanted to bring the fun and make it more toyetic – that's a very Hot Wheels mentality.
We also have the best graphic designers in the business. Those same guys that are designing car graphics and creating hundreds of amazing car designs every year – now they've got a new canvas to work on. There's a different kind of freedom afforded by skateboard graphics that our team was really excited to jump into.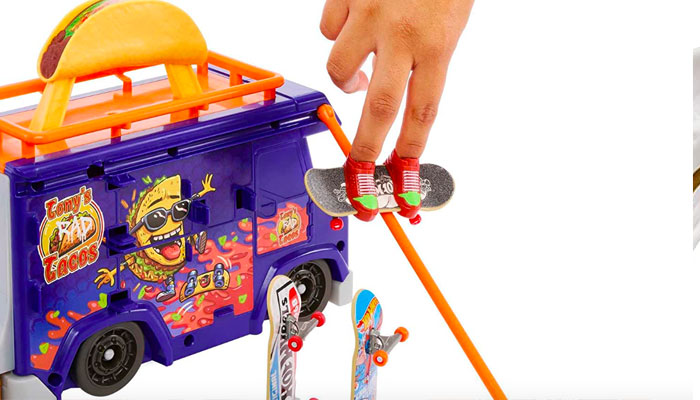 Did Hot Wheels Skate present any unique creative challenges that you're proud to have overcome?
Our fingerboards were a huge challenge. We're new entrants into the fingerboard space and we knew we had to get the board just right! I had negligible experience with fingerboarding before this project, so we really had to trust the young fingerboarders on the team and do a lot of research. Most of it comes down to feel and that's not something you can easily put in an engineering spec.
For instance, the size and shape of the deck, how the curves flow into each other, how much grit is on the grip tape, how smoothly it rolls… But the biggest challenge was the trucks.
Trucks being the T-shaped parts under the board that the wheels are attached to?
Yes – most fingerboards on the market have a lot of tiny screws and microscopic nuts you've got to assemble. If you've ever watched a six-year-old kid try that, or even tried it yourself, it can be a pretty frustrating experience. We decided early on that we were going to avoid that.
We wanted to make it easy for everyone, but removing the fiddly hardware created a new challenge: if there's no nut to tighten, how do you make sure the tension is correct? We had to get the durometer on the bushing perfect, get the kingpin at the perfect tension and make that all durable over hours of play and repeatable over millions of units.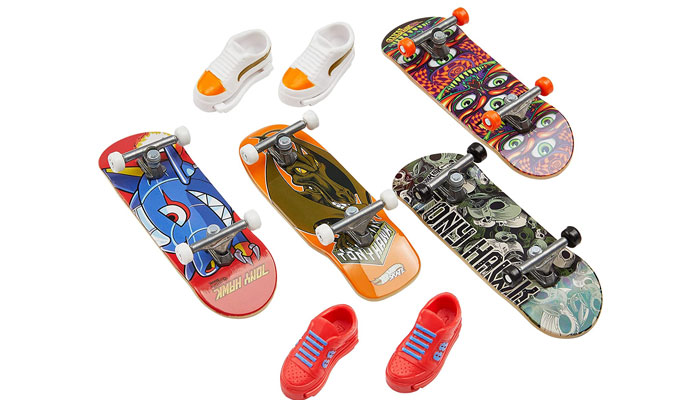 Strewth! It sounds like a monumental challenge. What helped you crack that nut?
We took a lot of learnings from the unique way that Hot Wheels Die-Cast are manufactured and created a whole new way to make fingerboards. I give a ton of credit to our designer – Neal Smith – and to our Development team for working through those challenges and I think they crushed it!
Neal, take the rest of the day off! A huge congrats to you and the whole team for what you've done. It's also worth mentioning this was a collaboration with skateboarding superstar Tony Hawk. Was he quite hands on when it came to the development of the brand?
Tony and his team have been great! He's been very vocal in the places you'd expect him to be, like graphics and music. Those are both a huge part of his personal brand and he has a lot of expertise there that we rely on for authenticity.
Tony brings a lot to the partnership, but one of the things we were most excited about – and took inspiration from – was his role as a community builder. Tony sponsors and mentors young skaters. His Skatepark Foundation builds parks all over the world. As I mentioned, the Hot Wheels Challengers program has been working with young athletes as well, so that alignment was a perfect place to jump off from. We can build community together using the power of both of our brands to get kids into skateboarding, as well as fingerboarding.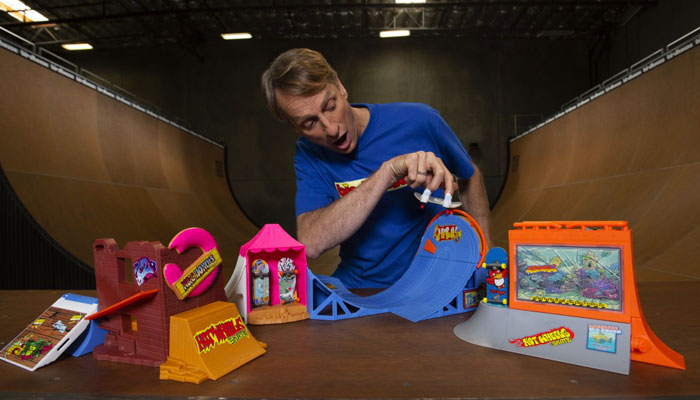 Not all toy brands could extend in the way that Hot Wheels has with Hot Wheels Skate. What is it about the brand that means it can successfully stretch in this way?
It's the attitude. We're more than just toy cars. We've got appeal with all ages.
We talk a lot about "the challenger spirit" and that's the driving ethos of the Hot Wheels brand. You think of kids building crazy stunts for their car, trying, failing, tweaking until they get it right… Having competitions with their friends to see who's faster, who can do it better. That's the challenger spirit – and it translates perfectly to the skate community. If you see a group of kids out skating, they're essentially doing the same thing. There are a lot of parallels.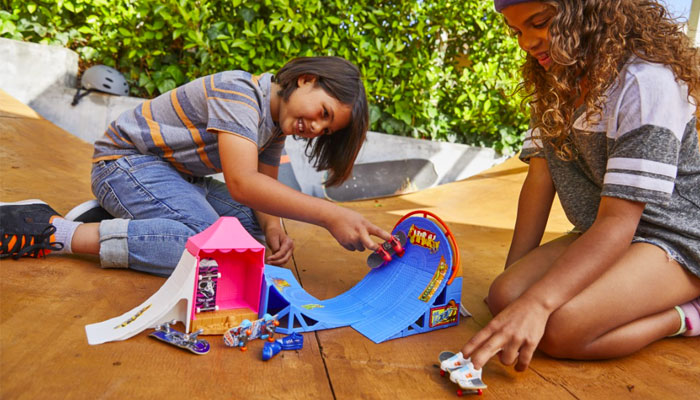 You've been with Mattel for over 22 years – and you're not alone in staying with the company for a long time. What is it about the company culture that means people stay for decades?
It's a great place to work. You're surrounded by insanely talented, intelligent people and working on brands that have deep meaning to people all over the world. What's been important for me as a creative is the wide array of brands and categories under one roof. There are people that only want to design Barbie dolls or Hot Wheels their whole career, and that's fantastic, they can do that. I've had the luxury of bouncing around to games, action figures, dolls, outdoor, vehicles… I've gotten to do it all, and that's the beauty of Mattel.
On that, you've worked on plenty of well-known and successful ranges, but what would you say is one of the most underrated launches you've ever worked on? We can give it some love here!
BOOMco was our short-lived blaster brand that I joined shortly after its launch. It was ultimately a victim of unfortunate timing for us as a company, but we learned a lot.
I learned to really enjoy being an underdog taking on one of the big guys. Being an underdog is not a thing you get to be very often at Mattel, but I think that mentality is super important. It's easy to get protective of big brands and not want to take risks, but that just leaves room for competitors to find an opening. I think a lot of that BOOMco frame of mind is serving me well right now in creating this new brand. That product was great though, and when a blaster battle breaks out in the office, I'm still reaching for my Halo MA5 because I know the darts will actually hit their target.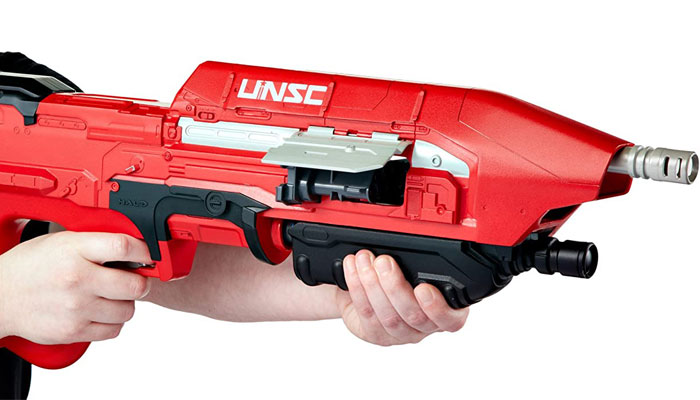 The importance of an underdog mentality… That could be the subject of a whole separate interview – fantastic answer! This has been great Tyler. Before I let you go, how do you have ideas? What fuels your creativity?
Sitting alone in a cubicle is painful to me. Sometimes it's gotta be done, but I find I'm at my best standing around with a group of other weirdos riffing and being ridiculous. Just like people say you can tell when a chef cooks with love, I think having fun while creating toys comes through in the final product. The good stuff comes from good collaboration and having fun with your team. If you can turn work into play, you're living a pretty good life.
Absolutely. A huge thanks for taking time out for this Tyler; let's tie-in again soon!
–
To stay in the loop with the latest news, interviews and features from the world of toy and game design, sign up to our weekly newsletter here