Michael Valenta and Michael Scheffki on why Downhill Duo marks a milestone moment for MAGNA-TILES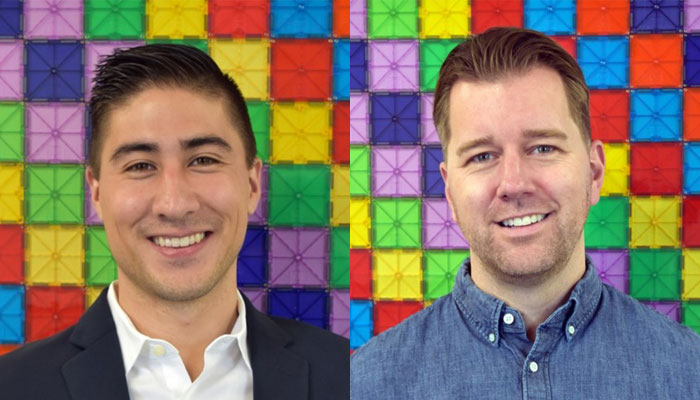 Guys, it's great to talk. Michael, your ties to the company run in the family, so can you talk us through a bit of the history of MAGNA-TILES?
Michael Valenta, President, MAGNA-TILES: My dad founded the MAGNA-TILES brand, which created the magnetic construction category, as we know it today. Origins of the product can be traced back to Japan, where pieces were first invented by a Japanese mathematics teacher, to help conceptualise nets — so going from 2D to 3D objects. It was rooted in education from the beginning.
My mother is Japanese, and in the early Nineties, when my dad, mom and I were in Japan, we discovered a magnetic construction tile product through my mom's uncle. He told my mother: "Your kids have to play with this product; it's fantastic." At the time, my dad was looking for a change in career, he loved what he saw and so he set out trying to bring it to America. He contacted the company in Japan and convinced them to sell him a couple of cases to sell in the US… And because the product was rooted in education, he didn't initially target the toy industry. He built the business one teacher and one classroom at a time.
Amazing. At what point did the toy industry become an area of interest for MAGNA-TILES?
MV: Well, parents rely a lot on the toy recommendations of teachers, and they would mention MAGNA-TILES play. Parents would go into a local toy store, ask for a MAGNA-TILES set and the store owner would say: "I have no idea what that is!" The company's reputation in education eventually made its way to the rep groups…
Carl Wunderlich at WundeReps was one of the first people to contact my dad and say: "Look, I have some toy stores that would love to stock your product." It all grew organically from there, and that second stage of our business was really built with support from Specialty. It didn't take long for our specialty business to grow to a size comparable to the education business.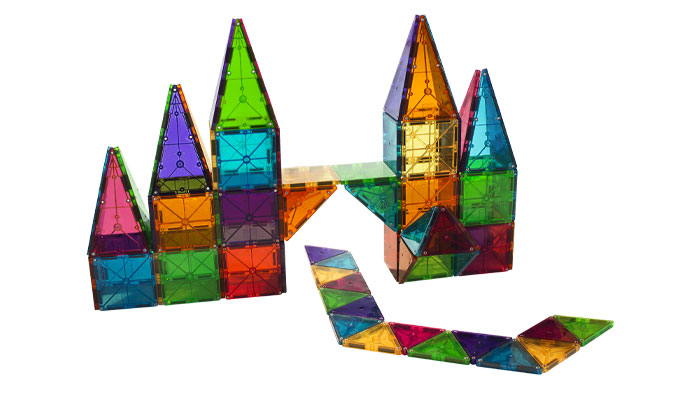 What helped bring you into mass?
MV: Target was revamping its toy department. There was a buyer there that had an affinity for the MAGNA-TILES brand. They called us up through a rep group and asked if we'd like to sell MAGNA-TILES sets at Target…
At the time we were very conscious of what the speciality and independent stores would think of our product going into mass. We were kind of hesitant… There's a lot of horror stories of companies selling to mass and not surviving. They might drop you after a season and by then you might have lost your base business… That said, the rep group assured us it would work out and be a win for everybody.
And it appears to have worked out well…
MV: It did work out really well! Target is a great partner; there was a mutual respect for what we were doing and they were conscious of our concerns. We made different piece count sets for Target to not create comp-shopping issues in the market.
In Fall 2014 we entered Target. It wasn't an overnight success, but of the four items we placed, we had two or three good ones and it continued from there.
Great stuff. And was it always a given that you'd join the company?
MV: When my dad started the company, I was seven years old. I saw everything first hand – he started in our basement and our garage always had product in it… He would ask my siblings and I to unload containers, so it was a bit of a family affair. Later, I knew I wanted to go into business, but I didn't know the exact discipline. I studied accounting and when I graduated, my brother and sister were both working here, so I went and got a job elsewhere.
I spent a few years in public accounting while my brother and sister worked at the company. The company continued to grow, but both my siblings eventually moved on and it made sense for me to come back and apply the experience I gained in public accounting. That was in 2016, and I have been here ever since.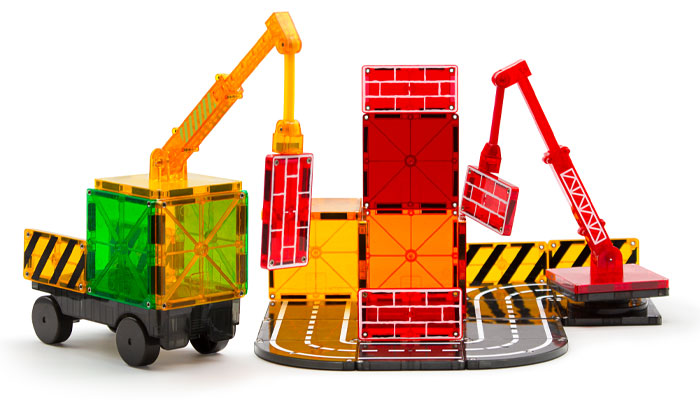 Did your siblings leave toys altogether?
MV: No, they actually still work in toys. My brother is at Plan Toys and my sister is at KAPLA USA.
Trade shows must have a feel of a family reunion! Now, a big evolution for the company is that you now have a US in-house development team. What prompted you to create this new skill set for the company?
MV: The need first came to light at the urging of our retail partners. They want us to bring newness into the category year-in year-out to build on the success we were having in store and online. When you look at the magnetic construction toy category, it's incredibly versatile. A desire to introduce elements like figures and motion to the line pushed us to see how we could develop the MAGNA-TILES system further.
And this is different from the R&D approach taken by MAGNA-TILES in Japan?
MV: Japan is a different market with different consumer and retailer needs. To best address the needs of the markets we serve, we realised we needed to take destiny into our own hands if we were to get the results we wanted.
Got it. So, talk us through the new hires.
MV: We have been busy! Since 2020, we've quadrupled our headcount across all departments. Everyone at the company was wearing multiple hats, and we needed to start formalizing every department. In 2021, Michael Scheffki came on board as our SVP of Marketing as one of our first key hires. Since then, we've continued to scale the organisation and in 2023, Rick Keuter joined to lead our product development team.
Yes, Michael, let's bring you in now! What appealed about joining MAGNA-TILES?
Michael Scheffki, SVP of Marketing, MAGNA-TILES: My interest started with a tremendous affinity for the brand. As a parent myself, the MAGNA-TILES brand played a pivotal role in my home, just as it has for millions of homes across the world. It's an open-ended toy and the opportunities for where it could go are vast; what we've done so far is just the tip of the iceberg. It's the opportunity of a lifetime for a marketer.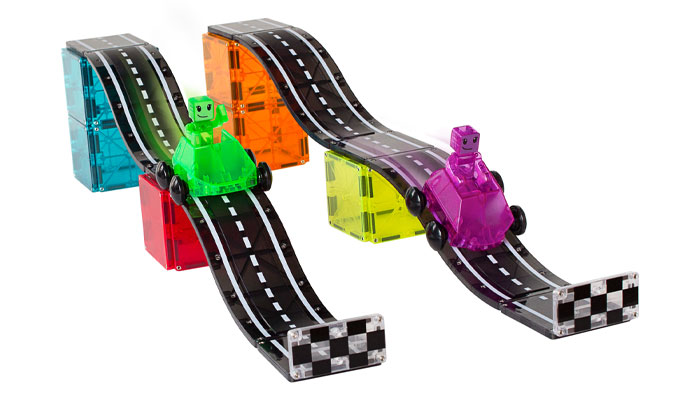 Great. Now, the first product to come from your new development team is Downhill Duo – and it won a TOTY a few months back! You must be over the moon!
MV: It really highlights how far we've come as a company. When the MAGNA-TILES brand first launched, the system was built on just five basic shapes. Granted, it's an incredible product because as a child grows, they can engage with the product in different ways, based on their abilities and interests.
However, as we grew, we knew we needed to do more. Early innovation was similar to what you see in a lot of young companies. We introduced new products with varying piece counts to hit different price points and played around with different colouring and finishes on the tiles. That worked for a while, but then we wanted to explore true newness in the category beyond different shapes. That led us to this new era for the company and category shaping new products like Downhill Duo.
Expanding on that, can you talk us through the development process behind the first sets to launch as part of this new era?
MV: We wanted to stay gender-neutral and open-ended, but we were quite keen on the idea of introducing characters. In 2021, we started with three different themes centred on animals and they were really successful. From there, we progressed to other evergreen themes like dinosaurs.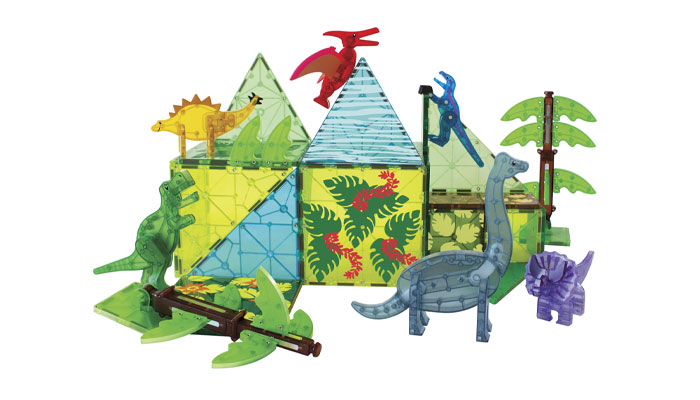 The next challenge for us was cars… We had a car already in the system, but it was designed to be built on top of, more of a train chassis than a car in a traditional sense… We also started to see a lot of garages and ramps for Hot Wheels made out of MAGNA-TILES pieces. With that as a backdrop, we set out to introduce movement to the MAGNA-TILES system. That brief led to the inception of Downhill Duo.
For anyone that hasn't seen it, Downhill Duo is a 40-piece set that allows you to build sloping tracks and race cars. Does this set resemble closely the initial idea?
MV: No! The idea changed quite a bit. It wasn't always cars – we experimented with luges and ball runs… The problem was a bit of a double-edged sword. When something is so open-ended, you can lose sight of why we're doing this with magnets. If it was going to be a ball run, does it actually need magnets? If not, why would it be a MAGNA-TILES product? Why should it be compatible with our system?
You had to find a theme that complimented the MAGNA-TILES ethos.
MV: Yes, and there was a lot of trial and error – which was fantastic. It meant we really got to know our product and rediscover what MAGNA-TILES play so magical. For us, it boiled down to the four pillars that make up Meaningful Play.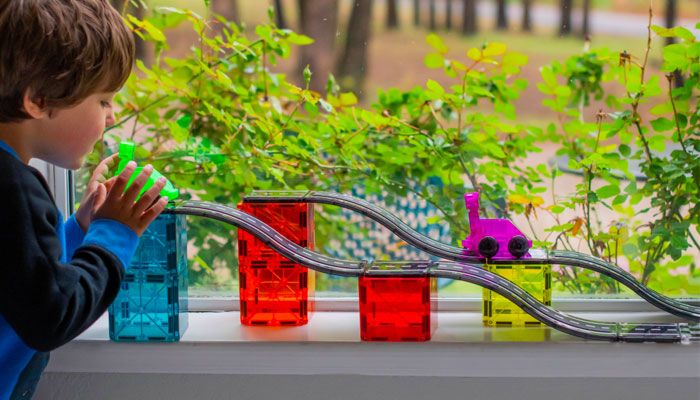 What are those four pillars?
MV: First off, every MAGNA-TILES set has to be child led. Children should inherently know how to put things together and grasp how the system works, without frustration. They shouldn't need instructions or a parent to come and set it up.
Secondly, it needs to be experience-based. Kids should be able to touch and feel the product. It eliminates the idea of our consumers building in an app or in the virtual world. There's no reason to insert screens or tablets into the MAGNA-TILES experience today.
Thirdly, it has to be fun, captivating and engaging; that's an obvious one!
Lastly, we can't lose sight of our roots in education. To fit the MAGNA-TILES brand, sets must also encourage children to hit the important developmental milestones in their life.
Having those four pillars also helped define the direction of Downhill Duo.
You touched on this earlier, but how do you get the balance right between adding a theme to sets, while keeping play open-ended?
MS: It's a balance between inspiration and instruction. We unapologetically don't include step-by-step instructions in our sets. We see amazing builds that our fans create using Downhill Duo. Things we couldn't have ever imagined!
When you put kids in charge, you'll find ideas that adults would never dream up. We love to share those ideas with the world, as it fosters more inspiration and becomes a never-ending source of creativity and discovery. In that sense, it's not exclusively on us to define what Downhill Duo 'looks like.' That's the genius of the product and it means we don't have to be as prescriptive as other brands.
We're rightly talking about MAGNA-TILES as a brand. Is licensing an area of interest moving forward?
MV: We certainly wouldn't rule it out. If a licence is aligned with the company's ethos and makes sense, absolutely. We don't want to pursue a brand just because it happens to be popular today. It needs to feed into the play pattern and our system. Everything has to be open-ended and have multiple uses; that can be a challenge when you build a product around some licensed brands… It could be a fun challenge though!
Before we wrap up, is working with the inventor community something you're interested in moving forward?
MV: Absolutely. We want to engage inventors and Rick Keuter, with his background, is the perfect person to guide us through that.
Fab. And how do you fuel your creativity? What helps the team have ideas?
MV: Playing with the product every day is critical. We encourage our employees to be hands on with our product and to sit down and build. Playing with the product sparks ideas. "Wouldn't it be cool if we could do this?" "What about if we tried this with the system?" It gets everyone's wheels turning.
MS: It's a requirement here to think like a child, regardless of which department you're in; it's a core value of the company. It's key to understanding how our product is being used every day. And great ideas can come from anywhere. We're all consumers and many of us are parents too, so we all have something to add and contribute when it comes to play ideas. Play is a priority.
I think that's the perfect place to wrap up. Guys, a big thanks again and congrats on the TOTY win!
–
To stay in the loop with the latest news, interviews and features from the world of toy and game design, sign up to our weekly newsletter here