Mojo Nation dates Play Creators Festival; a new two-day event for the toy and game design community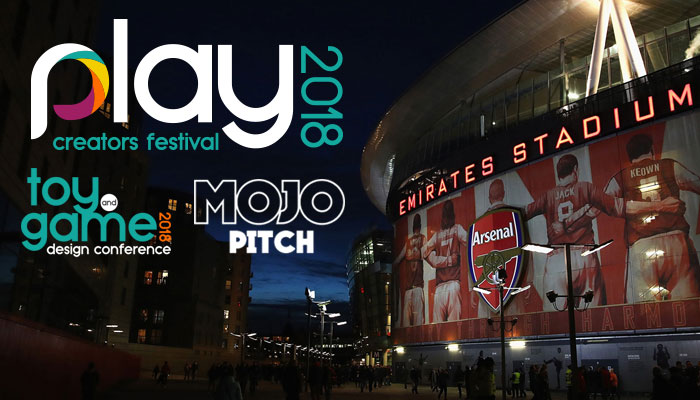 Mojo Nation has dated its inaugural Play Creators Festival, a two-day event aimed at the toy and game design community.
Taking place at London's Emirates Stadium over Monday, September 10th and Tuesday, September 11th, the first day of the Festival will host the Toy & Game Design Conference. This is a day set to inspire, enlighten and wow the industry's creative backbone, with a line-up of exciting speakers from across toys, games, tech and the wider worlds of design.
The following day (Tuesday September 11th) will host the Mojo Pitch, a day where designers, inventors and creative agencies can showcase their new exciting concepts to a range of different participating toy and game firms, tech start-ups, IP owners, retailers and investors.
Those firms involved will be sending out wish-lists ahead of the event to ensure designers are up to speed with the wants of those they'll be pitching to on the day.
"I'm incredibly excited to finally announce dates for the first ever Play Creators Festival," stated Mojo Nation co-founder Billy Langsworthy.
"As the only event of its kind in Europe, it's the perfect place for designers to network, pitch ideas and get inspired by creatives from their own sectors, as well as those from other realms of play. Be it toy inventors, game designers or those bringing innovation to the sector via cutting edge technology, the Play Creators Festival will be a must-attend event and we're looking forward to revealing our incredible line-up of speakers, and firms involved in the Mojo Pitch, in the coming weeks."
For conference sponsorship enquiries, or to be pitched to at the Mojo Pitch event, email: adam@mojo-nation.com.
Click on the links for more information about the Play Creators Festival, the Toy & Game Design Conference or the Mojo Pitch, or email: billy@mojo-nation.com.