Mojo Nation to host Playing with Brands panel at BLE 2017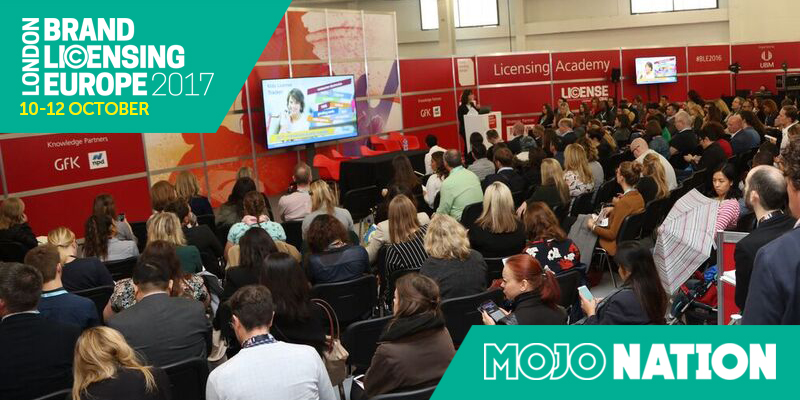 Mojo Nation's Billy Langsworthy is to chair a panel session at this year's Brand Licensing Europe show titled: Playing with Brands: A Look at the Design Process behind Licensed Toys and Games.
The Playing with Brands panel will take place on Wednesday, October 11th from 14:00 to 14:45 at BLE's Licensing Academy and aims to shed light on how designers engage with IP when developing licensed toys and games.
Joining Langsworthy on the panel will be Heayes Design founder Richard Heayes, Triclops Studio's creative director Luc Hudson, Modiphius Entertainment founder Chris Birch and Big Ideas co-founder Simon Skelton.
"Whether it's board games that adapt an IP and reflect its style, narrative and tone via gameplay, or toys that embrace the latest tech to bring much loved characters to life in innovative ways, the world of licensed toys and games has never been as exciting as it is right now," said Billy Langsworthy, co-founder of Mojo Nation.
"The Playing with Brands panel will see designers lift the lid on how they go about creating licensed toys and games, dissecting the creative constraints and potential pitfalls involved in bringing characters and IP to life in this way, as well as looking at how the toy industry's relationship with licensing has evolved over the years."
Panellist Richard Heayes has been designing and inventing toys and games for over 25 years. He spent 18 years at Hasbro working across their brand portfolio and leading the creative team from the West London office. He now runs his own design consultancy and inventing studio, and licensed toys and games have always been a big part of his work for brands such as Disney, BBC, Nickelodeon, Lucasfilm, Hasbro, Mattel and many, many others.
Triclops Studio creative director Luc Hudson has worked in the toy industry for the past 14 years. As a concept designer affiliated to the games team at Hasbro UK, he reinvigorated MB and Parker brands including Monopoly, Cluedo and Game of Life, and this year marks 10 years of Triclops Studio, a visionary design consultancy which he co-founded, specialising in concepting for the toys, games and entertainment industries. Triclops has contributed product design, features and characters to some of the world's biggest brands as well as creating the characters and early concept work for CBeebies' BAFTA-nominated show, Go Jetters.
Modiphius Entertainment is the brainchild of gaming entrepreneur Chris Birch who founded the tabletop games publishing business in London with his wife Rita in 2013. Modiphius has grown quickly through a string of hugely successful Kickstarter crowdfunding projects raising over £2 million – first for its own IP – Achtung! Cthulhu – and then licensed projects for ITV's Thunderbirds, Cabinet Entertainment's Conan the Barbarian, Siege of the Citadel and Mutant Chronicles and Corvus Belli's Infinity. The business has expanded its licensed line with Dreamwork's Kung Fu Panda, Star Trek with CBS, John Carter of Mars with the Edgar Rice Burroughs Estate and Fallout with Bethesda.
Simon Skelton co-founded Big Ideas 15 years ago with Ruth Elliott. Specialising in toy and game product development, Big Ideas has worked with many of the major international toy companies and character brand owners. Originally from an advertising and marketing background, Simon has always found the 'concepts' side to be 'the most fun' and is a huge fan of both Walt Disney and Stan Lee.
All Licensing Academy sessions are free to attend and will be available on a first come first serve basis. Register for BLE here.
Save
Save
Save
Save
Save