Mojo Nation's Student Conference speaker line-up revealed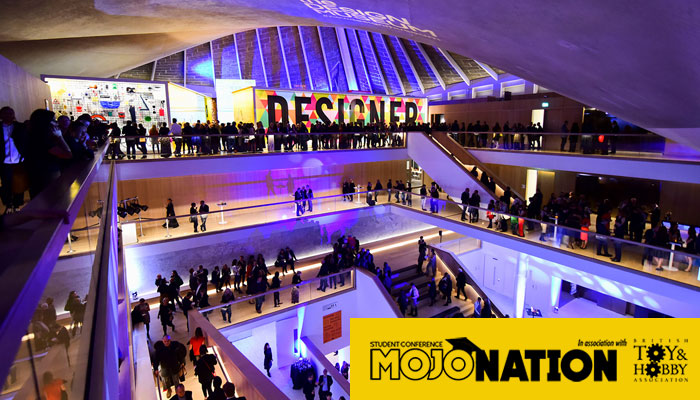 Execs from the likes of Hasbro, Alpha and Big Potato are set to speak to design students at Mojo Nation's Student Conference, in association with the BTHA, this September.
The Conference is aimed at encouraging product design students (from A-level to graduates) to take up careers in the toy and game sector. The event takes place at the Design Museum in London on Wednesday, September 12th – the final day of the Play Creators Festival.
The event is free to attend for students and course leaders and will cover various aspects of toy design, game development, creativity, working with brands, as well as host a 'How We Made It' roundtable with the heads of R&D at some of the world's top toy firms.
The full line up of speakers and topics are as follows:
Triclops Studio's Rob Ames and Luc Hudson – 'Character Creation'
Gallium Ventures' Heather Delany –  'A Guide to Crowdfunding'
Start Licensing's Ian Downes – 'Start Licensing. You Might Enjoy It'
Creative consultant Deej Johnson – 'The 1 Star Review'
Heayes Design's Richard Heayes – 'A Playful Approach to Design'
Wynne-Jones IP – 'The Basics, and Importance, in Understanding IP'
Big Potato's Tristan Hyatt-Williams – 'The Golden Age of Board Games'
Storyball's Meir Biton – 'Mixing Reality & Play'
The 'How We Made It' Roundtable, featuring Hasbro's Rich Mazel, Alpha's Darren Lee Phillipson and Vivid's Fi Murray
The BTHA will also be giving students an insight into what's in store at London Toy Fair 2019
The event will also see the launch of Mojo Nation's Student Design Challenge, an exciting competition open to students attending the day.
"Our Student Conference is the perfect way to close this year's Play Creators Festival, and we're looking forward to welcoming over 150 students to the event," said Mojo Nation's Billy Langsworthy.
"It's so important to encourage design students to look at our industry as potential career destination, and I can think of no-one better than this line-up of speakers to help convey what a fun, creative space this is to work in."
To come along to Mojo Nation's Student Conference, email billy@mojo-nation.com.
To check out what else is going on across the three-day Play Creators Festival, head to: playcreatorsfestival.com.