Mondo Games' Jayme Boucher on licensed games, poster puzzles and cheddar goblins

Based on Austin, Texas, Mondo works with incredible artists from around the world to create posters, soundtracks, toys, apparel, books, games and collectibles for old-school gems and modern classics across TV, film and wider pop culture.
Jayme Boucher heads up Mondo Games; overseeing the development of games and puzzles based on IP spanning classics like The Thing, Back to the Future and Disney hits to cult success stories like 2018's Mandy or pop culture icons like Bruce Lee.
We caught up with Jayme to find out more about the firm's approach to game development, and look at what's coming in the pipeline for the company.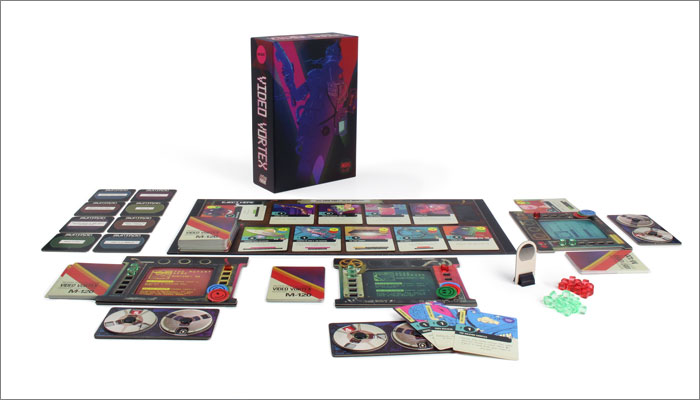 Hi Jayme, so to kick us off, how did you get your start in the world of board games?
Growing up, I spent a lot of time at my Nana's house playing Scrabble, Skip-Bo, and other well-worn classics that had survived generations of players by the time I got my hands on them. It was always a treat for me, as an only child, to have playful interactions with the adults in my life. I don't think I realised how formative that was until recently.
Professionally, I was working in the toy industry when my company began expanding into the game market in 2015. I was able to travel pretty extensively in support of the line and fell deep into the rabbit hole of modern tabletop. Not only did the sheer volume of titles blow me away… the characters I met on the convention circuit felt like a long-lost family.
After a few years, I was offered a position in hobby distribution, which allowed me to develop relationships with a huge number of publishers and retailers in the industry. I was encountering thousands of new games a year, and the more I learned about gaming, the greater my itch to contribute to the hobby in a creative capacity grew.
That desire eventually lead to my accepting a position with Mondo, and I've been there ever since.
Great, and for anyone that knows Mondo for its incredible array of posters but is new to Mondo Games, how would you sum up your approach to game design?
At its core, our company exists as a celebration of art and entertainment. Our games are no exception.
While our product line is still evolving, my team's focus is on creating experiences that transport players to new worlds. We tell stories and promote conversations, and we do it in a way that incorporates illustration and design that inspires us.
Ultimately, we're doing what Mondo does best: sharing what we love and hoping the rest of the world will join us for the ride.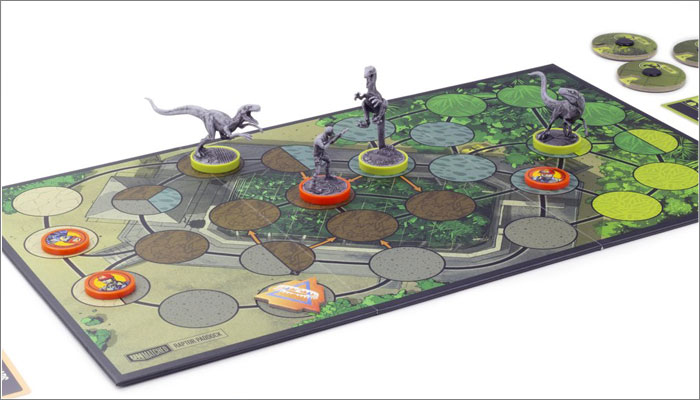 One of your big successes has been the Unmatched game series, which sees players battle it out using everyone from Bruce Lee to the Raptors from Jurassic Park. Where did the idea for this game series come from, and what makes the relationship between Mondo and Restoration work so well?
Unmatched is a restoration of 2002's Star Wars: Epic Duels. By the end of 2020, players will have access to our first seven games in the line… and we're just getting warmed up.
The Restoration team has hardcore experience in both game and graphic design, a wicked work ethic, and a commitment to quality and customer support that is truly… unmatched – forgive me!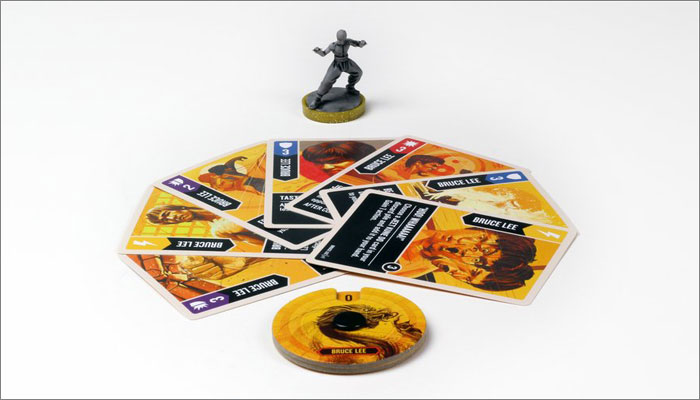 Ha! You're forgiven! And the Unmatched games look incredible – do those artist relationships on the poster side of the business bleed into what you're doing with Mondo Games?
Yes, Mondo's relationships with artists and access to high-profile licenses have helped shape the Unmatched line, and together, we've created something we're very proud of. I am continuously humbled by their willingness to collaborate with us, and look forward with great anticipation to all the future holds.
You've also recently launched a line of incredible looking puzzles, but one stood out in particular, the Cheddar Goblin puzzle inspired by a commercial seen in the crazy Nic Cage film Mandy. What prompted the move to turn this into a puzzle, and how do you walk that line between creating niche fan-favourites without going too obscure?
One of the lead creatives on our team, Tim League, is also the founder and Executive Chairman of Alamo Drafthouse Cinema. He had an idea to create a fun, double-sided, mixed-skill level puzzle and ended up knocking it out of the park by featuring this iconic scene from a film our team loves.
Neither Mondo nor Alamo necessarily prioritises avoiding obscurity in the work we do. Both companies pride themselves on celebrating a varied array of media. Besides, nothing's better than cheddar.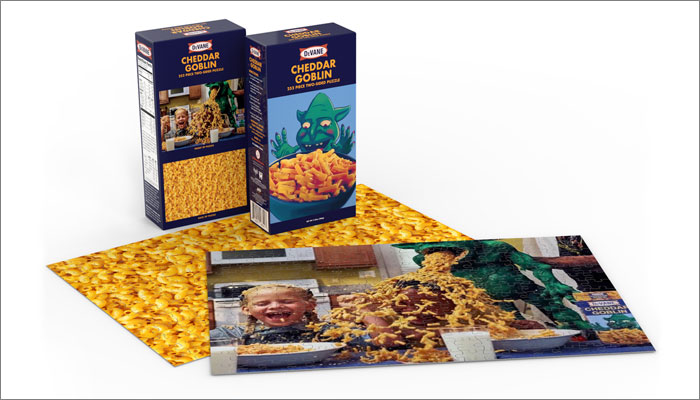 I can't argue with you on that! Looking at the wider range, you've taken several much loved Mondo art prints and given them the puzzle treatment. Is this something that you'll be continuing moving forward?
Absolutely. We have over a dozen puzzle releases scheduled to drop between now and the end of the year. Now that we're on the other side of the great 2020 jigsaw drought, there's never been a better time to be a puzzle enthusiast.
Our mission is simple: we offer designs that connect fans with artists we adore. When you spend hours on end studying the nuances contained within a piece, you gain a new appreciation for the artist who created it. Every poster we recreate as a puzzle deserves a second chance to be admired and displayed.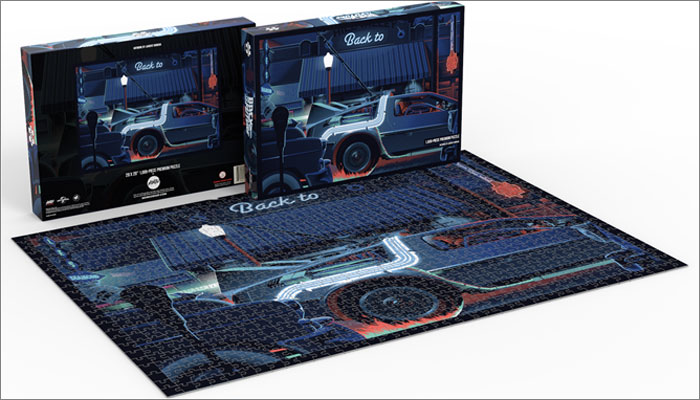 Looking ahead, what can you tell us about the exciting-looking Disney Shadowed Kingdom? What can fans expect from the game?
Tension! Adventure! Doubt! This game introduces a narrative and setting that we intend to develop over the course of future tabletop releases. Designed to be played without speaking, the 15-minute adventure sends players on a search for lost magic with the help of their favourite Disney heroes. Since the game is cooperative, the adventurers win (or lose) as a team, and need to rely on their memories, deduction, and a little bit of luck in order to save the Kingdom.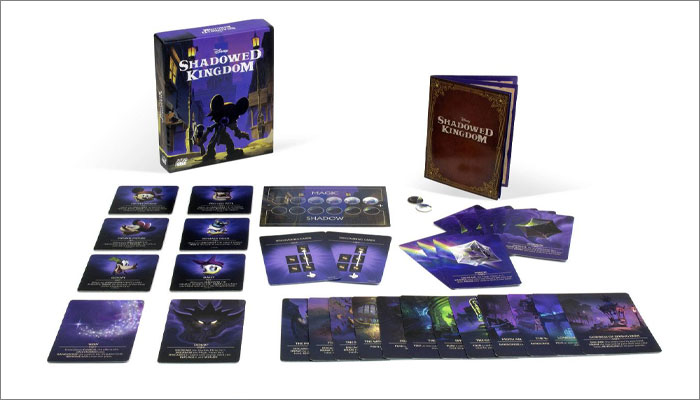 Sounds great. And interestingly, it's not just big brands like Disney or IP like Jurassic Park that you're interested in bringing into board games – film critic Leonard Maltin has been given the Mondo Games treatment too! Where did the idea for this game come from, and at what point in the process did it become clear that it could be a good fit for Mr Maltin?
Director and friend of Mondo Ant Timpson dreamed up this game in the early 90s, and has championed it at parties and around the festival circuit since. At the 10th anniversary of Fantastic Fest last year, a live-play featured Leonard as a special guest, and the idea to publish a ready-to-play physical manifestation of the game was born.
With Leonard's blessing, we packed 700 real (and obscure!) movie synopses into a box with everything up to six players need to play. The best part is that you don't need to be a film buff to succeed at the game – the fun is in the fibbing.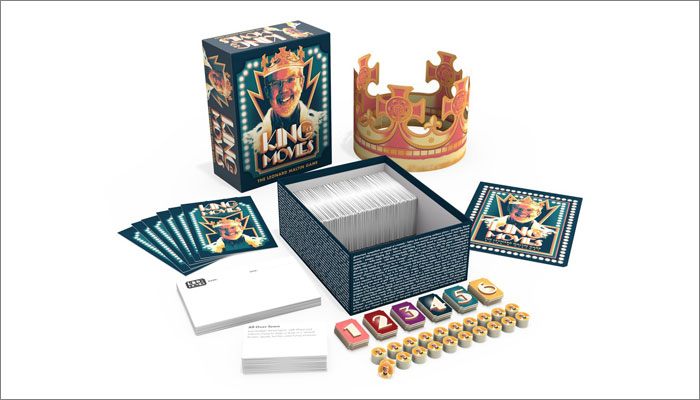 Absolutely, I'll be checking that out! And there'll be lots of game designers reading this wondering if Mondo Games works with game inventors. Do you?
This year, we hired our first in-house game designer, Brad Andres – who is currently leading the charge on his first solo-design for the company while overseeing the development of several existing projects under contract. Until he arrived, we'd forged partnerships with several outside inventors and designers, as well as partner publishers like Restoration Games and The Op.
Our VP of Licensing and Business Development, Tim Wiesch, is also throwing his hat in the ring this year and helping with the dev on some of our projects, which I'm really happy about.
We're always on the lookout for exciting opportunities that align with our philosophies as a company.
Good to hear! And finally, how do you and the Mondo team fuel your creativity?
Our Games team is small and scrappy. I think that the necessity to problem solve, to make the most of our resources, and to overcome obstacles is what motivates us to think outside the box and pour our all into our projects. More than anything, we just want to have fun, and we want you to have fun. We get to do that for a living, which we try not to take for granted.
Absolutely. Thank you so much Jayme! Good luck with the new launches and hopefully catch up again soon.
Photography is by Billy Garrett: http://www.iambillyg.com/

—-
To stay in the loop with the latest news, interviews and features from the world of toy and game design, sign up to our weekly newsletter here