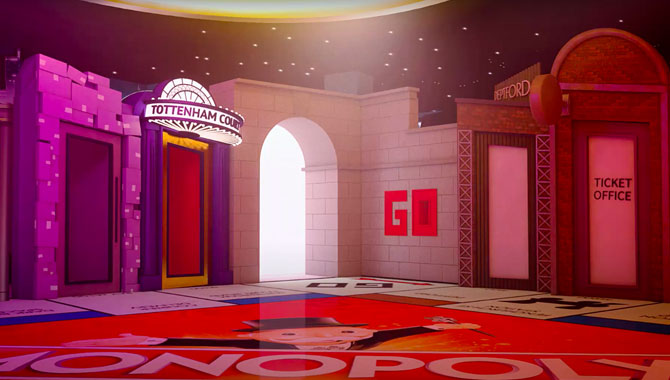 Hasbro and Gamepath are readying for the opening of Monopoly: Lifesized – a new gaming experience that blends 'the iconic board game, escape rooms and team challenges'.
Due to open in London on August 14th, Monopoly: Lifesized sees teams move around a full-sized Monopoly board, participating in challenges as they go in order to acquire properties.
Each property square will have a full-sized location-specific room housing a challenge that players will have to complete to 'acquire' that particular property. The challenges will be a mixture of physical and mental puzzles and games that will test players' skills and lateral thinking and will be themed appropriately for the square.
"It has been an exciting journey to work with the talented Gamepath production team to bring this new experience to central London," said Julia Posen, Head of Development at Gamepath.
"We're very excited as we know we have created something really special for people of all ages. When you step into the world we're creating, we promise a dynamic, lively interactive experience and a great night out. Get ready for high risks and high rewards where there's no ceiling to winning. As long as you can stay out of jail!"
Matt Proulx, Vice President, of Location Based Experiences at Hasbro, added: "We are thrilled to be working with our best-in-class partners at Gamepath.
"Given their track record creating world class live performances, we believe that combining their skills along with our beloved Monopoly brand will create an exceptional, one-of-a-kind experience that truly brings the Monopoly game to life in a way only once imagined. We cannot wait for individuals of all ages to be able to once again get out and play together!"
Monopoly: Lifesized will take place at 213 – 215 Tottenham Court Road, a 22,000sq ft building over three floors in the heart of the West End.  The building will house a retail outlet selling a wide range of Hasbro game merchandise, as well as being the home of The Top Hat, a new Monopoly-themed bar and restaurant.
"For us, Monopoly: Lifesized represents a major entry into a growing and exciting marketplace," said David Hutchinson, CEO of Gamepath.
"Audiences want to consume live performance differently, and what better way than to jump into a lifesized version of the world's favourite board game? Our creative team has been working their magic to fuse an experience that puts our audiences centre place on the board, and brings together our theatrical roots with innovative, digital and immersive storytelling."
For more on Monopoly: Lifesized, head to: https://www.monopolylifesized.com or check out the trailer for the attraction below:

—
To stay in the loop with the latest news, interviews and features from the world of toy and game design, sign up to our weekly newsletter here