Moose Toys debuts Magic Mixies, a toy that allows children to conjure up a pet from a magical potion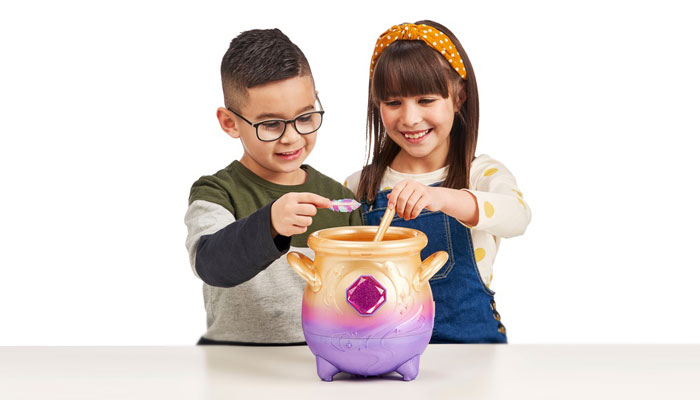 Moose Toys has debuted Magic Mixies, a new toy that allows children to conjure up a magical potion and create their own magical pet.
The Magic Mixies Cauldron comes with all the magical ingredients needed to make a furry friend. Children find the spell from the Spell Book, then add magical ingredients such as a Glitter Star, Crystal Gem, and Magic Feather to the potion one step at a time to help bring their creature to life.
Kids use a wand to complete each step, and the cauldron reacts to each tap of the wand with sounds and lights.
Once the potion is mixed, children pop the name of their creature into the cauldron and then a magical mist appears from the cauldron before the Magic Mixie is revealed. Once the Magic Mixie is revealed, it can be put back into the Cauldron and the magical reveal can be repeated again and again.
"With plush toys in particular, it's really about trying to create a relationship between the child and the plush, and connecting them emotionally," said James Austin-Smith, Innovation Director at Moose Toys.
"One of the strongest ways to do that is through creation, and when you've created it yourself, you care about it so much more.
"Magic is also super-hot right now, so we looked at behaviours that children would do naturally. We picked up on how children love to make magic potions, that could be as simple as a bucket in the garden filled with petals, flowers, your mum's expensive shampoo – children love to put stuff in a bowl and say they are making a magic potion. This led us to thinking how that magical process could result in a real-life pet that they create and the idea for Magic Mixies was born."
Check out Magic Mixies in action below: