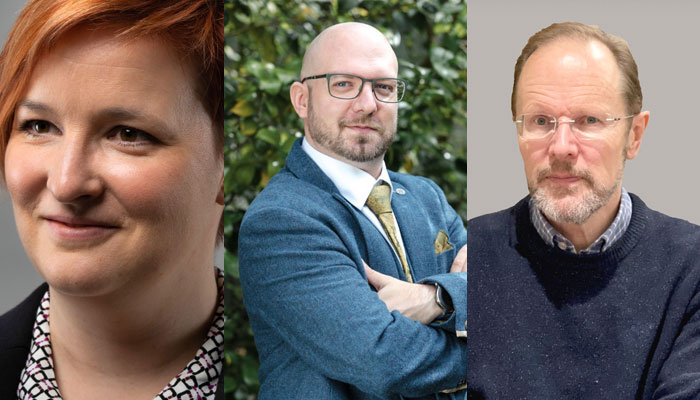 Ahead of the launch of the film in July, Moose Toys has debuted its new range of  Space Jam: A New Legacy toys.
Moose Toys' slam-dunk range will include action figures, playsets, collectibles, plush characters and more, including Goo Heroes, inspired by Moose's Heroes of Goo Jit Zu brand.
We caught up with Fraser Paterson, Head of Design and Product Development for Licensed & Pre-School at Moose Toys, to delve into the creation process behind the line, and find out what was key in bringing Looney Tunes to life in toys.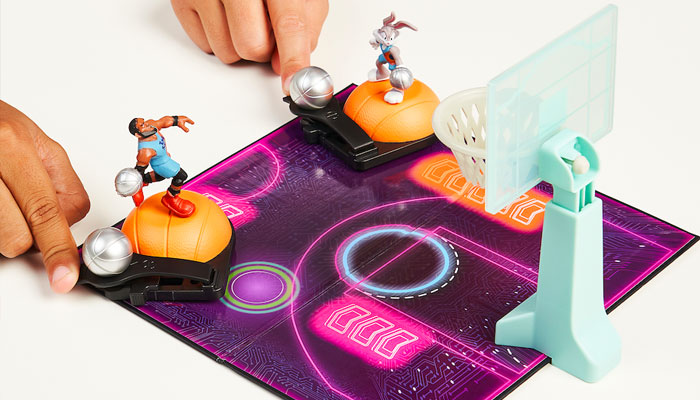 Hi Fraser, great to connect. Before we dive into all things Space Jam, you've worked at lots of heavy hitters in the industry – LEGO, PlayStation, Mattel, Spin Master and now Moose. Was a career in toys always the aim?
I started doubling down on design during my A-Levels and went onto Coventry University for a BA in Consumer Product & Transport Design. That prepped me to design kettles, toasters and car parts. Surreptitiously, a lot of my work at University resembled toys – shower heads looked like water cannons; Sony Discmans ended up looking like wearable role-play items, transport briefs suspiciously looked like Action Man vehicles.
For my final year project, I proposed to do a toy but the lecturers pushed back on that, so I ended up designing a radio-controlled helicopter camera platform with lots of fun features – essentially what many consumer drones do now… Ahead of its time really!
I never saw myself in the classic design studio role designing coffee machines and steam irons, but I did spend a few years in the car industry after graduating working with Land Rover and Ford. It was interesting but toys drew me in and at the end of the Nineties I was super lucky and landed job with LEGO. It was all of the toyetic features on my helicopter that I was later told secured me the role. The rest is history, and as you know with the toy industry once you're in, it's tough to get out!
Ha! It really is! Now, what was your first experience of designing toys based on a licensed brand?
Ironically, given the focus of this interview, the first licensed brand I worked on toys for was the NBA while working on LEGO Sports. Considering I grew up in the South West of the UK, I didn't know too much about basketball at the time, but I got stuck into it for that project. Now, working on Space Jam a lot of my knowledge of basketball actually came from working on the NBA products at LEGO almost 20 years ago.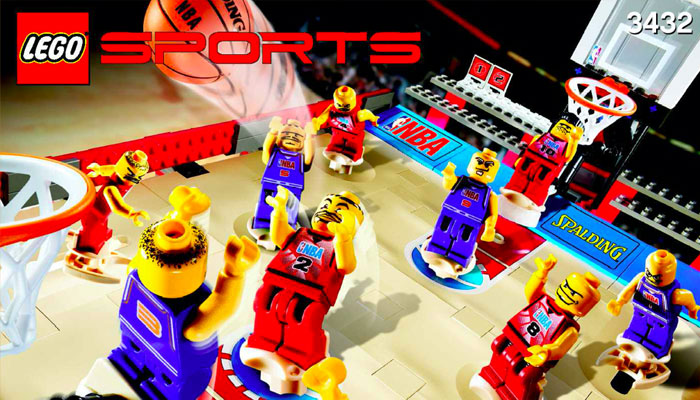 That is spooky; well, now you're back in the basketball world with Space Jam: A New Legacy. What made Moose a great fit for this brand?
Space Jam: A New Legacy and Looney Tunes is all about irreverent fun, excitement, crazy energy and wacky humour. These are central pillars of what Moose is all about, starting with the leadership to the products we make and the people who work here. The company has done a great job of ensuring fun is at the heart of everything; besides, if you can't embrace fun in the toy industry, there must be something wrong!
Historically there are large numbers of Moose products that already had that irreverent, fun, wacky feel which made us a natural place to take on this licence. We have a love for Looney Tunes, the original movie and of course basketball. When a chance to work with some of the most beloved cartoon characters we all grew up with – and some of basketball's biggest stars – we jumped at the chance to pitch!
We all know how small the toy industry can feel and starting out on the project it was great to reconnect with old friends and colleagues at Warner Bros. who have been a fantastic partner every step, and every "jump shot" of the way!
Additionally, as a Los Angeles based team and with LeBron James playing for the LA Lakers, there was certainly some local pride creeping in there too! It certainly wasn't a problem trying to find people internally to work on the range – instead they were calling it a career highlight to do so. If anything, we had to turn people away!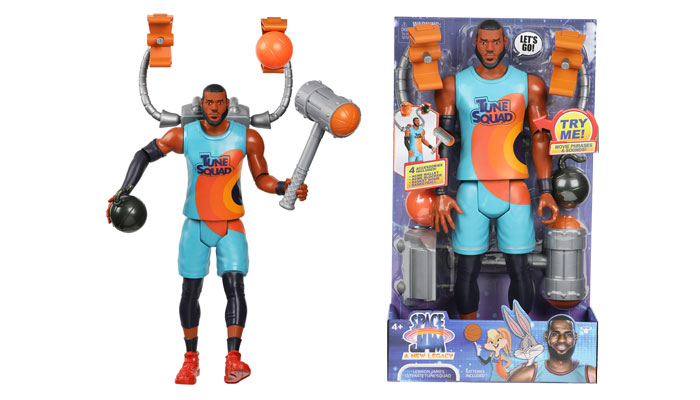 What did your first creative steps look like when shaping the range?
It is such an established IP that a lot was drawing on what everyone remembered – plus, any excuse to watch the first movie is a good one! Being paid to re-watch cartoons? Ok, twist my arm…
We then explored all the things we wanted to do. We spent considerable time across the company ensuring the key players and craziest thinkers were involved to infuse that Moose magic, or the WOW as we call it. It was about pushing boundaries and stretching ideas, while also keeping everyone aligned from a retail and brand owner point of view. It's a balance between letting designers go crazy and making sure everyone is happy.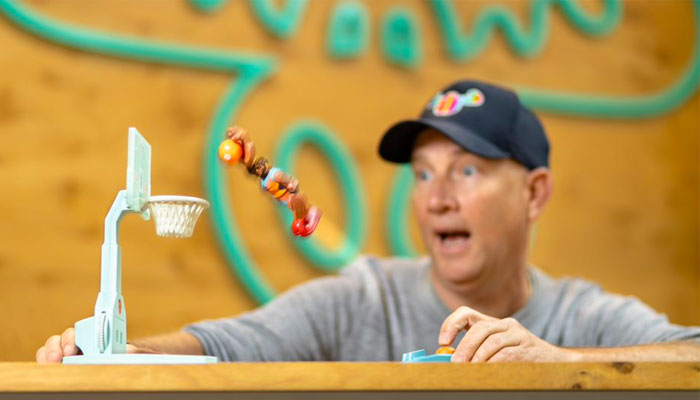 You mentioned earlier that Looney Tunes is known for having its own brand of kinetic, crazy energy which obviously lends itself well to animation. How did you capture that essence in a toy range?
The physics part of it was something we were very keen to capture. Early concepts had softer materials to help recreate some of that elasticity you see on screen. We progressed to have accessories for the five-inch action figures that played up to those aspects, allowing children to play out those wacky moments but also offering great collector value.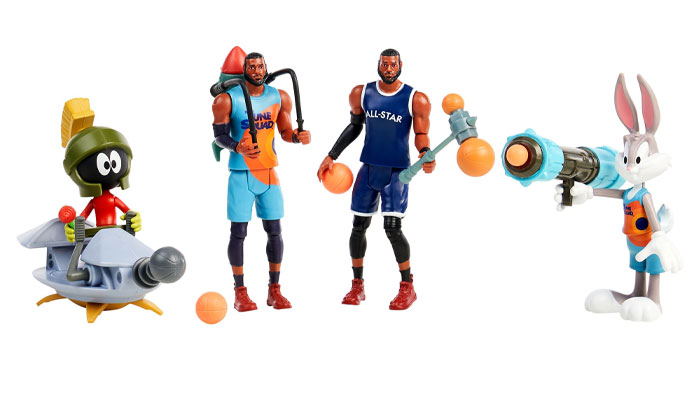 If you look at our Goo Jit Zu figures, they also provided us a chance to convey Looney Tunes physics. So instead of placing all of those elements in one item and risking being a jack of all trades but master of none, we separated out the line so that each product had a point of difference and a compelling presence.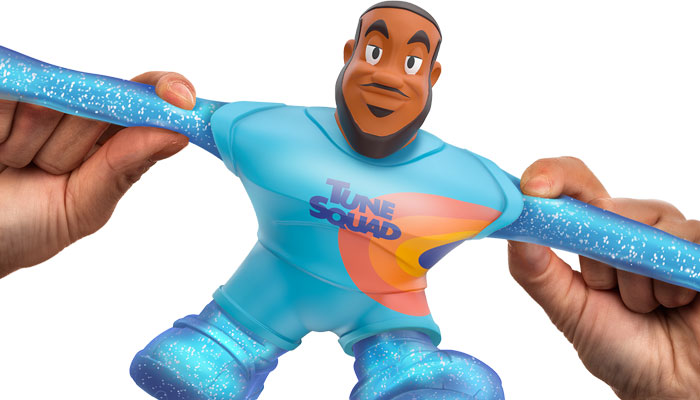 To convey the sheer depth of characters from the property and its inherent energy, we created the 2" collectable figures. Each one packaged in its own basketball that doubles up as a stand to display to show off all the crazy poses from the movie. They can also be used with the Game Time play-set to show off your table top skills.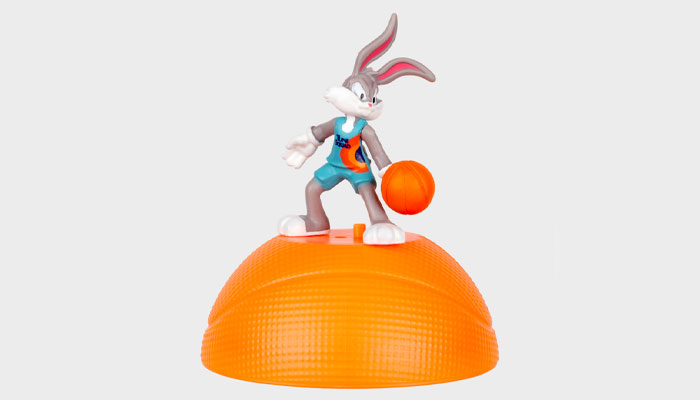 Were there any tough creative challenges in the process that, once cracked, resulted in a great product?
Yes, I would say the Super Shoot and Dunk LeBron James – which is one of my favourite items in the line. This was an inventor item, brought to us as a result of our strong network with that community. I had seen it in Japan a few years ago and thought it was a lot of fun but couldn't find a home for it at the time.
When we landed the Space Jam licence, our inventor relations team had already reached out to them having also seen it before. Luckily, it was still available and we immediately started to bring it to life as a Looney Tunes item.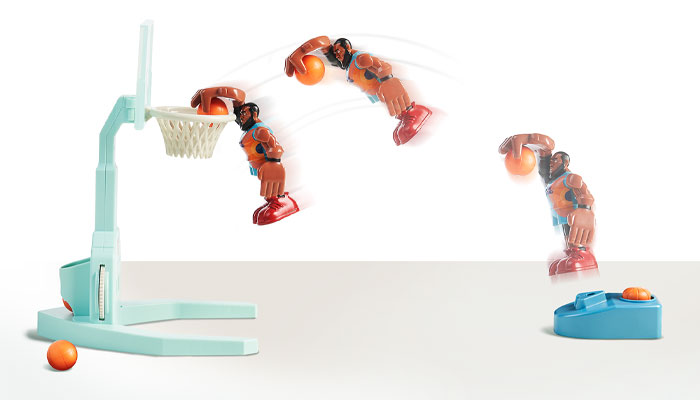 The product had a number of unique challenges. Usually, you are sculpting an action figure, ensuring you get the articulation and the deco correct. The Dunk figure was very different in the sense that we had to do all that, and then deal with physics…
You're trying to project a figure across a table, dunk a ball and then make it hang on a basketball net – all this with a success rate that makes it not feel impossible, but also not too easy. We wanted there to be a sense of skill to it.
The figure has fun oversized hands, which played into the Looney Tunes world, but also allowed us to engage in classic product design approaches with form following function. The ball attaches to the hand via a magnet which comes with a host of QA regulations to adhere to. We were ticking a number of boxes: creating a toy that functions great while seeking approval from Warner Bros and LeBron James that the sculpting team had represented him well in cartoon-form.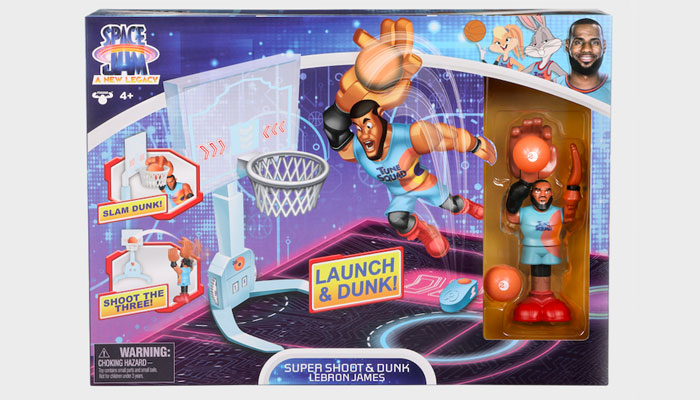 The box front art is something I personally like. It has that crazy energetic vibe which is almost a throwback to a bygone time in toy packaging as recently you mostly see realistic images of the product on packaging.
So, this is the item that really stands out for me. It's something that has never been done before for a basketball toy. The ability to have a figure not only shoot the ball from a standing position but also replicate that amazing athletic feat of a slam dunk – and then hang off the net… That is so cool!
All of these features are great in their own right, however applying the legacy franchise of Looney Tunes and Space Jam to it truly makes it what we like to call a WOW item. I am sure many Space Jam and basketball fans will reference it as a favourite toy for years to come.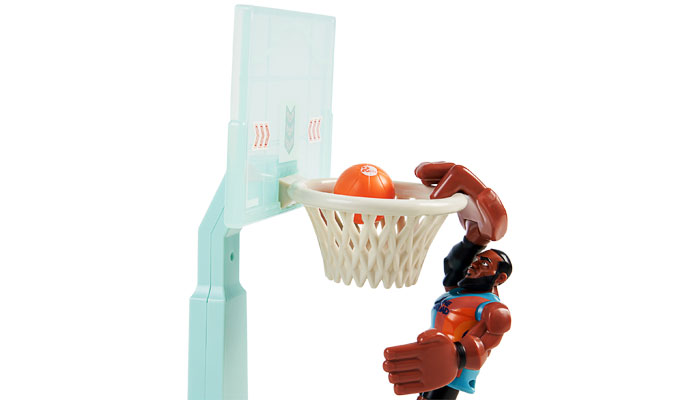 Yes, it looks great! Before we let you go, one last question – how do you fuel your creativity?
I'm a huge fan of looking outside of the toy category. It's sometimes hard to see the wood for the trees if you're staring at the same category you are trying to innovate. It's that classic design school adage: Have a fashion designer to design a car; challenge a car designer to create a piece of furniture…
It's all about taking inspiration from elsewhere and what personal interests the team has. Look at other sectors like fashion, outdoors, DIY and sports equipment  – anywhere. It's those things that spur on new ideas and innovation.
It's also important to keep an eye on technical innovations and seeing how we can make them applicable when the tech becomes affordable in toys. I'm also a huge fan of bringing a mixed team together to discuss ideas notably to work on brands and categories they usually do not, something that has been challenging of recent. When we move back into a face-to-face environment, I'll be very happy!
You're not alone on that one – it's in sight! And Space Jam aside, is there anything else from the LA team at Moose that we should keep an eye out for?
We are extremely proud of the Bluey product that has been developed by the Los Angeles development team. It has been on shelf in Australia and the USA for over a season growing in popularity and sales as the heart-warming TV show itself continues to win countless accolades globally.
It was recently announced we were secured the master toy license for the next generation of Octonauts, called Octonauts Above and Beyond. Development is well underway. I have children that were the right age for the first generation, so to have a chance to work on this line is great. The toy opportunities, like with all of our license selections, are endless.
Even more recently it was announced we are working on Fall Guys product as the master toy licensee for the incredibly fun and addictive game. Product for this will be on shelf at the end of 2021.
There are other large projects the team has secured which unfortunately we cannot elaborate on at present – all in good time! This speaks to the success of the relatively new team here in Los Angeles, whose task it was to thrust Moose into being a major player in the licensing world.
Space Jam was our first movie master toy partner, so we've established ourselves pretty quickly as a key player. It has been a lot of work but extremely good fun with much more to come, we are super-happy!
Exciting times. Thanks again for taking the time Fraser; and good luck with Space Jam!
Main Photo Credit: Matt Deere
—
To stay in the loop with the latest news, interviews and features from the world of toy and game design, sign up to our weekly newsletter here