Morgan Lane founder Morgan Curtis on creating a luxury Monopoly nightwear collection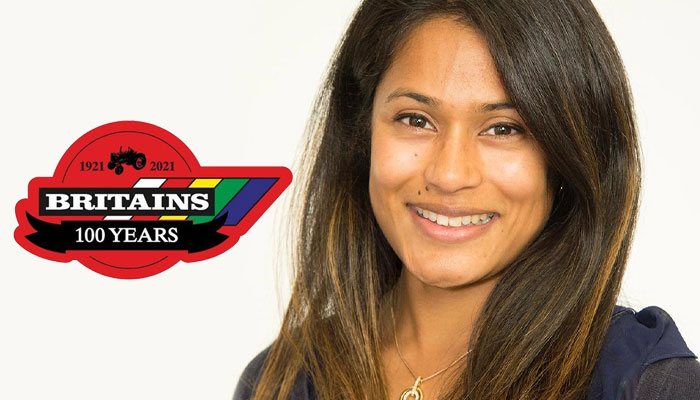 Earlier this year, Morgan Lane – the New York-based fashion house known for its designer luxury sleepwear – debuted a limited-edition Monopoly collection.
The range – designed by Morgan Lane founder Morgan Curtis – featured Monopoly printed silky pyjama sets, utilising classic icons from the game – like the bills, tokens and game pieces.
We caught up with Morgan Curtis to find out more about her approach to designing nightwear – and why Monopoly proved a perfect fit for Morgan Lane.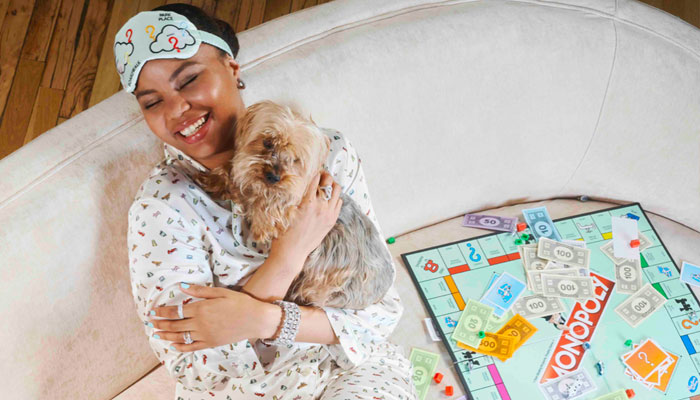 Morgan, it's great to connect. First off, tell us how Morgan Lane came about.
Well, I've always been obsessed with fashion and I've been illustrating and painting my whole life. When I was young, I worked for my mother – Jill Stuart – and worked across all aspects of her company. I did sales in her store, I was a fabrics resourcing director, I was a design associate – and I worked on some of her fashion shows once I was out of college. I learned all aspects of running a business and working in fashion. That inspired me to launch my own brand, Morgan Lane.
For anyone new to Morgan Lane, what area of fashion do you focus on?
When I launched Morgan Lane back in 2014, there wasn't any fashion in the sleepwear market. It was very static; there wasn't any new trends coming through or collaborations happening. It was usually sold in a hidden part of the department store and was lacking newness. I wanted to introduce fashion into this category.
I've always love comfortable clothing. It makes me feel more confident when working and better in general when I put it on. I wanted to create sleepwear that I could wear all the time. I was one of the first designers to jump into the pyjama dressing theme, which is now very popular. At the time, there wasn't many people doing it.
 
Is there a hook or element that you think defines a Morgan Lane item?
Our pyjamas are known for their ability to be worn day to night. They're multi-purpose items. The silk tops can be worn with jeans, or the silk pants can be styled with a big cosy sweater. You can feel comfortable all day long.
Great stuff. From a design point of view, what are some of the key things you have to bear in mind to ensure your pieces have that all-round 'day to night' quality?
It's about the fabric, first and foremost. People are investing money in a luxury silk product, especially in the weight and quality that we have. People get excited that they're spending money on something they can wear in different environments and in different ways.
The fabric has to be presentable, but the finishing details we use are also really important. The closures, the linings… We try not to put out anything that's sheer or too form-fitting. The prints and colour palette also take it out of the bedroom – they're bold and fun.
Smart stuff. Let's talk about your Monopoly range. What appealed about creating a range based on this brand?
I've always been a huge fan of Monopoly. I have two younger sisters, we're all very close and we've played the game my whole life. I was really excited about the opportunity to collaborate with the brand.
Every collection we produce has a theme to it and a sort of storyline; like 'Under the Sea' or 'The Queen's Gambit' or 'Cherry Tree Farm'. The themes have characters that are illustrated in the novelty print that is the conversational for each collection. I already have that quirky, fun, playful attitude towards design, so it was easy to take Monopoly and make it into a really fun print. The essence of Morgan Lane and the essence of Monopoly meshed really well together.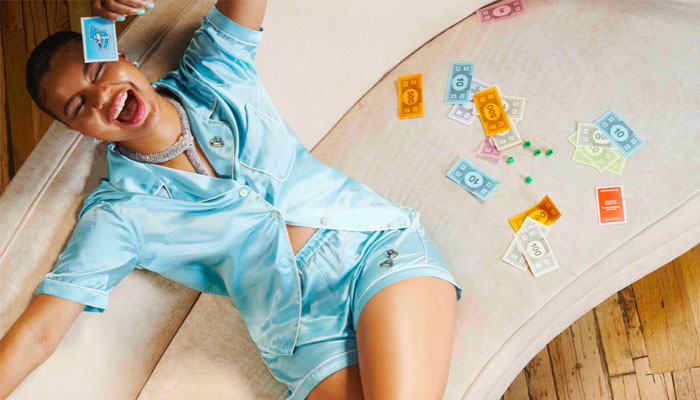 The cash, the board, the logo, Rich Uncle Pennybags – there's lots of strings you could pull at when designing a Monopoly collection, so how did you work out what would translate well into sleepwear?
When we started to take a deep dive into all the artwork, dating back to vintage Monopoly, we started to see a lot of connections between the game and our brand. The big one was the diamond ring because we have a big bridal customer base. We were able to translate that into bridal pyjamas which was really fun.
I chose the other elements based on the colour palette. We loved the pastel rainbow of the dollar bills. The money stripe was actually the most popular print that we did. I used the other playing pieces too, but didn't focus as much on the specific properties or the jail! I wanted to take the happy vibes from the board!
Yes, in that case, swerving the jail makes sense! You mentioned about the money stripe selling well; why do you think this brand collaboration has resonated with your customer base?
People come to us to treat themselves to a luxury product; it's a bit like buying jewellery. Monopoly is also a luxury product – look at the places on the board! Park Place and Boardwalk are associated with that luxury lifestyle. I think that's a key part of why it's really connected with people.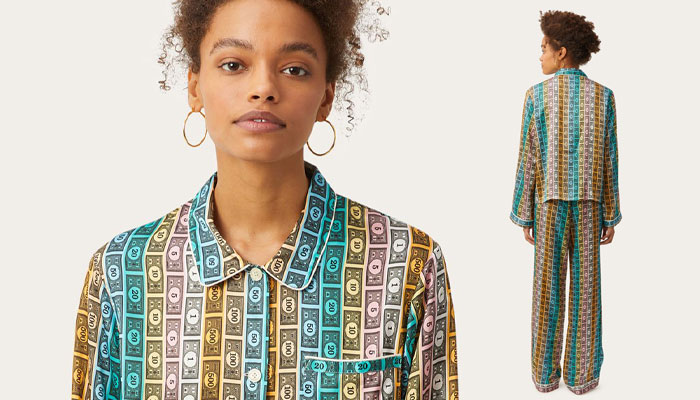 Is that what you look for in future brand collaborations? Do brands need to have that luxury vibe to be a good fit for Morgan Lane?
Yes, definitely. Hasbro is a great company to work with and we're actually working with them on another one of their game brands. One of my core beliefs is that you shouldn't take lingerie and sleepwear too seriously. I really don't like brands that are too sexy – it makes some people scared to enter a lingerie store! Brand collaborations have the power to help cement a fun attitude towards pyjamas and make gifting really special.
In order to make each collaboration special, it's important to space them out the right way and offer something different each time. I don't think there's any specific requirements when it comes to brands, we'd like to work with; it just needs to feel on brand. A game like Clue, for example, might be a little dark for us!
Ha! I can see how a chalk body outline pattern might be a step too far! Moving on, we've spoken about Morgan Lane's own brand identity. Do you think you'd ever license Morgan Lane out to someone to create Morgan Lane products into other industries?
Absolutely. It's one of our long-term goals. That's why branding has been so important to me from the beginning. You want your brand to be recognisable. In terms of potential categories, I think housewares makes a lot of sense for us, but I've not been approached by anyone yet.
Let's put it out there and watch the homewares companies come running! On that, how can folks reach out to you?
Yes, that would be great. People can reach us through Savannah at savannah@savannahengel.com. Our contact info is on our website too. We'd love people to reach out.
—
To stay in the loop with the latest news, interviews and features from the world of toy and game design, sign up to our weekly newsletter here