Mother and son team launch KidQuest, a game to help kids learn more about the grown-ups in their lives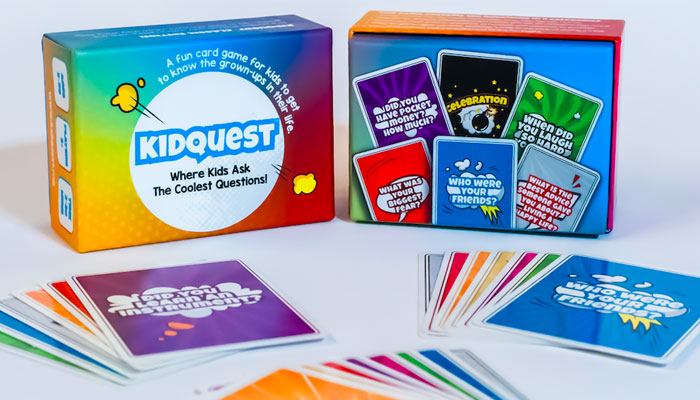 Mother and son team Ariane de Bonvoisin and seven-year-old Everest van der Zwan have launched KidQuest, a new card game designed to help kids learn more about the grown-ups in their lives.
KidQuest features 100 questions like 'What was your biggest fear?' and 'Who were your friends?' designed to prompt engaging interactions and help kids to learn about the people and world around them.
The game allows kids to choose the question they want to ask and who to ask it to. There are also special cards that change the game, like a Reverse Card that allows adults to ask the kid a question.
"Playing KidQuest lets children really get to know the important adults in their lives, in a new and different way than ever before," said Ariane de Bonvoisin, co-creator of KidQuest.
"The recent pandemic has been tough on families, and KidQuest is on a mission to bring back screen-free moments, while also nurturing the hearts and mental health of our children."
Everest van der Zwan, co-creator of KidQues, added: "Creating this game with my mom was really fun and I learned so much about what it takes to start a business. It was great to have a goal together during the pandemic.
"Getting to know my family better was so interesting. I found out that my 84 year-old grandfather did some naughty things as a kid and that my mom was bullied in school – two things I had no idea about. With every KidQuest question I discovered things that helped me as a kid too!"
–
To stay in the loop with the latest news, interviews and features from the world of toy and game design, sign up to our weekly newsletter here