The James O'Brien Mystery Hour Game… And more! Greg Collier reveals why Big Sky Games focuses on licensed products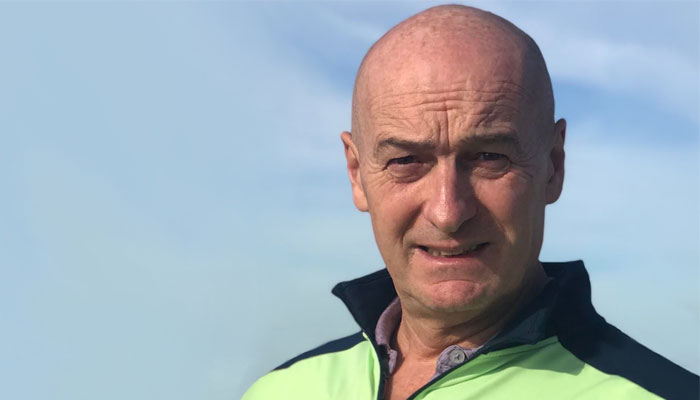 Greg Collier, thanks for joining us. I'll start off gently… What was your favourite board game going up?
Early years… Probably Mousetrap and Frustration, which was a version of Ludo – but with a sprung-loaded dice mechanism…
Ah, yes! The Popomatic!
The Popomatic, yes! In later years… Monopoly and Cluedo. We also had Go, the international travel game.
You're now the Director of Big Sky Games. Tell us about it: how did the company start?
I've been involved in the toy-and-board-game industry for a number of years, having worked with Stephen Mulhern and his family on his original magic sets…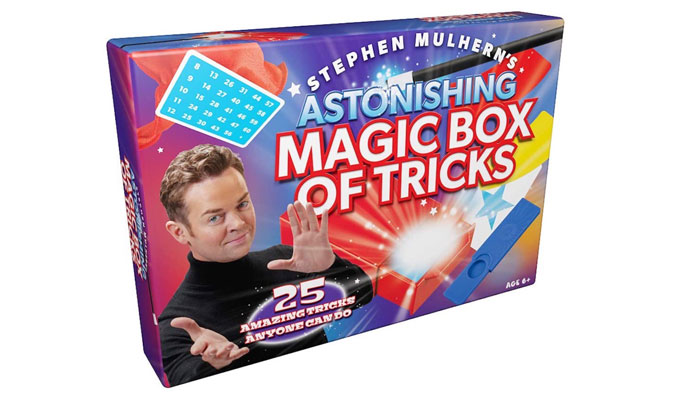 Oh right! When was this?
This would be when he was a link presenter for CITV, so about 20 years ago. As Stephen moved away from Children's TV to become one of the most prominent and regular primetime TV hosts, we decided to start a new company and re-engage in this market.
And how long has it been going?
Only just over two years – but as you can see, we've already secured a number of exciting licensed titles.
Well let's talk about those… You have three titles which bring branded formats into the real world: In for a Penny, Rolling In It and The James O'Brien Mystery Hour Board Game. Why did you choose to focus on licensed titles first and foremost?
Logically, working with Stephen opened up opportunities to work with formats on the shows he hosts – and his input on the gameplay is invaluable. That's  particularly true with In for a Penny which was an interesting concept to create a board game around. It was actually Stephen that introduced us to James O'Brien, and it was coincidental that our team are all avid listeners to his LBC radio show, enjoying The Mystery Hour every Thursday at 12.00.
So when you're looking to adapt a format from broadcast media to a board game, what are you looking for? How do you know an idea is right for Big Sky?
Most formats for the board games are easily adapted from the TV concepts… But we work with designers who've worked on most of the past and present games in the UK market to seek an interesting twist. As I say, In for a Penny was an interesting one as the show is a series of fun games. However, Stephen's brother – who is on our team – came up with some fun activities that we incorporated into the game… And the reviews have been phenomenal.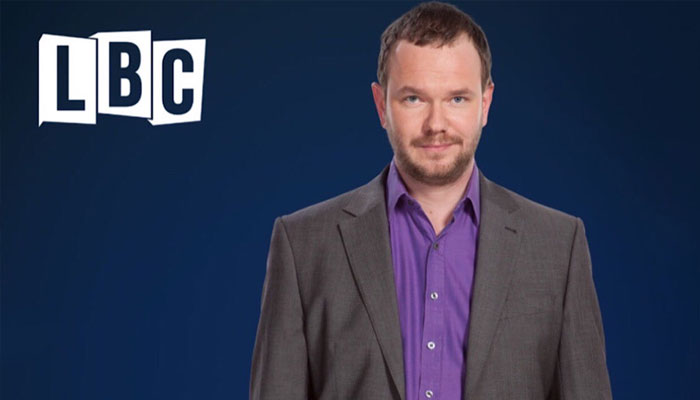 Brilliant. And as you say, your latest release is based on LBC radio host James O'Brien's show, The Mystery Hour. What's the idea of the radio show?
Every week, James enlists the help of LBC listeners to solve the questions you've always wondered the answer to. Listeners call in with either questions or answers – the only criteria is that nobody should consult Google! It's really informative and only a couple of weeks ago I learnt that if you shake an egg before cracking it open to fry, it ensures the yolk sits neatly in the middle of the egg.
P"The idea is to get other players to believe your false answers to gain maximum points…"
No?! That's mind blowing! I'm totally going to check that out when we're done… Before I distract myself with that, though, how did you go about converting that show to a board game?
The fun and educational quiz element of the questions is the core of the game.
It's best described as a cross between Call My Bluff and Would I Lie to You… At the start of the game, cards are dealt to each player and time is allowed for everybody to study their cards while they think up a false answer of their own – if they can. The objective is to get the other players to believe your own false answers to gain maximum points, while answering questions correctly yourself.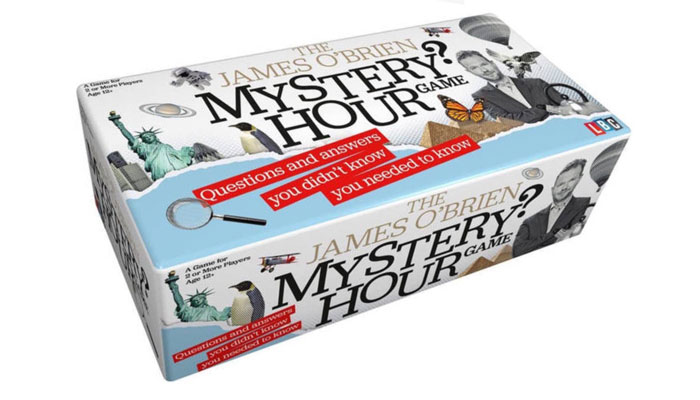 Got it! I'd quite like to try that; sounds like my cup of tea. Are you any good at it?!
You know, I've played the game many times during the testing process and it's crazy… Even though I was involved in the development, if repeat questions come up, I still can't remember the real answers! The credit for that should go to Adrian – the researcher on the show – as he helped us write the questions with very plausible false answers. It's surprising, too, how many callers to the show dial in with inane, plausible answers – but they're generally followed up by an expert in the particular field who puts the record straight.
What was the biggest challenge, do you think?
We realised that not everybody could come up with their own false answers… We needed to provide sample false answers for each question – that was the biggest challenge by far.
Interesting. And did you have to pitch the idea to anyone?
We had to pitch to James and he is genuinely the nicest guy you could meet. He was delighted with everything we suggested, but then his daughters scrutinised our proposal – and they're not as forgiving as James!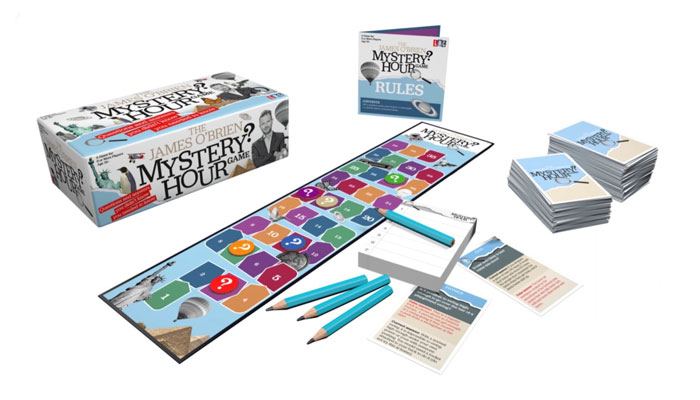 Ha! Go on…
At their behest, we removed all plastic components and tried to source a UK manufacturer – sadly to no avail. We then engaged with a socially-responsible EU manufacturer, who provide a work place for people with disabilities for the final assembly process. It's worked out really well to be working with such a socially-diverse company.
"It's worked out really well to be working with such a socially-diverse company."
Gosh, that sounds incredible. There might be another interview there, Greg; I've not heard about that. More broadly, though, how interested are you in developing games for other properties?
Very interested – and we've already signed up for two major primetime TV licenses for next year. I can't divulge them yet, but rest assured they're household brands! We're so excited about these and in addition we have other creations to follow..
You can't hide your excitement! Excellent. How do you stay creative at Big Sky Games?
We have creativity in abundance because we love what we do. For the record, though, I'm not the creative one! Stephen's brother, Vinny, drives me mad 24 hours a day with new concepts…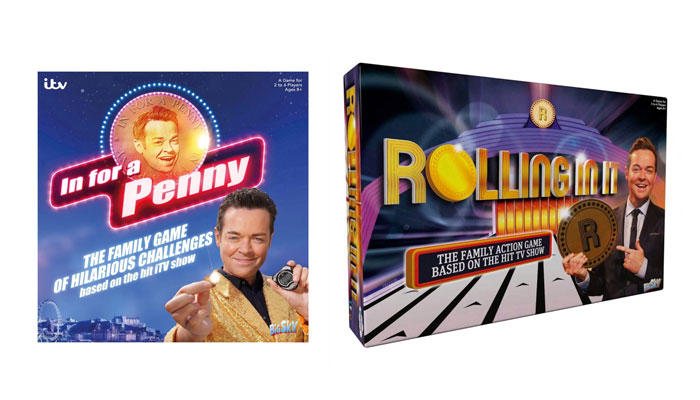 Noted. We need to finish up now, Greg, but I'd love to have you come back and talk some more. In the meanwhile, what's the one question I haven't asked you that I could've asked you?
Where can people buy The Mystery Hour Game… I would've said mysteryhour.co.uk – how's that?
That's great. And finally, then… What's the most interesting thing on your desk right now?
Right now, I genuinely have a sample of Mystery Hour Board Game on my desk!
Terrific! Well, I can't argue with that; good answer. Greg Collier – thank you for making time – I'm off to shake an egg!
—
To stay in the loop with the latest news, interviews and features from the world of toy and game design, sign up to our weekly newsletter here