Nat Marco – founder of Small Fries Games – reveals how Pringles Pop Quiz got to market… And why she's old school!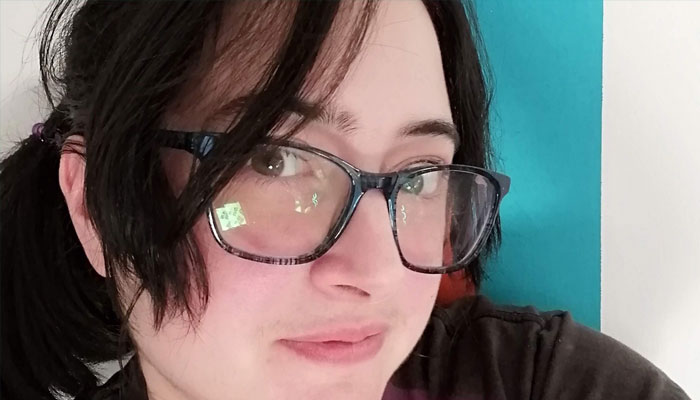 Hello Nat, thanks for joining us. You're the founder of Small Fries Games. What's your background?
Hello! My background is actually video games, although I've always loved and made tabletop games too. I still vividly remember the board and card games I made as a kid.
And how did you get into video games?
I studied animation at university, with a focus on Claymation – which I adore. As part of my degree, I did work experience at a video games studio and continued working there once I graduated. I later formed, with two colleagues, my own indie video games studio called Honeyslug. So far, the majority of my career in the games industry has been in video games. I switched to tabletop just before having my first baby.
Is there a huge difference between designing video games and board games?
There isn't a huge difference between designing video games and tabletop games for me, no. I used to design all my video games on paper first, with playable paper prototypes much like board games. Also, I've always loved tabletop and video games, so I definitely feel like I was destined to make games! That meant it was a very smooth transition between the two.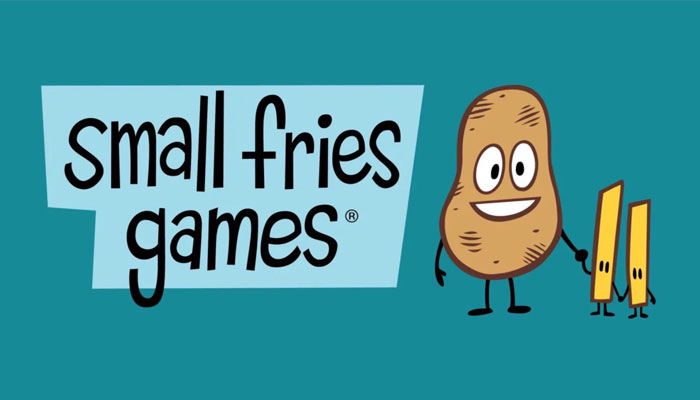 What was the catalyst? Why the switch?
My colleagues and I at Honeyslug decided to part ways, so starting my own indie card and board games studio was the obvious next step. I was lucky enough to team up with Peter Sleeman. Peter had published some of my video games along with games for other amazing brands like Peppa Pig and Ben and Holly. Peter has fantastic knowledge of the preschool space as well as distribution and the games industry in general.
You're very enthusiastic when you talk about games! You're clearly a big fan of games… What were your favourites growing up?
I am pleased you noticed that I'm a big fan! I was brought up in a game-loving household with a walk in games cupboard! My favourite games as a child were Build a Better Burger, Tummy Ache, Misfits and Match-a-Balloon. Match-a-Balloon had the most beautiful Dick Bruna illustrations…
Sounds like quite a selection!
I could go on and on! I also loved games like Mall Madness, The Great Museum Caper and Rollercoaster Tycoon Boardgame! I also got into Magic The Gathering when it first came out in the 90s, and it's still my absolute favourite game! I play black; there's hardly anything better than a MTG draft.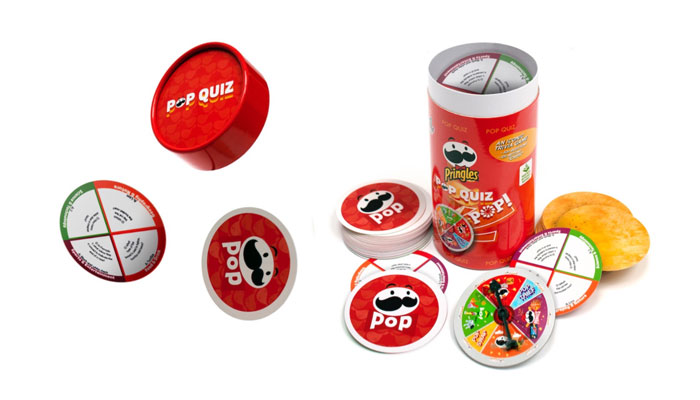 Looking at your output, one of your titles is the Pringles POP Quiz… Did designing a licensed title require you to take a leap of faith? How did it come about?
I simply thought it'd be cool to combine my love of game design with my love of crisps! Pringles was my first thought as their their brand is so iconic and their crisps are so delicious! I came up with a few concepts, then approached the lovely people at Pink Key Licensing with my ideas.
Wow! You just went for it?
I did! I've never been afraid to approach people or brands I want to collaborate with. I've designed games for all sorts of awesome brands over the years, I figure it never hurts to ask! In fact, my self published games range is a collaboration with one of my all time favourite artists, Parker Jacobs of preschool TV show Yo Gabba Gabba! Fame because I took a punt and contacted him about the range. In any case, Pink Key loved the ideas and pitched them to Pringles, who – happily – loved them too.

What was the development process after that?
So, once Pink Key Licensing and Pringles were interested, we needed to find a publisher. Small Fries Games is a tiny studio. We don't have the capacity to self-publish everything. Luckily, the awesome YWOW Brands came on board as the publisher. Both Pink Key and YWOW have been fantastic to collaborate with. It's definitely much more hands off than my self-published games, but I had so much fun refining the concept, writing the quiz questions and rules. I learnt so much trivia – I'd certainly be more handy in a pub quiz than I used to be!

Broadly speaking, then, what's your creative process?
I don't really have a process beyond sitting down with a notepad and pen – I'm old school! I have so many game ideas and tons of playable prototypes ready to bring to market… Hopefully I'll get to release them all someday. I design all my tabletop games the same way as I designed my video games: with pen and paper.
I love old school notepad and pen! We've talked around them a bit: what are some of your other titles?
My first self-published card game came out last year – Knock Knock! First Words. It's the first in my range of card games for babies and preschoolers suitable for ages nought to three plus. This particular range is really special to me. I originally designed them for my own kids…
And who did the artwork?
Parker Jacobs! I love that these are a collaboration with Parker; his artwork is amazing! I'm also really grateful that Knock Knock! First Words won the 2021 Gold Imagination Gaming Award for best game in the Young Einsteins category. It was also shortlisted for best Educational/Learning Toy in the 2021 Made for Mums Toy Awards. Knock Knock! First Words is stocked by almost 100 independent retailers, including shops in the USA and France. We've sold through the initial production run and are about to remanufacture alongside the second game in the range.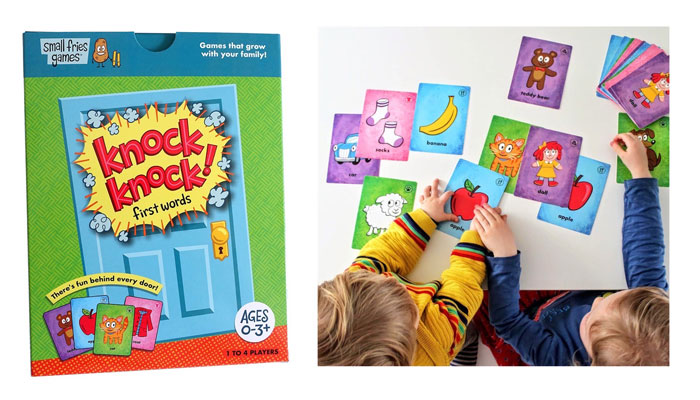 What's next for you, Nat?
I hope to collaborate with more cool brands on some fun games soon… Meanwhile, I'll be announcing the second title in my range of card games for babies and preschoolers. It's another collaboration with Parker Jacobs, called Uh Oh! At Home. Originally, I designed it for my daughter who was going through a phase of deliberately doing something cheeky then saying "Uh Oh!"
Ha! Billy Langsworthy does something very similar at trade shows! Finally then, what's the most interesting object in your office?
It's probably the giant ball pond which my husband bought me for my 30th birthday. It's big enough for at least four adults. All offices need one of those right?
Absolutely! You'll get no argument from me. Thank you very much for your time, Nat; pleasure to tie in.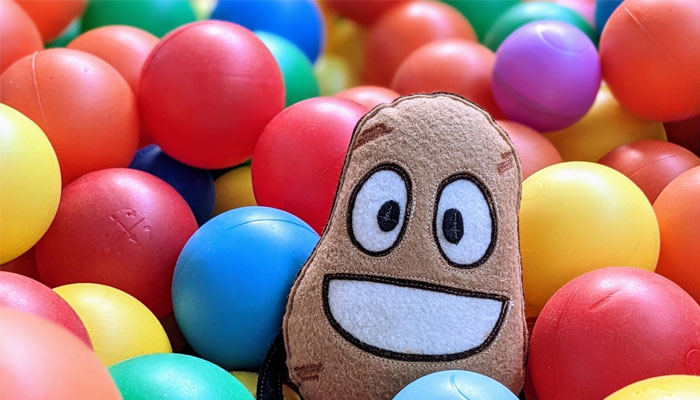 –
To stay in the loop with the latest news, interviews and features from the world of toy and game design, sign up to our weekly newsletter here