Off the Rails creator Andrew Platt on Kickstarter, Minecraft and Escape Room games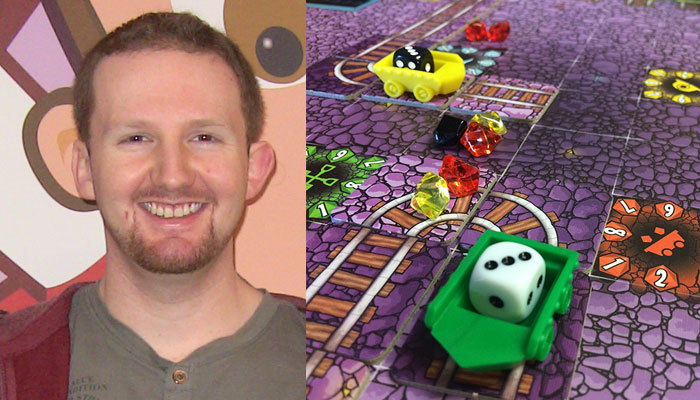 Having launched Flippin' Fruit – his first tabletop game – in 2014 via Kickstarter, last year saw Andrew Platt return to the platform with Off the Rails.
The game sees players step into the shoes of jewel-hungry goblins, careering around a mine looking to grab treasure and escape before the whole place collapses; and the concept proved popular, raising over £24k from an initial goal of £13,500.
We caught up with Platt to find out more about the year-long development process behind Off the Rails, and why Kickstarter was a "no-brainer" route to market for the game.
What's your history in the world of game design?
I've been designing games since I was very young. I would play on my dad's Spectrum 48K and program quick text based adventures in BASIC. Simple 'Go North', 'Pick up Sword', 'Go South' kinda deals, but great fun to make and share.
I would also play tabletop games like Ghost House, Treasure of the Pharaohs or Lost Valley of the Dinosaurs, which introduced me to basic game flow and mechanisms. Hero Quest and Warhammer were eye-opening games and gave me the motivation to go back to these older, simpler games and actually make my own rules up for them. I remember an old Jurassic Park game that I loved the pieces for, but not the game. So, naturally, I started making rules for the dinosaur player and the human player, adding bullets and 'to hit' rolls.
So jump forwards 30 years, and I work for an online educational company as a senior artist and developer making children's interactive activities and games for schools. It's a great role, great company, and also allows me the freedom to work on my own projects.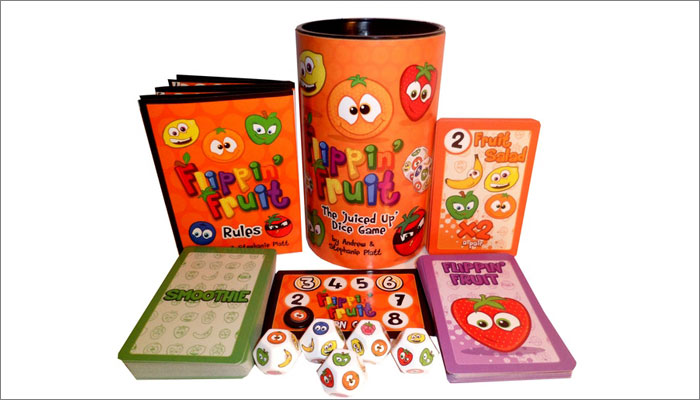 In 2014 I designed, produced and released my first tabletop game through Kickstarter, called Flippin' Fruit. It funded at just over £3,000 and sold 200 copies worldwide. This year saw my second and more ambitious project, Off the Rails, come to fruition and fund at just over £24,000, selling 800 copies worldwide.
This year I will be exhibiting at UK Games Expo for the very first time, which I am very excited about, and hope to get the ball rolling on my next idea very soon.
Where did the idea for Off the Rails come from? Can you talk us through some of your key design decisions in the development of the game?
So after Flippin' Fruit's success, I attempted to sell the idea to a publisher. This was a long process which resulted in some very good feedback and making some very good contacts in the industry, but not much else. By 2016, I decided Flippin' Fruit was going on hold, and I should develop another idea to follow up on the success of Flippin' Fruit.
I was playing an awful lot of Minecraft at the time (late to the party or what!) but this sent me down the mine, so to speak, with the whole minecart running, track building, digging for treasure theme.
Initially, the idea was to manually dig underground to send treasure back to the surface through linking one of your miners with another on the surface. I really liked the idea of controlling two miners simultaneously, which I kept through to the final game with the duel minecarts. The idea of juggling two workers at the same time really stood out to me.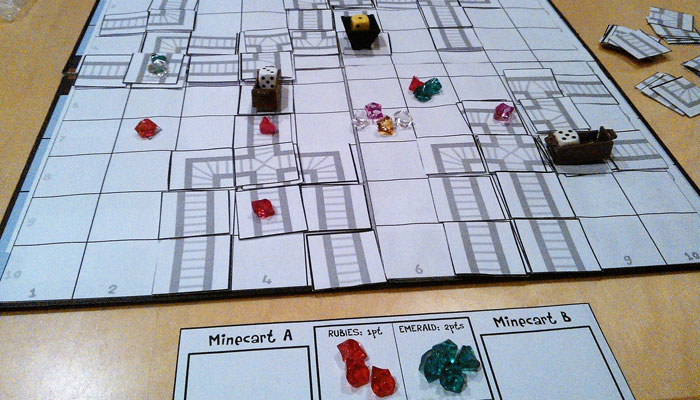 After some testing, I slowly peeled back what I really liked about the game. I removed combat, simplified the movement onto tracks and turned the miners into minecarts. The Chasm idea was one that I had initially as an ever increasing lava flow from the base of the board (Minecraft again) but when I decided to eliminate the depth element, it became the earth disappearing from the middle of the board. This element of game changing tactics really appealed to me – something from my childhood perhaps with Escape From Atlantis or more recently Pompeii.
Being able to have this slow build, tactical game that then turns frantic was something unique I could apply to Minecart Rally (as it was originally called) and soon became a key feature of Off the Rails. The other aspects such as how to pick up jewels, what happens on collisions and how players actually win just built stage by stage. Each play-tested, tweaked and improved until the first rules draft was born.
So originally, as you may have seen in prototype photos, the Chasm Deck was a line of eight sided dice that you rolled in sequence to generate Jewels. This became a deck of cards for a few reasons – the main one being to eliminate more of that random number generating which could get annoying. The way the deck is constructed was designed to eliminate this, allowing one of each colour mines to generate Jewels each turn. Balancing was tricky, but I think we came up with good solutions in all areas – it helps when all players have the same actions and same options from the get go.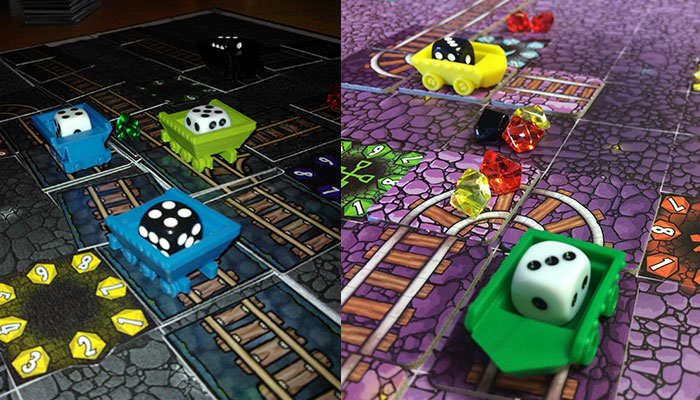 So once I was happy with the game, I got to work on the visuals, website, Facebook and social media building and, of course, contacting manufacturers and deciding whether I could even make the game for an achievable cost.
Being a one man team, game design, graphics and promotion all fell into my lap but I found the resources I had and the contacts I'd made through Flippin' Fruit made it all the easier to get to a point where I was happy launching the campaign on Kickstarter.
Why opt to launch via Kickstarter?
Kickstarter was a no-brainer. With Flippin' Fruit's following and my own obsession of watching other people's campaigns run – not to mention the lack of funds I had to invest in the project from the beginning – I had to look to Kickstarter to get my idea made. Without the backers support, there is no way OTR would have made its way to people's tables in 2018.
It's a great forum for feedback, promotion and is always full of creatives who are willing to help get your ideas off the ground. I love it. I love the process, the page design, the launch – watching the campaign dip and peak and then the last day, funding, is an amazing feeling. I'd say it was a kin to the feeling I used to get when I pro-wrestled in my youth. Coming through those curtains to an applauding crowd – definitely an exhilarating feeling that I thrive on!
[And Andrew's not lying, here's evidence of his pro-wrestling days below!]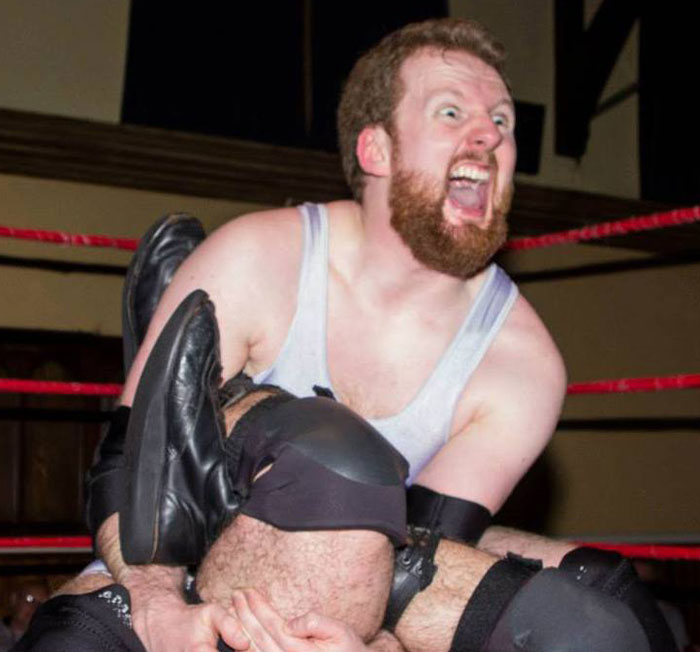 Has your approach to game design changed since your first solo game, Flippin' Fruit, hit Kickstarter?
Absolutely. Flippin' Fruit was an experiment. The idea, as you may know, was one my wife and I kicked about on a drive home from the Norfolk coast where we had been on holiday. Actually getting that made was a stretch and a lot of hard work. I learned so much, mainly about what not to do next time.
All the 200 copies of Flippin' Fruit were hand compiled by myself – took up a living room for a month – and hand-sent too. I was lucky it only made 200 copies as any more would have sent my wife crazy. It was a lot of hard work, hand assembling the tubes, sticking the wraps and sorting out the contents and I vowed not to ever do it like that again.
With Off the Rails, I decided early on I would do a China print run and then get a fulfilment company to do the shipping – do all the hard work in advance, and let someone else take care of distribution. I would, however, need a lot more funding to do it that way, but as it turned out, Off the Rails was very popular. 762 backers made it possible for me to outsource to China my design and hire GamesQuest to fulfil the games and the whole process ran very smoothly.
How do you stay creative?
I work in such a creative environment with so many creative people. I come to work, get creative at work, talk to creative people all day then go home and design games. It's pretty much a creative life I lead.
What's next in the pipeline from you and Rotten Games?
Well, I don't want to give anything away, but I have been absolutely obsessing over Escape Room tabletop games such as Exit, Unlock, Deckscape etc so something of that ilk is in the pipeline of my head. I'm sure it will take a couple years to make its way into the world, but when it does I'll be sure to let you and everyone I have ever met or talked to know! That's how Kickstarter works, right?