Paper Bag Creative's Ed Gartin on wishlists, creativity and the key to successful inventor relations

Ed Gartin has worked in toys and games for over 20 years at companies including Toys R Us, Hasbro and Thames & Kosmos.
A much-loved figure in the world of toy and game design, Ed specialises in product development, inventor relations and being an all-round creative catalyst – and has now launched his own creative agency in the form of Paper Bag Creative.
We caught up with Ed to find out more about his career in play to date, the key to successful inventor relations and his experience of launching a new business in the midst of a pandemic.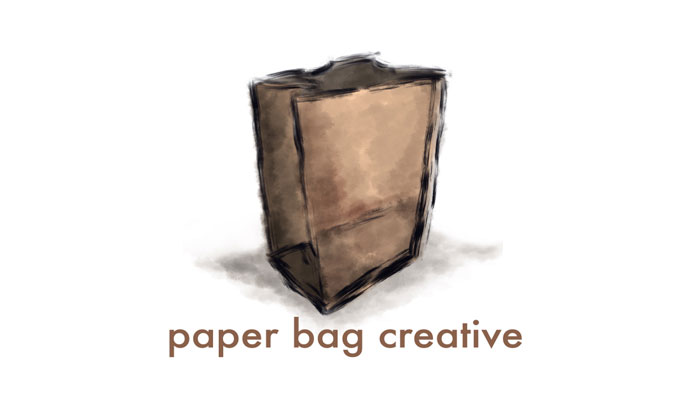 Ed, always a pleasure to catch up. Let's kick off! Was a career in toys and games always on the cards or were any other industries in contention?
I started in gaming playing Dungeons & Dragons because my older brother needed somebody to play a character he was inevitably going to kill off. I then jumped into family games like Monopoly as I got older. I really loved gaming for the reasons I think it's still popular today, which is that it's a way to connect with my friends that is tonnes of fun, a safe space to be your authentic self, and easily accessible.
Skip ahead to university, I graduated with a degree in design and was trying to get a job in consumer products. That wasn't going well so I moved into advertising for three years. Out of the blue, someone I had gone to university with rang me to say that Decipher Trading Card Games is looking for someone and from there it was like a rocket ship. I interviewed, I got the job, was there for five years and now 20 plus years later I'm still in toys and games.
You've worked on both sides of the fence too, having been a Global Product Manager at Toys R Us. Did working in-house at a retailer give you any skills that would later prove invaluable during your time at Hasbro and Thames & Kosmos?
Absolutely. My career was a loosely planned career path that just worked out a little better than I had planned. I knew I really wanted to work at Hasbro and Toys R Us. I didn't know how I was going to get there, but those were my big career goals. I mean who doesn't want to work at a Hasbro!
From Decipher, I went to SwimWays as a Creative Director running their art department. I was there for seven years and that was an amazing experience. Then Toys R Us rang up – I've been so fortunate that way in my career; I feel like it might almost be a simulation, the way that things keep working out!
Ha! The Truman Show-esque! Let's not rule it out!
Honestly! Disney has this colour called Go Away Green – they paint things in the parks that they don't want you to see in this colour. I think that's what's happening here! At some point I'll see the green and realise I am in a simulation!
What were you looking after at Toys R Us?
They asked me to make products for Animal Planet and Edu Science. I said "Make them or buy them?" and they reassured me that I'd be doing product development, so I joined.
To answer your earlier question, working in-house at Toys R Us helped me better understand the entire model. When you're in the building working on TRU private label products, you pitch as well as develop and source new products. Nothing you make is guaranteed to be on the shelf in Toys R Us own-label, instead to the best of your ability you partner with the buyer and try to help them realize their vision for the planogram. Each section is unique because each buyer is unique, they all have their own view about how the category should be handled, and sometimes the buyer switches and suddenly you're dealing with a whole new point of view.
Then, in addition to the buyer, you have brand managers and marketing people to work with, that are also on the private label team. And just like working outside of the retail environment, there's a little back and forth between product development and marketing and brand inside Toys R Us.
So, it was the culmination of what I already knew, plus now I could see what was selling and really learn how toys operate in the retail space – while still making cool stuff!
You mentioned earlier that Hasbro was also on your list of firms to work for and that happened too! What brands did you work on there?
Yes! I mean how amazing is that right, again proof of the simulation! Hasbro called while I was working in Tucson, AZ to ask me about managing the Monopoly team.
I don't care what you are doing, if they call to say you can manage the Monopoly team, you stop whatever you're doing and immediately get on a plane for Providence! So, I did and I managed the Monopoly team, and then the Family Games team. It was amazing – it was like playing for the Chicago Bulls during the Jordan years!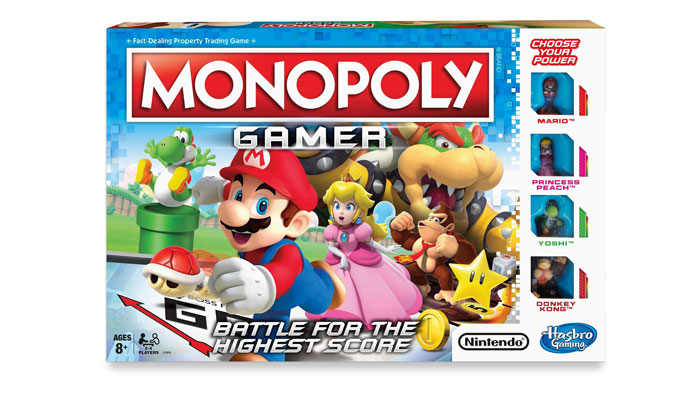 What's the key to designing great things for Monopoly?
I believe the key to designing for Monopoly is to be aware of trends and lean into them. When I first got there, I worked with the team to launch Monopoly: Gamer Edition. That was the first time the tokens had powers. And really the way that happened is the way anything great happens. I was lucky enough to be managing a team that were geniuses; they were just brilliant.
When we decided that the tokens would have powers and we'd be changing the gameplay of Monopoly, to support that, it was a gamechanger. Since the first Gamer Edition, they've launched a number of Monopoly "Gamer" games that have this unique take on gameplay, like Monopoly Gamer: Fortnite, and Monopoly Gamer: Overwatch. That idea, that Monopoly, created a whole new genre for Monopoly that blends unique gameplay with great licences.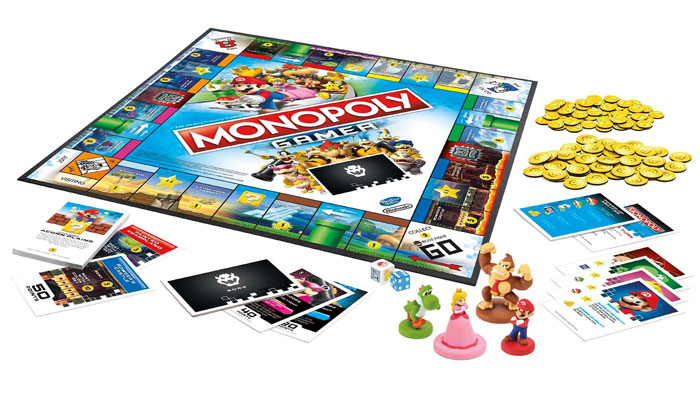 The genius that came up with the idea that the tokens would have powers was Austin Rucker, and once he cracked the code we were off and running with the concept. That first team I worked with on Monopoly was such a great team it was Austin, Jose Acevedo and me, reporting up to Scott Dean.
The next one we worked on was Monopoly: Cheaters Edition. The marketing team had told us about an insight that over 50% of people cheat in Monopoly, so of course, that means we had to design a game where the only way to win is to cheat. Thus Monopoly: Cheaters was born. When you're able to partner with your marketing team, have the research, and the support of your management team to do these kinds of things, it's what keeps the brand so interesting.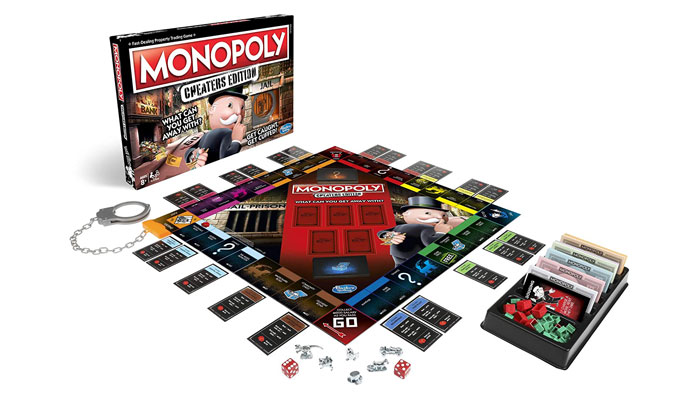 Based on that experience, do you feel it's important that toy companies with iconic brands let those brands breathe? Is it important to be playful with iconic brands, and not be overly reverential?
I think if toy firms rely purely on nostalgia, they won't unearth the full potential of these kinds of brands. Look at what we did with Monopoly – Monopoly purists were talking about it, non-purists were talking about it and suddenly an 85-year-old brand is back in the conversation, it becomes topical, and if you're lucky it even becomes a trending hashtag. These things keep the brand alive.
A great example is at one point we had a challenge from a buyer who wasn't super excited about what we were presenting to them for Monopoly, so we pivoted and during the course of a phone call we hashed out Monopoly For Millennials. It was literally brainstormed on the phone with the buyer! And once it launched, the retailer couldn't keep it in stock, no matter how many Hasbro produced.
It was great, it was such an irreverent take on Monopoly, It was so very tongue-in-cheek – it had the strapline: 'Forget real estate. You can't afford it anyway.' It sold like wildfire.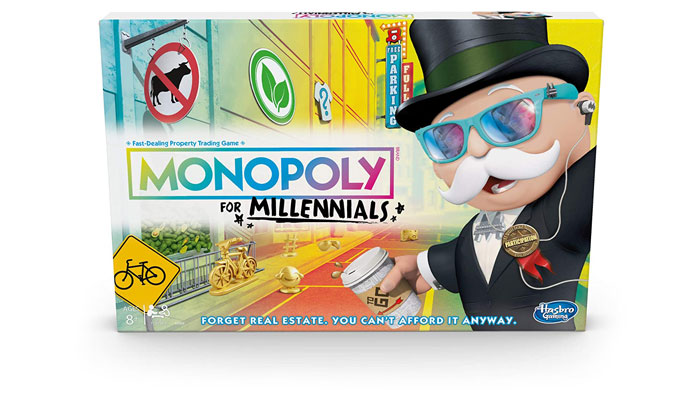 I first met you when you were at Thames & Kosmos. Was that a bit of a gear-change from the sorts of products you were creating at Hasbro?
Well sure, but to be able to work with Thames & Kosmos completed the circle for me. I'd done trading cards at Decipher the largest licensed TCG game company at the time. I'd done family games at the biggest company in the world for that – and while some may argue that Kosmos isn't the leader in German board games, I would argue different. I love Asmodee, truly I do, but their the biggest due to acquisition while Kosmos built it up over time.
And TK didn't just make games, they are also well known for making great science products, which I love. When you can develop an item that teaches kids about physics but it's a gumball machine! Kids learn through play and don't even realise they are learning they're just having a great time playing with the stuff.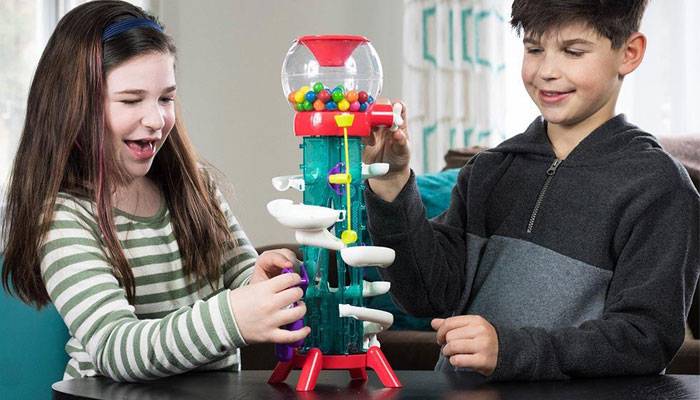 You were Director of Product Development and Inventor Relations at Thames & Kosmos, was that the first time you were engaging with the inventor community?
Swimways was really the frist time I engaged with the inventor. They had a top selling item called the Toypedo, that was the original item that really blew-up for them and that came from an inventor.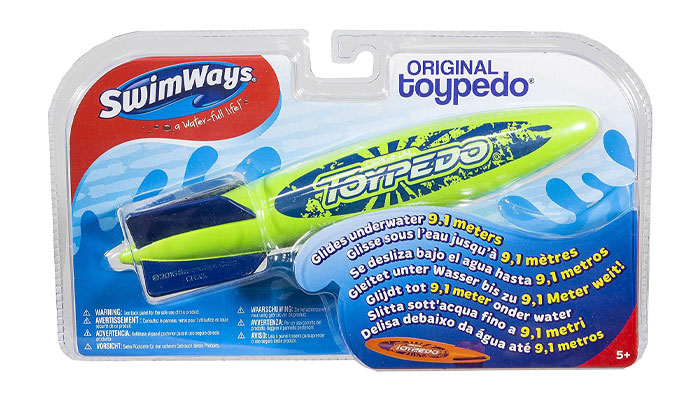 So, they had a culture of looking both to inventors for ideas as well as holding offsite brainstorms with all the employees of the company. With the inventors we would sometimes get pitched polished ready-to-go prototypes and other times it was what we called napkin sketches, but Swimways was open to all of it. That was a great way to start and an amazing environment to learn how to engage with inventors, because they were treated as one of the family there. It was great.
What for you is fundamental to a positive inventor/company relationship?
I think it actually starts before the "relationship." I think the best relationships start off with the inventor doing research about the company they're going to pitch to. If you're an inventor you need to know the company you're pitching to, what they do well, and what they don't do at all. If you don't, it almost always starts things off awkwardly.
From the inventor side, to build a great relationship with a company, you need to make sure you're showing the right company the right product. Also, you need to be a little flexible. Each company is going to be a bit different, and they might have a different process then you are used to. But if an inventor relations person takes in your item, they want it to get a "Yes" for you from the company and they are doing their best to make that happen.
So, support them, and give them what they need to do a great job for you. Whether it's a prototype, prototype and sell sheet, a video, or a pitch deck… Whatever you can give them to help them sell it, believe me they will really appreciate it. So, when they say, "We'd like to get a prototype so we can let the team take a closer look at it," thank them and ask, "What else can I do to help you? Do you need anything else from me?" Because while you don't work for the same companies, you are on the same team.
What about on the inventor relations side of things?
One of the things I've found success with is being really clear about what you're looking for. Lots of companies have wish lists, but lots of them cast the net out too wide. Some will say 'We're looking for family games'. That's a net that's 50 yards wide! Are you looking for two player games? No? Well then tell inventors you're not looking for two player family games. Detailing what you don't want is also really important.
Being an inventor relations person means being a great communicator. Follow-up is super important, and some of the best inventor relations people I know, do this really, really well. It's kind of an art to be able to manage your time in such a way that every inventor feels special, well taken care of, and well informed about what is going on.
And this can be hard to do in the larger companies where the IR person has so many responsibilities and so many internal company meetings, in addition to all the inventor pitch meetings they take on. So, it ends up sometimes during the busy periods that they're working till midnight, on weekends, or on a plane heading back to the office.
Being an IR person is not as glamorous as it looks from the outside – a lot like being a bartender or a lifeguard at the beach – but I still think if you can get the job, do it, because it's the best job in the world.
Right, I've taken up loads of your time already so we should dive into your new venture: Paper Bag Creative. Tell us what it's all about!
When I parted ways from Hasbro, this was going to be my next step, but then the Thames & Kosmos opportunity came up. So after Thames & Kosmos, it was really an if not now than when moment, so I went for it.
The intent with the launch of Paper Bag Creative is to help people and companies make great things. Which means sometimes I help companies with inventor relations, but mostly I am working with them on brainstorming and product development, doing that with companies of all sizes. I'm also doing product planning, product assortment, product roadmaps and product development.
And is it just you?
I actually have a virtual team behind me, that helps me handle marketing, copywriting, graphic design, packaging design, illustration and international sales. And while I can do all of those things myself, there's only so many hours in the day and to be honest the members of my team are a little better at those things then I am.
So I've focused on the client servicing side, and the product side of the business, doing brainstorms and ideation, product development/product improvement, project management, and factory sourcing as well as inventor relations. So pretty much everything that happens in the product development process from ideation to shelf.
Launching a business in the midst of a pandemic sounds tough. How was that?
I think there's actually never been a better time to do it than now. The world just got smaller. For example, one of my clients is Wilder Toys in Montreal. I've never been to their office, I met them on a Zoom call and now I'm working with them every day. We're getting things done, and their team is amazing. It's much more efficient not having to jump on a plane travelling here and there.
It's great right now – everyone is used to Zoom calls, WeChats and jumping on an "old-fashioned" phone call.  I mean every company in the world has just been taught how to work remotely, so what better time is there to be a consultant in toys and games?
That's great to hear. It sounds properly exciting. Congrats. How can people reach out to you if they're interested in working with you?
I'm at Ed@PaperBagCreative.FUN or people can reach me on Linkedin – I'm always chatting with people on there, so you can connect with me and message me there if you'd prefer.
Also, before we wrap up, I just wanted to say that I love that Mojo has been working to get inventors more face time and that you and your team are helping to bring them out of the shadows and into the light. Back in the day, you didn't always know who invented what and now they're getting more recognition and respect, and hopefully that encourages more people to become inventors.
Thanks for that Ed; that's very kind of you to say so. One last question before I let you go; how do you fuel your creativity?
Like I said I am a creative person that loves process, so I lean into my process. I'm most creative in the morning, from when I wake up – through the dog walk and the shower – to my first cup of coffee. But, if I open an email or the laptop in that time, my creativity evaporates. So, I protect that space – I think it's called theta sleep. That stage between a deep sleep and being awake. My subconscious works like crazy in that area, so I wake up slowly.
I'm also really creative at the end of the day, so I protect that time too. I do it in kind of a religious way the way that some people treat exercise. I feel like everyone has some spark of creativity inside of them, some more than others. People can recognise their creative habits and practice them – if you always have great ideas after dinner, why is that and can you make it happen again.
Great stuff. Ed, this has been fun. Huge thanks again; I'm already looking forward to our next chat!
—
To stay in the loop with the latest news, interviews and features from the world of toy and game design, sign up to our weekly newsletter here