People of Play details TAGIE Awards 2022 finalists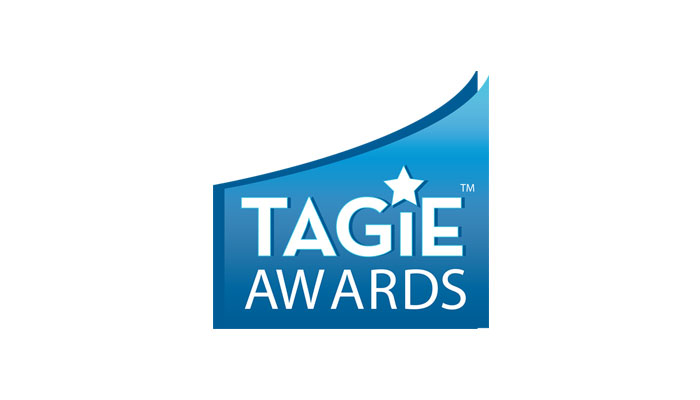 People of Play has detailed the list of finalists for this year's TAGIE Awards, celebrating innovators, designers and marketeers in the toy and game industry.
This year's finalists are:
TOY INNOVATOR OF THE YEAR
• Steve and Jeff Rehkemper for GigaPets relaunch with Top Secret Toys
• JMP Creative for Kinetic Sand Swirl N' Surprise with Spin Master
• Fuse London and The Polly Pocket Design Team for Mattel's Polly Pocket™ Pollyville™ Pet Adventure Treehouse™ playset
• Sweet Spot Studio, Versadyne and The Fisher-Price Thomas Brand Development Team for Thomas & Friends Launch & Loop Maintenance Yard
• Seven Towns for Doctor Squish Squishy Maker with BOTI, Imaginext Jurassic World Dominion Dr. Grant & Stegosaurus Dinosaur with Fisher Price, Tippy the Dragon with John Adams and Rubik's Cube It with Spin Master
• Bill Nichols & Peter Cmiel and the Blip Toys Team GIGABOTS ENERGY CORES
• Clay & Austin Dukoff for Valor Folding Scooter with Spin Master
• G2 Innovation for Gund's Fox in a Box with Spin Master
• Bang Zoom Design and SG Labs for DJ Bouncin' Beats with Fisher-Price
• Shoot the Moon with Moose's Design Team for Legends of Akedo Powerstorm Ultimate Battle Arena
GAME INNOVATOR OF THE YEAR
• Kim Vandenbroucke, Brainy Chick, for Jumbodiset Group's Split
• Exploding Kittens for Hand-to-Hand Wombat
• David Yakos of Steamline Design for Educational Insight's Kanoodle® Fusion
• KID Group for Don't be a Scaredy Bear with John Adams and POP It! Pro with Buffalo Games
• IDEO's Play Lab Inventors for Connect 4 Spin & Mix Matchies with Hasbro
• Daryl Andrews for the Real Truth Game with Goliath
• Peaceable Kingdom Development and Design Team for Ghost in the Attic Game – The Cooperative Game You Play in the Dark!
• Elizabeth Hargrave for Wingspan European Expansion with Stonemaier Games
• Fun-damental Invention for Copy Cats with Identity games
• Gray Matters Games with College of DuPage students for Word Wipeout
• Mikkel Bertelsen and Alex Fuhrer for Hero Hockey with Marektoy
• Max Ford, on behalf of NPD Partnership Ltd. 5 Alive with Hasbro
• Big Monster Toys for Klondice with MindWare, Sink N Sand Game with Spin Master, One Trick Pony with Goliath
RISING STAR INNOVATOR OF THE YEAR
• Yelitsa Jean-Charles for Healthy Roots Dolls
• Peter Levin and Javier Quinonez of Hunch Studios for Tell Me Without Telling Me with Spin Master
• Robert Freeman Smith, Joseph Boyle, and Josh Kemper of PopHaus Collective for It's Kind of a Fun Story
• Leo Taylor, George Feledichuk, David Rudow for Clue Treachery at Tudor Mansion Escape & Solve Mystery Game with Hasbro
• Kevin Brougher for Biome, Perdinkle, Perdunkle, Runz, That's Me!, SUM It!, Rummage, Spider Math, Gaggle, & Crowns
• Julian Miller and David McGranaghan for It's Bananas, Fire In The Hole and UpRoar
• Chrissy Fagerholt for The Lunch Room Game and You Who?!
• SayKid for the ToyBot
• AC Atienza for The Golden Ticket game ​with Buffalo Games ​and Ozark ​with Asmodee
• Gwendolyn Taylor for Flip That House
MOST INNOVATIVE PR AND MARKETING TEAM OF THE YEAR
• Mattel's "UNO!" PR and Marketing Team for 2022 UNO Product Line and Campaigns
• Hog Wild Toys and Freeman Public Relations for T.A.P.E.S Game Campaign
• PlayWise Partner's Rachel Griffin, Sheena Stephens and ToyMonster's Claire Carroll, Saasha Arsov for Jurassic • World Captivz Dominion Edition Campaign
• Radio Flyer for Drops Red and Goes "Very Peri" April Fool's Joke
• Robert Yusim, Product Counsel Ltd., for Pixicade Pets, Pixicade Quest, Pop2Play, Wacky Wubble, LaserX • • • • • Revolution, Boneless Super Charged Mini Toy Stunt Skateboards & All-Pro Passer.
• 9Story Media, Skai Blue Media, PlayWise Partners, Mattel PR and FAO Schwarz, for launch of Karma's World at FAO Schwarz on August 10th
• Freeman Public Relations and Hey Buddy Hey Pal for Cake-n-Bake Challenge
• LEGO US Brand Marketing Team for LEGO Star Wars 1HY22 Marketing Campaign (4/25 – 6/5)
• Hasbro PR, Nerf Team, and the Martin Agency for Murph: "Unleash the Play in You" Campaign
• Sky Castle Toys and Freeman Public Relations for DoodleJamz Campaign
• LKPR's Linda Krebs and Big Potato's Massimo Zeppetelli for USPS game at GEN CON 2022
MOST INNOVATIVE ART AND DESIGN VISUALS OF THE YEAR
• Anderson Grubb and the Icons Team for LEGO ICON Succulents
• Chris Nadeau and the Avalon Hill Games team for RISK SHADOW FORCES
• Peggy Brown Creative for Puzzlescopes with MindWare
• Cody Hampton, Amanda Rubinos Luna, Alex Wilde, and Amanda Leahy for Marvel Ecosystem of Infinity Relics
• Rita Orlov & Jack Fallows for The Light in the Mist
• Angela Achtner, Hollie Brown, Nicole Vena and the Global Canal Toys Team for Airbrush Plush™
• Art, Visuals and Design by MindWare; Game Puzzles and Story Designed by Nicholas Cravotta and Rebecca • • • Bleau. for Dig It Up! Crack the Crate: A Dragon's World with MindWare
• Disney's Chris Prior and Ed Bolkus for A-Team Van set with Playmobil
• Abacus Brand's Steve Rad for Virtual Reality Human Body!
• Gerry Cody, Robert Marino, Zachary Bieber and the Mattel RC Design team for Hot Wheels RC – Aaron Wheelz Wheelie Chair
MOST INNOVATIVE SUPPLIER OF THE YEAR
• ToyJobs.com
• Wizards of the Coast with R.R. Donnelley
• Creative Fold
• Scott Landsbaum
• SCORE
• GPI
• Design Edge
• Longshore
• Creditntell
• Blue Plate Media Services
MOST INNOVATIVE RETAILER OF THE YEAR
• FAO Schwarz
• Snakes and Lattes
• Five Below
• POP MART
• Barnes & Noble
• Ann Kienzle, *Play Toys-Gifts-Books
• Chandrila Collection Shop on Star Wars Galactic Starcruiser
• Hasbro Pulse
• Box Lunch
• CAMP
MOST INNOVATIVE LICENSE OF THE YEAR
• PlayMonster Design Team with Disney License for The Magical World of Disney Trivia Game!
• Mattel and Barbie for 60th Dreamhouse Anniversary
• New York Times and Hasbro for Wordle: The Party Game
• LEGO's Joseph Patrick Kyde & Hasbro's Jess Richardson for Transformers: Optimus Prime
• Spin Master and NBC-Universal for Gabby's Dollhouse Purrfect Dollhouse
• Jazwares Product Acquisition Team, Moonbug Entertainment and Carine Rosalia for CoComelon Boo Boo JJ
• Fisher Price and Warner Brothers Consumer Products for Ted Lasso Little People
• Disney's Ed Bolkus for Disney/Lego for Avatar Way of Water Collection and McFarlane/Avatar Figure and World Building Collection
• World Pong League: Post Malone and Spin Master for World Pong League Beer Pong Drinking Game
• Rhett & Link and Spin Master for We're Still Good Party Game
• Just Play for Ada Twist, Scientist Lab Doll
YOUNG INNOVATOR OF THE YEAR (under 18 years old)
• Cooper Dean for Chicken Poo Bingo with Goliath Games
• Dylon Nottingham for Primal Jaws
• Jackson Mann for SOS Save Our Species
• Yash Maheshwari for Battle Timz
• Everest van der Zwan for KidQuest
Public voting for the awards is open until October 31st, 2022 at the TAGIE Awards Voting Page.
Winners will be announced on November 19th, 2022 at an event held at the Epiphany Center for the Arts in Chicago. Alongside the nine winners, People of Play will also honour James Howard with the Game Changer of the Year Award for his work on the short film, Black Inventors Got Game, featuring black inventors and their groundbreaking contributions to the toy and game industry.
"We are excited to be back in person this year to shine a light on the innovators that inspire us, and who are the beating heart of the toy industry," said Karri Bean, TAGIE Awards Host and Senior Manager, Licensing at Disney Consumer Products, Experiences and Consumer Products.
"You all inspire us daily. The TAGIEs are our opportunity to give back and celebrate your accomplishments. Mark your calendars. We are looking forward to seeing you in Chicago!"
–
To stay in the loop with the latest news, interviews and features from the world of toy and game design, sign up to our weekly newsletter here